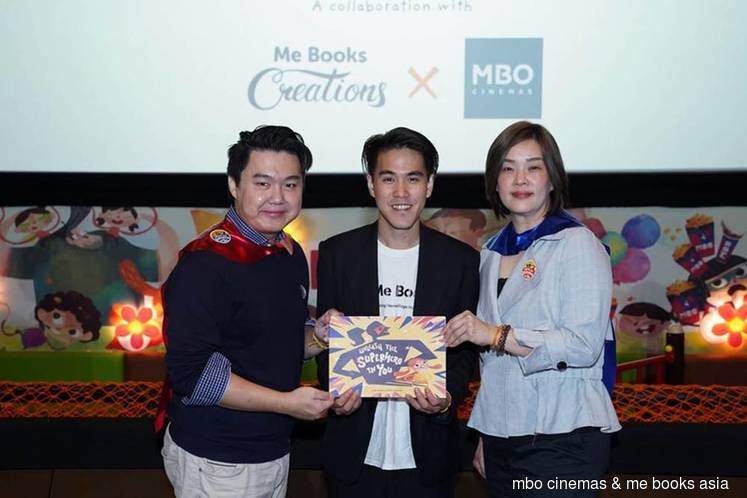 (From left): Me Books Asia CEO and co-founder Hao Jin, Me Books Asia co-founder Dr Chatichai Chong and MBO Cinemas general manager for sales and marketing Jamie Tiong holding a storybook titled "Unleash The Superhero In You". (Source: MBO Cinemas and Me Books Asia)
KUALA LUMPUR (Aug 23): Malaysia's third largest cinema chain MBO Cinemas and storytelling app Me Books Asia are collaborating to produce a series of storybooks for children.
In a joint statement yesterday, MBO Cinemas and Me Book Asia said this superhero-themed storybook is the first of a long-term collaboration between the two brands.
These storybooks will be available for sale during MBO Cinemas' annual Blood Donation Drive on Aug 24 and 25 at Starling Mall, retailing at RM50.
The interactive audiobook is also available on the Me Books Plus app.
MBO Cinemas general manager for sales and marketing Jamie Tiong said being the first cinema in Malaysia to have a dedicated kid-friendly hall, dubbed MBO Cinemas' Kecil Halls, fitted with a play area and comfortable family beds has been meaningful to the firm.
"We aim to continuously innovate our services and this opportunity with Me Books Asia enables us to move beyond conventional concepts as a cinema.
"The Kecil Halls have received overwhelming responses from the public," said Tiong.
Meanwhile, Me Books Asia co-founder and chief executive officer Hao Jin said the storybook series is specially crafted for children and infused with audio in the Me Books Plus app together with professional voiceover artists for the provision of the best pronunciation and intonation for children to stimulate their imagination and speech.
The firms said profits from the sale of the first storybook titled "Unleash The Superhero In You" will be donated to Little Yellow Flower Education Foundation, benefitting underprivileged children who lack access to quality education.
They added that the collaboration also aims to donate more than 1,000 copies of the storybook across five state libraries in conjunction with the #MalaysiaMembaca campaign unveiled by the government in their 10-year Literacy Plan (Dekad Membaca).
The libraries involved are the National Library of Malaysia along with four states libraries which are Selangor, Perak, Johor and Sarawak.
Besides Starling Mall, the books will also be available at Me Books Nooks at Sunway Citrine Hub, Sunway Iskandar in Johor as well as CzipLee Bangsar in Kuala Lumpur and CzipLee Mid Valley Southkey, Johor.