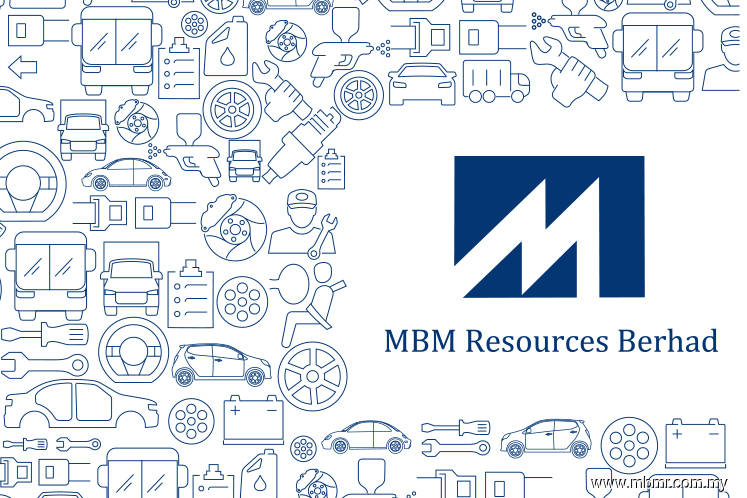 KUALA LUMPUR (Feb 26): MBM Resources Bhd's net profit slumped 33.05% to RM41.04 million or 10.5 sen per share for the fourth quarter ended Dec 31, 2019 (4QFY19), from RM61.30 million or 15.69 sen per share a year earlier, on lower share of profits from its joint-venture entity and associates as well as write off some one-off costs in the motor trading division.
 
The contributions from its joint venture and associates were lower by 28.4% and 40.1% respectively, mainly due to higher production demand in the previous corresponding quarter to fulfil backorders from the Goods and Service Tax (GST) holiday period, the group said in a filing with Bursa Malaysia. 
 
Quarterly revenue inched up 2.19% to RM496.06 million, from RM485.45 million in 4QFY18.
 
MBM Resources declared a second interim dividend of seven sen a share, payable on March 30.
 
For FY19 as a whole, MBM Resources net profit rose 32.22% to RM220.49 million or 56.41 sen per share, from RM166.76 million or 42.66 sen per share in the previous year.
 
Revenue grew 10.93% to RM2.09 billion, from RM1.88 billion in FY18.
 
On prospects, MBM Resources said it expects the operating environment to remain subdued. 
 
"Adding to the uncertainties are the potential impact of the National Automotive Policy, changes in automotive excise duties and the recent evolving domestic political landscape.
 
"At the global front, the unabated trade tensions between China and the US and the currently raging Covid-19 outbreak will continue to impact the global economy and consumer confidence, with spillover effects on the Malaysian economy," it added. 
 
On the impact from the Covid-19 outbreak, MBM Resources expects a potential temporary delay in manufacturing supply from China. 
 
Nevertheless, the group said it has embarked on a transformation programme to improve current operations in terms of profitability through cost rationalisation and efficiency improvement, tightening of performance measurements as well as expansion of product and service offerings. 
 
The group is also formulating strategies to drive mid to long-term growth.
 
"Meanwhile, we remain confident of the quality and product mix of the vehicles within the group, especially with the continuous demand for [what] Perodua has to offer in its unique market segment, the continuing strength of the Volvo brand, the potential new models from Volkswagen, as well as the commercial vehicles from Daihatsu and Hino that cater to specific market segments.
 
"Moreover, we expect further growth in our auto manufacturing division with new contracts in 2020 and beyond," it added.
 
MBM Resources' share price closed unchanged at RM3.96, giving it a market capitalisation of RM1.55 billion.