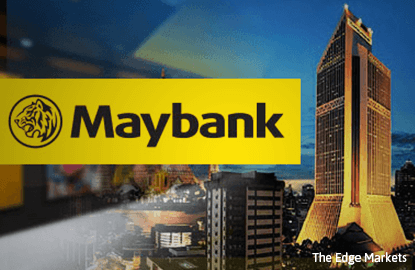 KUALA LUMPUR (May 27): Malayan Banking Bhd (Maybank) net profit for the first quarter ended March 31, 2016 fell to 16.1% to RM1.43 billion, from RM1.70 billion a year earlier, despite an increase in revenue to RM11.18 billion, from RM9.18 billion a year earlier, underpinned by higher provisioning in respect of some corporate and business banking accounts.
Earnings per share dipped to 14.64 sen, from 18.27 sen a year earlier.
In a statement today, Maybank said the increase in provisioning was primarily owing to the rise in number of corporate loans undergoing restructuring; and rescheduling of their repayment to better match their projected cash flows, arising from the subdued operating environment.
It said under the new regulatory regime pertaining to Classification and Impairment Provisions for Loans/Financing which took effect from April 1, 2015, such action taken in regards to corporate loans would require them to be classified under the "Impaired" category, notwithstanding that they are still "Performing" in nature.
The banking group said all key business sectors registered higher net operating income in the quarter, led by Group Global Banking (+21.1% y-o-y), Group Community Financial Services (+12.4%) and Group Insurance & Takaful (+8.4%).
Group loans grew at a reasonable pace, expanding 5.6% compared with a year earlier, Maybank said, led by International which rose 8.9%, and Malaysian operations which saw a 3.1% rise.
"This growth was, however, moderated, owing to large repayments by some corporates during the quarter," it said.
Maybank chairman Tan Sri Megat Zaharuddin Megat Mohd Nor said the many challenges in the business environment across its operations, necessitated enhanced focus for the bank to ensure we maintain quality in its portfolio, whilst continuing to grasp growth opportunities.
Meanwhile, Maybank group president and CEO Datuk Abdul Farid Alias said the group had decided in 2015, and will continue in 2016, to focus more on strengthening its capital and liquidity, and also to be more vigilant in managing asset quality by identifying sectors and customers which may be vulnerable to market volatilities.
He said efforts in monitoring and preserving asset quality were done, while ensuring adequacy of impairment provisions as guided by the Accounting Standards MFRS 139.
"Proactive measures undertaken, amongst others, include active monitoring of weak accounts within vulnerable sectors, by providing holistic solutions to meet their repayment profiles, as well as early identification of borrowers that require assistance in restructuring or rescheduling their repayments, in anticipation of the prolonged subdued and volatile operating environment," he said.
"Concurrent with these measures, [we] are also continuing to ensure that the group will leverage its competitive advantages, such as its diversified footprint and income streams, sound capital and liquidity positions, as well as its comprehensive range of services, to ensure sustainable growth for the future," he said.