This article first appeared in The Edge Financial Daily, on July 3, 2019.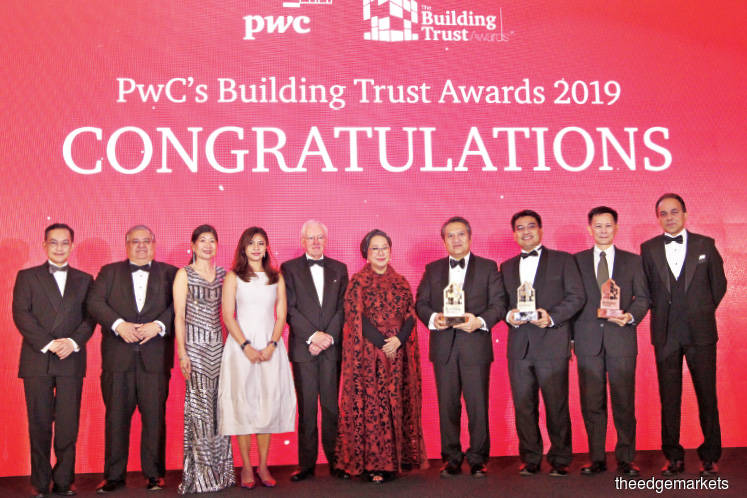 (From left) IOI Corp group CEO Datuk Lee Yeow Chor, PwC Malaysia executive chairman Datuk Mohammad Faiz Azmi, Assurance and People Partner and Building Trust programme sponsor Pauline Ho, Nadiah, Tweedie, Jemilah, Malayan Banking group chief financial officer (CFO) Datuk Amirul Feisal Wan Zahir, Sime Darby group CFO Mustamir Mohamad, IHH Healthcare group chief operating officer Dr Lim Suet Wun and Sri.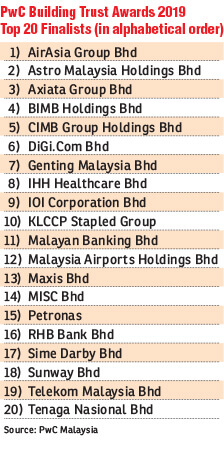 KUALA LUMPUR: Malayan Banking Bhd (Maybank), the largest bank in Malaysia by market capitalisation, is the winner of PwC's Building Trust Awards 2019, recognising its efforts in building stakeholder trust.
Diversified conglomerate Sime Darby Bhd took the second place, and IHH Healthcare Bhd, Asia's largest private healthcare group, came in third at the awards ceremony held at The Majestic Kuala Lumpur yesterday.
PwC Malaysia managing partner Sridharan Nair (Sri) said businesses today are tested in terms of earning the public's trust and confidence amid rising fraud and corporate misdeeds globally.
"We can't allow these issues to be normalised nor allow ourselves as businesses to be disempowered," said Sri.
"This recognition sends an important signal to the public that regardless of the environment or circumstances around these companies, building trust needs to prevail."
Established in 2015, the awards, in its third edition, is part of PwC's Building Trust Awards programme. It is the first in Malaysia to measure trust — beyond the financials of companies being assessed — and does not accept nominations or submissions.
Delivering the keynote speech last night, Tan Sri Dr Jemilah Mahmood, under-secretary-general of Partnerships, International Federation of Red Cross and Red Crescent Societies — who was on the independent judging panel — emphasised the value of trust and preserving it to corporates.
"Trust takes years to build, seconds to break, and forever to repair. A trusted company satisfies its shareholders and consumers, and increases its profit margin," said Jemilah.
PwC Malaysia also conferred Special Mentions to three companies excelling in various phases of the evaluation.
IOI Corp Bhd received the Special Mention for shining in the "Iclif Leadership Trust Survey" assessment. Sime Darby Bhd performed well in the "PwC Malaysia's Trust Public Poll and Trust Analytics" appraisal.
The overall winner Maybank received a Special Mention too for its excellence in the "Integrated Reporting framework" benchmarking analysis.
According to PwC, the Building Trust Awards seek to shine a light on businesses making commendable efforts to build trust among their stakeholders. "It is a platform to inspire business leaders to champion trust as an asset that can be measured, nurtured and protected for long-term gains," said Sri.
In this edition of the awards, PwC assessed 50 of the largest companies on Bursa Malaysia by market capitalisation. The companies' latest available annual reports as at June 2018, were then benchmarked against the International Integrated Reporting Council's Integrated Reporting framework.
Thereafter came a shortlist of 20 companies, which were then analysed in terms of trust across three dimensions.
The first was evaluating the leadership culture via a survey created in collaboration with the Iclif Leadership and Governance Centre.
The second: Data analytics was performed on publicly available digital conversations on the Internet between Jan 1 and Dec 31, 2018, in partnership with the Reputation Institute.
The third found PwC conducting an online poll in English and Bahasa Malaysia in March 2019, involving the Malaysian public, on how the 20 finalists were perceived.
Then, an independent judging panel discussed the findings and decided on the winners.
The judging panel was led by Sir David Tweedie, chairman of the Board of Trustees of the International Valuation Standards Council. He is also the past chairman of the International Accounting Standards Board.
Besides Jemilah, others on the panel were business radio station BFM89.9 founder Malek Ali, as well as TMC Life Sciences Bhd group chief executive officer (CEO) and Thomson Hospital Kota Damansara CEO Nadiah Wan.
"It is evident that Malaysian companies are investing [the] time to build trust and this is reflected in the results. My fellow judges and I agreed that the companies that were a cut above the rest were close contenders on several fronts," said Tweedie.
The chief judge noted a key point during the judging panel's deliberation was the importance of leadership trust, a new dimension added to the awards methodology this year to gauge how employees feel about their leaderships' efforts to build trust.
"My fellow judges and I unanimously agreed that leadership trust is an essential component in measuring trust perception among companies, and should be assessed in determining the awards' winners in future," Tweedie added.