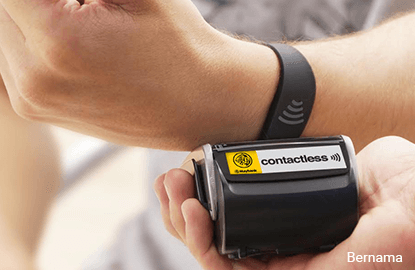 KUALA LUMPUR (July 21): Malayan Banking Bhd (Maybank) has launched a mobile wallet payment service, the first in Malaysia. To be rolled out for full commercial release in August, the country's largest bank has set a target of snapping up at least 20,000 users within the first year, according to its statement today.
In the same vein as Apple Inc's Apple Pay, MaybankPay will enable customers to make cashless payments via smartphones and other handheld devices, which will then be charged to their Visa cards without having to use a physical debit or credit card.
Payment is effected simply by scanning their mobile phone at merchant card terminals which carry the Visa PayWave capability nationwide.
But in the initial stage, MaybankPay will be available only through Android-powered devices, with up to eight accounts allowed to be linked to one device.
Maybank group president and chief executive officer Abdul Farid Alias launched the mobile wallet payment service today at Maybank Treats Fair 2016. Those who attend the fair, which runs from today to July 24, can test out the pilot version of MaybankPay.
Maybank's head of community financial services Malaysia Datuk Hamirullah Boorhan said the launch of MaybankPay is part of Maybank's strategy to strengthen its digital offering in line with the group's objective of becoming a digital bank of choice.
Describing MaybankPay as "fast, easy, and safe to use", Hamirullah said, "MaybankPay is set to revolutionise electronic payments in Malaysia as it offers a new gateway wherein cardholders can carry their card inside their mobile devices."
He said following the roll-out in Malaysia, Maybank will study the feasibility of bringing MaybankPay to its other home markets, namely Indonesia, Singapore and Philippines. "This will be our next focus given the rapid growth of mobile telecommunication users in these markets," he added.