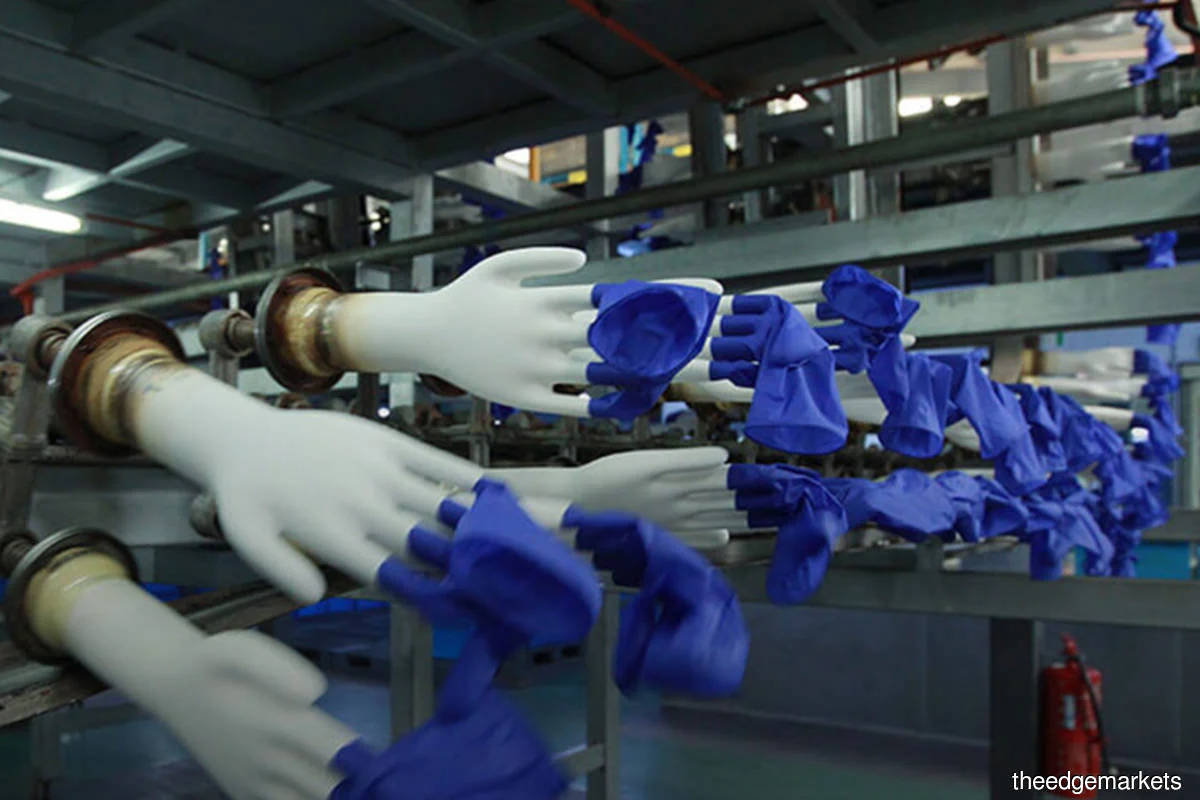 KUALA LUMPUR (July 2): Maybank Investment Bank Bhd (Maybank IB) said today the best is over for the Malaysian rubber glove manufacturing sector as average selling prices (ASPs) had peaked in the first half of 2021 (1H21) amid moderating demand for gloves on rising Covid-19 vaccination rates.
Maybank IB analyst Wong Wei Sum wrote in a note today that the glove sector's earnings upcycle seems to have been cut short in anticipation of a faster-than-expected decline in glove ASPs in 2H21.
"The glove sector is entering a phase of declining ASP (and hence profit) trend on increased supply and rising vaccination rates. Competition is intensifying among both existing and new entrants. 
"ESG (environmental, social, and governance) risk adds further pressure on glove companies' earnings and valuation outlook. We are switching our valuation method from DCF (discounted cash flow) to PE (price-earnings) multiple, and downgrading the sector to 'neutral'. Hartalega (Holdings Bhd) is our preferred pick," she said.
Besides Hartalega, Malaysia's major rubber glove manufacturers include Top Glove Corp Bhd, Supermax Corp Bhd and Kossan Rubber Industries Bhd.
In recent conference calls with analysts, both Hartalega and Top Glove had guided for lower ASPs in the coming months, Wong said today.
"Intensifying competition among the existing and new players (especially the rapidly-expanding China glove producers) could further pressure ASP. 
"According to a Frost & Sulivan report, ASPs for nitrile/latex gloves are expected to decline by -59%/-52% to US$35 /US$20.40 per 1,000 gloves by 2023, from the current US$85/US$42.70 per 1,000 gloves, respectively," Wong said.
"We downgrade Kossan (shares) to 'hold' while maintaining our 'buy' (call) on Hartalega and 'hold' (call) on Top Glove," Wong said.
Maybank IB lowered its Hartalega share target price (TP) to RM9.80 from RM13.10 while Kossan's TP was revised down to RM3.20 from RM5.25, according to her.
On Top Glove, she said Maybank IB lowered its TP for the stock to RM3.98 from RM4.51.
According to Wong, Maybank IB lowered its Hartalega TP to RM9.80 from RM13.10 in tandem with an earnings downgrade on the company for the financial year ending March 31, 2022 (FY22), FY23 and FY24. 
"We lower our FY22/FY23/FY24 earnings forecasts for Hartalega by -21%/-19%/-6% after assuming lower blended ASPs for FY22/FY23/FY24 of US$65/US$44/US$29 per 1,000 gloves, while maintaining our earnings forecasts for Kossan and Top Glove as we have already assumed lower ASPs during last results season," she said.
Meanwhile, TA Securities Holdings Bhd analyst Tan Kong Jin wrote in a note today that based on the current expansion plans of existing glove manufacturers, entry of new players and aggressive glove production capacity expansion by China, TA Securities believes that there is a possibility of glove oversupply in 2022. 
"In our forecast, we expect a surplus of 40.3 billion gloves in 2022 (assuming no delays/changes to the targeted expansion plans)," Tan said.
For 2021, he said TA Securities and glove manufacturers, however, project glove supply shortage as the Covid-19 pandemic generates demand for gloves, which is seen as a crucial personal protective equipment.
"Based on our channel checks, 2021 capacity will be fully sold. We project a shortage of 27.5 billion gloves while MARGMA (Malaysian Rubber Glove Manufacturers Association) has projected a shortage of 80 billion gloves in 2021. 
"We expect future demand for gloves to continue growing by 9% over the next three years on the back of: i) rising hygiene awareness, ii) increasing incidence of chronic communicable diseases, iii) ageing population, iv) wider applications across industries and v) growing usage of gloves," he said.
Tan said that as Covid-19 vaccination continues to gather pace, daily new cases and deaths linked to the pandemic globally are expected to decrease in the future. 
As such, the lead time for gloves has fallen to about 70 days compared to above 250 days at its peak, he said. 
Lead time refers to the number of days taken to deliver products to buyers from the day the orders were placed.
Hence, Tan said: "We expect (glove) ASP to continue to trend lower and move towards normalisation gradually by end-2023."
Overall, glove ASP is still expected to remain above pre-Covid-19 levels due to the increase in cost and structural change in glove usage, according to him.
He said the key risk to TA Securities' glove ASP assumptions is a price war initiated by Chinese players to gain market share.
"Following the revision in our earnings forecast and rolling forward our valuations to CY23, we downgrade Big 4's (Malaysian glove manufacturers) TP accordingly. 
"We maintain our 'buy' recommendation on Hartalega and Kossan with a lower TP of RM10.50 (previously RM12.16) and RM3.98 (previously RM4.90) [respectively]. 
"We downgrade Top Glove to 'hold' from 'buy' with a lower TP of RM4.02 (previously RM5.30). Meanwhile, we downgrade Supermax to 'sell' from 'buy' with a lower TP of RM2.76 (previously RM6.07). Downgrade rubber glove sector to 'neutral' from 'overweight'," Tan said.
These glove manufacturers' share prices settled lower during Bursa Malaysia's 12:30pm break today.
Top Glove fell four sen or 0.98% to RM4.03, Hartalega slipped 12 sen or 1.68% to RM7.02, Supermax slid five sen or 1.51% to RM3.26 while Kossan lost eight sen or 2.51% to RM3.11.