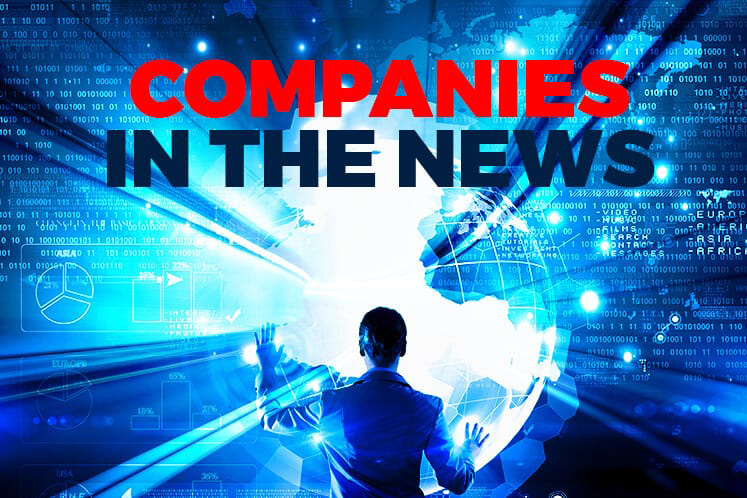 KUALA LUMPUR (Aug 30): Based on corporate announcements and news flow today, stocks in focus on Monday (Sept 3) may include: Malayan Banking Bhd, RHB Bank Bhd, Alliance Bank Malaysia Bhd, Media Prima Bhd, Utusan Melayu (Malaysia) Bhd, IGB Bhd, AirAsia Group Bhd, DiGi.Com, Lafarge Malaysia, Petron Malaysia Refining & Marketing Bhd and Sime Darby Bhd.
Malayan Banking Bhd (Maybank) reported an 18% rise in its second quarter net profit to RM1.96 billion from RM1.66 billion a year earlier on higher insurance and Islamic banking income besides lower allowances for loan impairment losses.
Maybank said revenue grew to RM11.51 billion in the second quarter ended June 30, 2018 (2QFY18) from RM10.92 billion a year ago.
For 1HFY18, Maybank's net profit rose to RM3.83 billion from RM3.36 billion a year earlier, as revenue grew to RM23.02 billion from RM22.2 billion.
RHB Bank Bhd reported a 13.8% increase in net profit for its second quarter ended June 30, 2018 (2QFY18) to RM570.26 million, from RM500.96 million a year ago, mainly driven by higher net fund-based and non-fund based income and lower allowances for credit losses on other assets. Revenue rose 1.1% to RM2.66 billion from RM2.63 billion.
The bank declared an interim dividend of 7.5 sen per share for the financial year ending Dec 31, 2018 (FY18), at a payment date to be determined later.
For the first half of the year (1HFY18), net profit for the group came in 16% higher at RM1.16 billion from RM1 billion previously, while revenue rose 3.6% to RM5.44 billion from RM5.25 billion in 1HFY17.
Alliance Bank Malaysia Bhd posted its highest quarterly net profit in three years of RM136.37 million in the first financial quarter ended June 30, 2018 (1QFY19), up 1% from RM135 million a year ago, driven by higher year-on-year net interest margin.
Quarterly net income grew 3.7% to RM401.07 million from RM386.61 million a year ago, due to expansion of total gross loans/financing by RM1.5 billion.
Media Prima Bhd will sell one piece of land and three properties in Bangsar and Shah Alam, to PNB Development Sdn Bhd for RM280 million, resulting in a one-off net gain of about RM127.7 million.
The group said New Straits Times Press (M) Bhd (NSTP), a 98.2%-owned subsidiary of Media Prima, entered into three separate conditional sales and purchase agreements with PNB Development for the proposed sale of the properties.
Media Prima expects to realise a one-off net gain from the proposed sale of about RM127.73 million.
The four properties are two pieces of freehold land in Bangsar where its Balai Berita headquarters is located, a piece of freehold industrial land with buildings erected in Shah Alam where its printing plant is located, and another piece of freehold industrial land also in Shah Alam.
Utusan Melayu (Malaysia) Bhd will have the Corporate Debt Restructuring Committee (CDRC), under the purview of Bank Negara Malaysia, mediate between the group and its financiers.
IGB Bhd is undertaking an internal group reorganisation which will see its 49.12% indirect stake in IGB Real Estate Investment Trust (REIT) come directly under the group. Currently the stake is held via wholly-owned IGB Corp Bhd.
In a filing with Bursa Malaysia, IGB said the transfer will be undertaken by way of a dividend-in-specie to be declared by IGB Corp out of its available profits to IGB. The exercise is part of its continuing strategic review of its group of companies following the privatisation of IGB Corp in March.
The exercise will result in IGB REIT becoming a direct subsidiary of IGB, facilitating the regular distributions of income from the yield-play IGB REIT without having to go through IGB Corp as intermediary.
AirAsia Group Bhd shareholders can look forward to receiving a special dividend in the fourth quarter of 2018 as the disposal of its aircraft leasing business, Asia Aviation Capital Ltd (AAC), is expected to conclude then.
"We have received US$501 million for the aircraft leasing deal under AAC... We will announce a special dividend when the transaction on AAC concludes in 4Q 2018," its group chief executive officer Tan Sri Tony Fernandes said in a statement to announce the airline's financial results for the second quarter ended June 30, 2018.
DiGi.Com Bhd and its subsidiary Digi Telecommunications Sdn Bhd today announced that Haakon Bruaset Kjoel has been appointed chair of Digi's board.
Kjoel's appointment is effective Sept 1, 2018, and he succeeds Lars-Ake Norling who has been Digi's chair of the board since July 2017.
Lafarge Malaysia Bhd is expecting to remain loss-making this year, after the group reported its net loss expanded to RM83.79 million for its second quarter ended June 30, 2018 (2QFY18), from RM44.09 million in the year-ago quarter, mainly due to sluggish demand and intense competition in its cement division, despite flat revenue.
Revenue came in at RM532.2 million versus RM531.77 million in 2QFY17, as higher contribution from its cement segment was offset by lower revenue from its aggregates and concrete segments.
The situation was further exacerbated by the increase in coal and petcoke prices, and higher finance cost. In addition, it said its previous year's quarter had recorded a one-off gain on land disposal.
The weaker 2Q led to Lafarge's cumulative net loss for the first half of FY18 (1HFY18) expanding to RM152.53 million from RM93.02 million in the same period last year, though revenue only slid a marginal 1% to RM1.08 billion from RM1.09 billion.
The Finance Ministry has clarified that Petron Malaysia Refining & Marketing Bhd's sister company, Petron Fuel International Sdn Bhd, is not the sole fuel provider for government vehicles, but an addition to existing providers Petroliam Nasional Bhd (Petronas) and Shell Malaysia, for healthier competition.
In a media release today, the Ministry acknowledged the 'viral' sharing of news on the appointment of Petron as a fuel supplier for Putrajaya vehicles, but stressed that it was an administrative decision.
Sime Darby Bhd is not having a fire sale of its non-core assets, including its 30% stake in Tesco Stores (M) Sdn Bhd, despite the group's long-term strategy to focus on its three core businesses, namely industries, motor, and healthcare.
Group chief executive officer Jeffri Salim Davidson said the management is still waiting for the right time to divest its shareholding in the hypermarket chain.