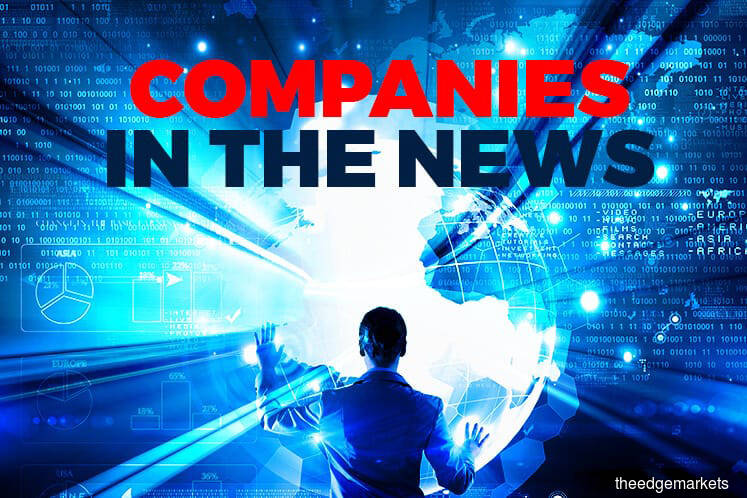 KUALA LUMPUR (Jan 23): Based on corporate announcements and news flow today, stocks in focus tomorrow (Friday, Jan 24) may include: Malayan Banking Bhd (Maybank), Public Bank Bhd, RHB Bank Bhd, Hong Leong Bank Bhd, Hong Leong Islamic Bank Bhd, Anzo Holdings Bhd, Kerjaya Prospek Group Bhd, KLCCP Stapled Group, Pavilion Real Estate Investment Trust (Pavilion REIT) and Axiata Group Bhd. 
Banks have cut their base rates following Bank Negara Malaysia's announced reduction in the overnight policy rate (OPR). 
Malayan Banking Bhd (Maybank) is cutting its base rate (BR) and base lending rate (BLR) by 25 basis points (bps) tomorrow (Jan 24).
Maybank said its BR will be lowered to 2.75% per annum (p.a.) from 3%, while its BLR will be revised downwards to 6.40% per annum, from 6.65% p.a.
Its Islamic banking segment will also revise rates. Maybank's Islamic BR will be reduced by 25bps to 2.75% p.a. from 3% previously, with its Islamic base financing rate reduced to 6.40% p.a. from 6.65% p.a. previously.
The bank also noted that deposit rates will also be adjusted downwards by 25bps, also effective tomorrow.
Public Bank Bhd too has announced a reduction in its base rate and base lending rate or base financing rate by 0.25%, effective Jan 28, 2020.
Public Bank's fixed deposit rates will also be correspondingly adjusted by 0.25%, effective on the same date.
Meanwhile RHB Bank Bhd, RHB Islamic Bank Bhd and RHB Investment Bank Bhd will reduce their BR from 3.75% to 3.5%, and  their BLR from 6.7% to 6.45% per annum effective Jan 29.
RHB Bank's fixed deposit rates will also be revised downwards by 25 basis points.
Hong Leong Bank Bhd and Hong Leong Islamic Bank Bhd, have also said they will be reducing the BR and Islamic BR to 3.63% from 3.88% effective Jan 31.
Their loans and financing based on BLR and Islamic Financing Rate will be lowered to 6.64% from 6.89%, it said. The board rates of its fixed deposits will be revised lower by 25 basis points as well.
Anzo Holdings Bhd, an affected listed issuer that may not have a level of operations adequate to warrant continued trading or listing on Bursa Malaysia, announced today the termination of two collaboration agreements it inked nearly three years ago for a planned RM420 million project in Petaling Jaya.
The first was the collaboration agreement signed between its wholly-owned subsidiary Harvest Court Properties Sdn Bhd (now known as Anzo Properties Sdn Bhd) and Captivate Max Sdn Bhd, which Anzo said has been terminated due to unfavourable market conditions.
Separately, Anzo said the collaboration agreement between Anzo Properties and DVM Innovate Sdn Bhd — a unit of Key Alliance Group Bhd — for the development of a proposed e-commerce fulfilment hub, has also been terminated upon expiry.
Kerjaya Prospek Group Bhd has secured a contract to execute and complete infrastructure works for the proposed Seri Tanjung Pinang (Phase 2A) development (STP2) in Penang Island, worth a total of RM41.45 million.
The contract, awarded to its wholly-owned unit Kerjaya Prospek (M) Sdn Bhd by an indirect subsidiary of Eastern & Oriental Bhd (E&O), is for the execution and completion of roadworks, water reticulation system, street lighting works and all associated works for the proposed STP2 in Timur Laut.
According to Kerjaya Prospek, the construction works will take 16 months to complete, from its scheduled commencement on Feb 5, 2020. The contract is expected to provide an additional stream of revenue for the group over the next two years.
KLCCP Stapled Group, comprising KLCC Property Holdings Bhd and KLCC Real Estate Investment Trust (KLCC REIT), recorded a 33% rise in fourth quarter net profit to RM244.41 million, from RM183.66 million a year ago, mainly driven by the hotel and management services segment.
Revenue in the quarter ended Dec 31, 2019 fell marginally by 0.38% to RM364.96 million, from RM366.35 million previously.
KLCCP declared a distribution per stapled security of 11.6 sen, representing an increase of 6.4% from last year. This brings the total distribution for the full year to 38 sen.
For the full year FY19, net profit rose 9% year to RM790.15 million versus RM724.91 million in the previous year, while revenue inched up 1.2% to RM1.42 billion from RM1.41 billion.
Pavilion Real Estate Investment Trust (Pavilion REIT) said its fourth quarter  net property income fell 9.64% to RM91.25 million from RM100.98 million a year earlier, on the back of lower rental income and higher property operating expenses.
Rental income for the quarter ended Dec 31, 2019 declined 1.45% to RM123.96 million from RM125.79 million, while property operating expenses rose 18.75% to RM54.71 million from RM46.08 million.
The REIT is declaring a final income distribution per unit of 4.1 sen, payable on Feb 28. Of this sum, 3.93 sen is taxable and the balance 0.17 sen non-taxable.
For the full year, Pavilion REIT's net property income rose 0.11% to RM375.18 million from RM374.79 million in 2018, as  gross revenue increased 5.47% to RM585.35 million from RM554.98 million.
Full-year rental income increased 3.38% to RM502.65 million from RM486.24 million in 2018, while property expenses rose 16.63% to RM210.17 million from RM180.19 million.
Axiata Group Bhd's president and CEO Tan Sri Jamaludin Ibrahim's contract, which expires on March 2, will be extended until the end of the year.
Whereas UEM group managing director Datuk Mohd Izzaddin Idris has been appointed as the deputy group CEO and the group CEO-designate, with immediate effect as of Jan 24.
Izzaddin is currently a board member of Axiata and is redesignated as an executive director.