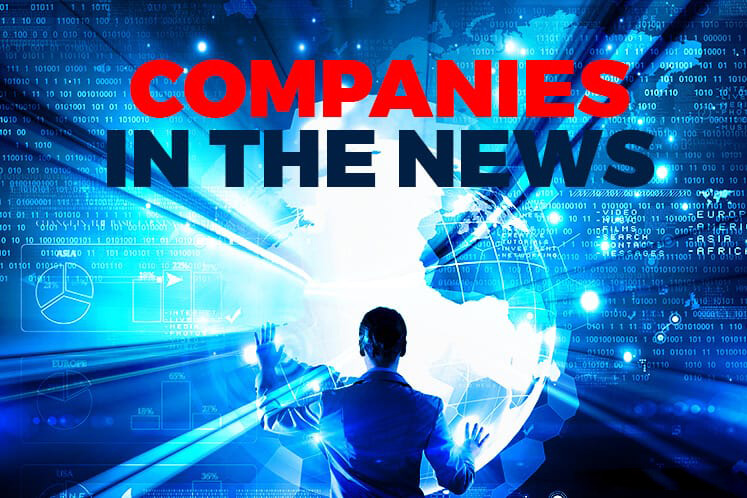 KUALA LUMPUR (April 19):  Based on corporate announcements and news flow today, companies that may be in focus on Monday (April 22) may include the following: Malayan Banking Bhd, Petronas Dagangan Bhd, Telekom Malaysia Bhd, UEM Sunrise Bhd, KNM Group Bhd, Seacera Group Bhd and DWL Resources Bhd
Malayan Banking Bhd (Maybank) has terminated the collaboration agreement with troubled Hyflux Ltd in relation to the divestment of the Tuaspring integrated water and power plant (IWPP) in Singapore effective immediately.
The Singapore-listed water treatment firm said it had received a letter from Maybank terminating the collaboration agreement signed with Hyflux and its unit Tuaspring Pte Ltd in July 2018.
Petronas Dagangan Bhd (PetDagang) said it is collaborating with Telekom Malaysia Bhd (TM) to upgrade over 1,000 Petronas stations nationwide with next-generation network infrastructure, which allows its network of stations will be able to accept more digital-based functions that will change the way customers interact within the stations.
A joint statement by the two companies said the upgrade will be carried out by TM through its enterprise and public sector business solutions arm, TM One.
Today's collaboration follows the signing of a Memorandum of Understanding between Petroliam Nasional Bhd (Petronas) and TM in April 2018, where both groups committed to increase their respective operational excellence and enhance customer experience, leveraging on each other's strengths and shared values.
Property developer UEM Sunrise Bhd is currently in talks with a potential local partner to jointly-develop a high-rise project on 12.43 hectares of land in Durban, South Africa.
Its MD and CEO Anwar Syahrin Abdul Ajib said he would be going to South Africa this July to follow up on the progress of the discussion and hoped both parties would seal their partnership by year-end.
"For the beginning, we will go with two plots of development including for the apartment as well as retail and hotel, and if this goes well, we expect the balance of the land will appreciate in value," he added.
KNM Group Bhd has proposed to raise up to RM36.36 million via a private placement to third party investors to be identified later, to finance its ethanol plant in Chachoengsao, Thailand and for operating expenses, which is expected to raise gross proceeds of RM36.36 million.
It said the proposed placement entails the issuance of up to 234.61 million new shares, representing 10% of the total number of its issued shares.
The shareholder tussle in tile maker Seacera Group Bhd seems to be hotting up. The group is taking legal action against its largest shareholder Datuk Tan Wei Lian, and three shareholders namely Datin Sek Chian Nee, Jeannie Ooi Chin Nee and Liu Zhen in respect of notice of EGM.
"[The Notice of the EGM] is unlawful, null and void," Seacera said, adding that it had engaged Messrs Lim, Chong, Phang and Amy to take the necessary actions against these shareholders.
The board said the notice of the extraordinary general meeting (EGM) it received from these shareholders on April 15, 2019 is in contravention of the Companies Act 2016 as Tan and others had at that time controlled only 7.98% while claiming to hold at least 10% of its issued share capital in aggregate on the day the notice was received.
However, Seacera's stock exchange filing on April 18 showed that Tan had raised his direct stake to 16.36% as at April 17.
Amid a heated boardroom tussle, Tan had called for the EGM to be held on May 15, 2019, to appoint six new directors and to remove eight existing directors of the company.
DWL Resources Bhd has appointed former Mass Rapid Transit Corp Sdn Bhd (MRT Corp) CEO Datuk Seri Shahril Mokhtar as its managing director.
Prior to this, he was MRT Corp CEO from January 2015 until December 2018.
"As a CEO of MRT Corp, he was responsible to oversee and monitor the multi-billion (ringgit) MRT Line 1 (Sg. Buloh-Kajang Line) and MRT Line 2 (Sg Buloh-Serdang-Putrajaya Line) projects' development."