This article first appeared in The Edge Malaysia Weekly, on August 8, 2022 - August 14, 2022.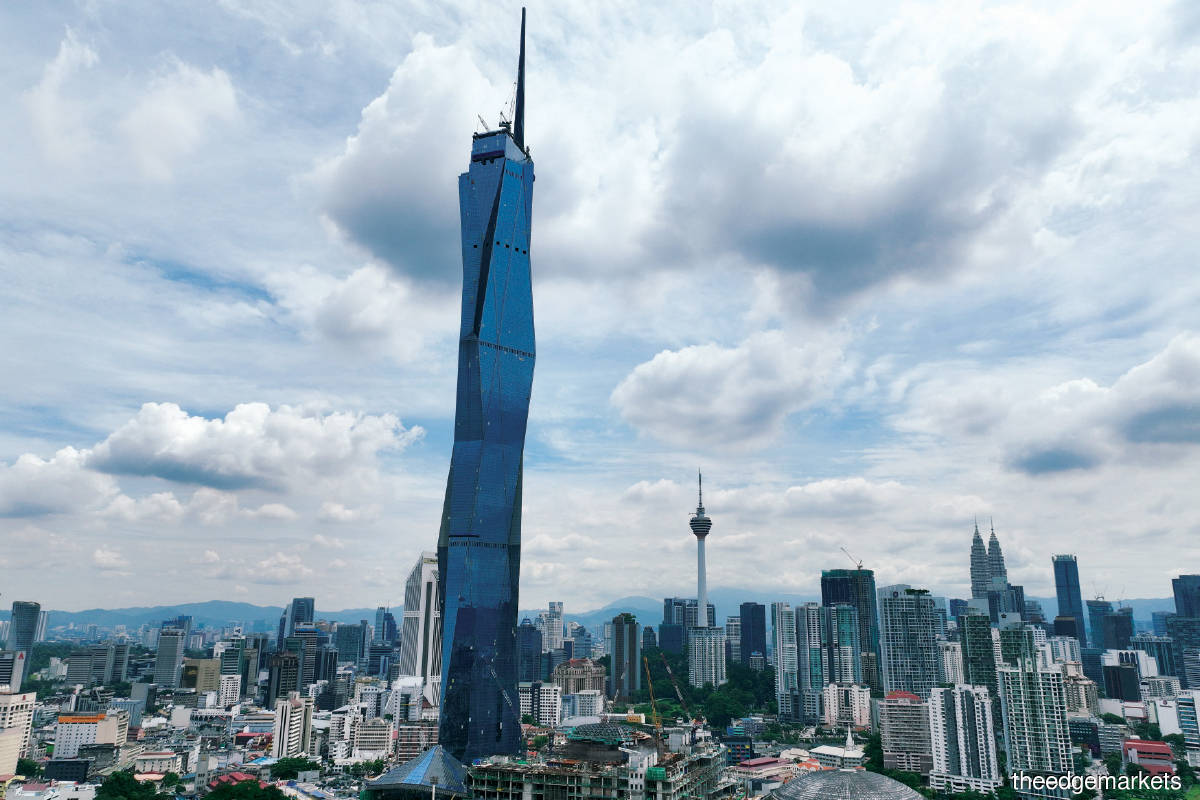 THE office space landscape in Kuala Lumpur is set to see some major changes once the Merdeka 118 tower is completed.
According to sources, the country's largest bank by assets, Malayan Banking Bhd (Maybank), could be moving its headquarters to the iconic new skyscraper, which is owned by Permodalan Nasional Bhd (PNB) via wholly-owned PNB Merdeka Ventures Sdn Bhd.
PNB is the single-largest shareholder of Maybank, with 41.1% equity interest.
One of the sources says Maybank may end up occupying as many as 33 floors at Merdeka 118, giving it naming rights for the second tallest building in the world behind the Burj Khalifa in Dubai, United Arab Emirates, and the tallest building in Southeast Asia at a height of 678.9m.
When approached by The Edge, Maybank declined to comment on whether it was moving its headquarters to Merdeka 118.
"Maybank does not comment on market speculation," it says in an email response. "The bank's headquarters currently remain at Menara Maybank, located along Jalan Tun Perak in Kuala Lumpur."
Aside from Menara Maybank in Jalan Tun Perak, several other iconic office buildings such as Menara PNB in Jalan Tun Razak and Menara MIDF in Jalan Raja Chulan could be vacant in the coming months as PNB-owned entities move into Merdeka 118.
"PNB, Maybank and Malaysian Industrial Development Finance Bhd (MIDF) are expected to be among the main tenants of Merdeka 118," a source tells The Edge. MIDF is a wholly-owned subsidiary of PNB.
The source adds that should Merdeka 118 become Maybank's new headquarters, the Menara Maybank building could be up for sale. Another source says a consultant has been appointed to revalue the asset.
According to Maybank's latest annual report, the book value of the 33-year-old Menara Maybank stood at RM83 million as at Dec 31, 2021.
Maybank had in April relocated some of its operations to i-City, Shah Alam, as part of its business continuity management (BCM) and resiliency planning efforts. This was to cater for new work arrangements arising from the Covid-19 pandemic.
"The need for a permanent alternate office site is part of our risk management processes identified under BCM protocol to ensure the bank is able to carry out business-as-usual operations, in any given situation," Maybank explains in its email reply.
Sources say PNB had asked several of its investee companies to take up space in Merdeka 118.
Apart from Maybank and MIDF, PNB also holds substantial stakes in various public-listed companies, including Sapura Energy Bhd, Velesto Energy Bhd, S P Setia Bhd, Sime Darby Bhd, Sime Darby Plantation Bhd, Sime Darby Property Bhd and UMW Holdings Bhd.
Merdeka 118 will offer 83 stories of rentable office space, with most of the space to be taken up by PNB and its investee companies and the top 17 floors to be allocated for a Park Hyatt hotel.
When contacted, PNB confirmed that the fund and Park Hyatt would be "among" the co-anchors of Merdeka 118 tower, but it remained tight-lipped about the others.
"We are currently in advanced discussions with a number of major domestic and international corporations and will announce these tenants in due course," it says in an email reply to The Edge.
According to a source, Maybank had indicated it would take about 10 floors at Merdeka 118, but it was asked whether it wanted to take up more floors with naming rights.
Tower to be completed by year-end
The construction of Merdeka 118 started in 2014 and is expected to be completed by year-end.
PNB said it would move its operations to Merdeka 118 by the first half of 2023, while Park Hyatt is scheduled to welcome guests by late 2023.
Spanning more than 3.1 million sq ft of floor area, the Merdeka 118 tower includes 1.7 million sq ft of net lettable area of Premium Grade-A rentable office space, and about one million sq ft of retail space.
Last November, PNB president and group CEO Ahmad Zulqarnain Onn said Merdeka 118 had reached 85% completion, with the tower floor installation having reached Level 118, and the glass panel installation fixed up to Level 114.
The relocation of Maybank, PNB and MIDF to the tower could see three iconic office buildings in Kuala Lumpur city centre being vacated.
"These buildings are ripe for refurbishment and redevelopment, as most of them are already more than 30 years old," a property analyst says.
It is worth noting that MIDF has been a tenant at Menara MIDF in Jalan Raja Chulan since 2020. This was after PNB sold the 21-storey building to Singapore-based JD Hospitality Sdn Bhd for RM140 million, or RM875 psf.
MIDF is scheduled to vacate the premises once the Merdeka 118 tower is completed.
The Edge reported in 2020 that the new owner of Menara MIDF was likely to repurpose it as a hotel at a later stage.
The 41-year-old Menara MIDF is located between Menara Affin and Holiday Inn Express in Jalan Raja Chulan. Previously called Kompleks Kewangan, Menara MIDF is a freehold asset that occupies a 36,382 sq ft parcel.
But, a market observer reckons that MIDF's relocation to Merdeka 118 is subject to the outcome of its merger with MBSB Bank Bhd. Recall that MIDF is seeking to merge with a bigger entity — the country's second largest standalone Islamic bank, MBSB Bank.
With growing competition in the Kuala Lumpur office market, fuelled by new supply from Merdeka 118 and Tun Razak Exchange, which adds to a glut in premium office space, ageing office buildings such as Menara Maybank and Menara PNB could face difficulty in attracting tenants and buyers.
What is in store for both buildings remains to be seen.