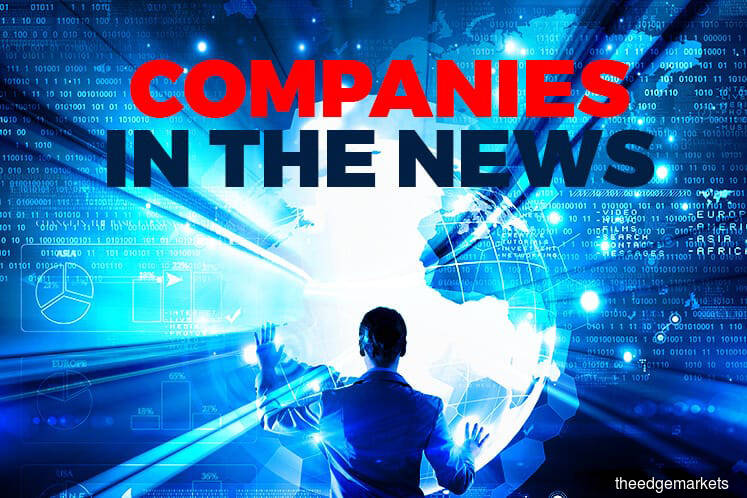 KUALA LUMPUR (Dec 13): Based on corporate announcements and news flow today, stocks in focus tomorrow (Thursday Dec 14) may include: Malayan Banking Bhd (Maybank), Kejuruteraan Asastera Bhd (KAB), PBA Holdings Bhd, Minetech Resources Bhd, Aeon Credit Service (M) Bhd, AirAsia Bhd, Berjaya Food Bhd (BFood), PUC Bhd and O&C Resources Bhd (OCR).
Malayan Banking Bhd's (Maybank) wholly-owned unit Maybank Asset Management Group Bhd (MAMG) is acquiring two fund management companies owned by Permodalan Nasional Bhd (PNB) for RM51 million.
In a filing with the stock exchange, Maybank said it is buying Amanah Mutual Bhd (AMB) for RM16.12 million and Singapore Unit Trusts Ltd (SUTL) for RM34.88 million.
Both firms are involved in unit trust funds management, with AMB focused on retail clients and SUTL on institutional clients.
AMB is a wholly-owned subsidiary of Amanah Saham Nasional Bhd (ASNB) and SUTL is fully owned by PNB International Ltd (PIL). In turn, ASNB and PIL are wholly-owned by PNB, which is also the major shareholder of Maybank.
Maybank said MAMG also inked a conditional share subscription agreement with PNB for the subscription of some 8.34 million new shares in MAMG, for RM50 million or RM6 per subscription share.
PNB will then hold 20% of the enlarged share capital of MAMG, with the remaining 80% belonging to Maybank.
Kejuruteraan Asastera Bhd (KAB), a home-grown electrical and mechanical engineering specialist, has bagged a RM14.5 million subcontract from Kerjaya Prospek (M) Sdn Bhd to undertake electrical and telephone services works for a luxury condominium project.
KAB said it has received a letter of acceptance from Kerjaya Prospek to act as the latter's nominated subcontractor for the proposed project, which involves the installation, testing and commissioning of electrical systems, as well as telephone and telecommunications infrastructure.
KAB is expected to commence work on Jan 8, 2018, with completion on May 24, 2020.
The Penang State Government has reduced the water intake fee imposed on PBA Holdings Bhd to three sen per cubic metre for 2018, from six sen fixed previously, to reduce the water supply company's burden caused by the major flood in Penang in November.
Minetech Resources Bhd has proposed to acquire a 60% stake in quarry operator Bertam Capital Sdn Bhd (BCSB) for RM16.8 million from Bertam Roadbase Sdn Bhd (BRSB).
Minetech said the acquisition will be fully satisfied via an issuance of 120 million new Minetech shares to BRSB at an issue price of 14 sen per share.
BCSB has the exclusive mining rights to a granite quarry in Nilai, Negeri Sembilan, the group said, adding that the acquisition would be able to immediately contribute positively to Minetech and complement its existing operations.
 
The Inland Revenue Board (IRB) has slapped Aeon Credit Service (M) Bhd with notices of additional taxes and penalties, amounting to RM96.82 million.
The non-bank lender said it was served with notices of additional assessment for the years of assessment 2010 to 2016, with penalties, by the IRB yesterday.
Aeon Credit has appointed tax solicitors and is initiating proceedings to challenge the validity and legality of the said notices of additional assessment.
AirAsia Bhd is appointing Riad Asmat as chief executive officer (CEO) effective Jan 10, taking over the post from current CEO Aireen Omar, who will be promoted to AirAsia deputy group CEO, digital transformation & corporate services.
Riad will report directly to the other AirAsia deputy group CEO for airlines business, Bo Lingam.
Berjaya Food Bhd (BFood) saw a 15.5% rise in net profit to RM5.81 million in the second financial quarter ended Oct 31, 2017 (2QFY18), from RM5.03 million a year ago, which it attributed to higher pre-tax profit recorded by Starbucks' operations in Malaysia.
Lower losses incurred by the Kenny Rogers Roasters (KRR) operation in Indonesia arising from further closure of non-performing outlets, also helped boost profits.
Earnings per share grew to 1.55 sen from 1.34 sen.
Quarterly revenue also rose 7.8% to RM160.78 million, from RM149.11 million, mainly due to additional operating Starbucks cafes in the current quarter under review.
The group declared a second interim dividend of one sen per share, payable on Jan 26.
For the cumulative six month-period (6MFY18), the group's net profit rose 11.1% to RM11.15 million from RM10.04 million a year ago, while revenue was up 8.5% to RM315.17 million from RM290.48 million.
PUC Bhd marked its entry into the e-commerce market today with the launch of its social marketing platform called "Presto", which aims to benefit shoppers and sellers with digital tools, creative rewards mechanism and cost-effective marketing solutions.
Presto is also slated to roll out its e-wallet service by early 2018, having received approval from Bank Negara Malaysia for a large scheme e-money licence last September.
O&C Resources Bhd (OCR) announced a rise of 269% in net profit for its first quarter ended Oct 31, 2017 (1QFY18) to RM1.06 million, from RM288,000 a year earlier, thanks to increased profits from both the construction and property development divisions.
Quarterly revenue surged 80% to RM21.52 million from RM11.96 million, mainly due to an increase in progressive recognition of revenue from the property development segment.