This article first appeared in The Edge Financial Daily, on November 24, 2017.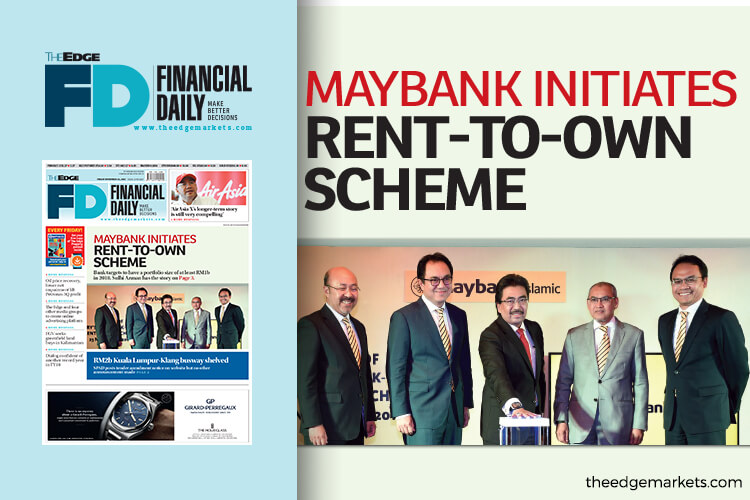 KUALA LUMPUR: Malayan Banking Bhd (Maybank) has rolled out the country's first-of-its-kind rent-to-own scheme in partnership with five established developers — S P Setia Bhd, Eco World Development Group Bhd, Mah Sing Group Bhd, Gamuda Land Sdn Bhd and Sime Darby Property Bhd.
With no requirement for any down payment and offered at a locked-in purchase price, Maybank said the scheme is targeted at first-time house buyers and house upgraders, which was in response to the growing demand from Malaysians for affordable schemes that would enable them to own houses.
The scheme, called HouzKEY and offered through Maybank Islamic Bhd, was launched by Second Finance Minister Datuk Seri Johari Abdul Ghani yesterday. It will be progressively rolled out next year, with a target to grow the portfolio size by RM1 billion in 2018.
Maybank Islamic chief executive officer (CEO) Datuk Mohamed Rafique Merican said initially the rent-to-own scheme would be available to staff of Maybank and affiliate entities, before it is offered to the public starting from as early as next year.
"In the first year of its launch, Maybank Islamic targets to have a portfolio size of at least RM1 billion in 2018," he said, adding that the scheme will cover both landed and non-landed residential properties.
Mohamed Rafique said the properties will be locked-in at a fixed rental price for five years and customers can choose to buy the unit or migrate to a Maybank mortgage seamlessly after one year of renting.
"Once an applicant chooses a property on our portal, and applies for it under HouzKEY, we will provide a decision within one working day, following which the customer must pay the three-month rental deposit within seven days," he said.
He said the bank intends to progressively expand its offering to include properties in other locations throughout Malaysia, and include more developers over the coming months to give Malaysians an even wider choice of houses to invest in.
According to Maybank group president and CEO Datuk Abdul Farid Alias, the unique concept of HouzKEY — which would be available online via maybank2own.com — is an alternative method of home financing by way of lease of arrangement that is based on the concept of ijarah or lease.
"It allows the customers to purchase a rental property in the long run. It certainly helps assist customers who have difficulty in securing home ownership, owing to the high initial cost," Abdul Farid said.
At the same time, he said, "The scheme will provide the transparency that customers need and certainty of their monthly rental commitments throughout the chosen tenure."
"It will also give them the opportunity to earn capital appreciation on their property via the cash-out option," he added, noting that that "best of all, there is the option to buy the property at a later stage but at a predetermined price".
To be eligible for the scheme, Maybank said applicants must have a household income of at least RM5,000 per month and committed to a minimum rental tenure of five years.
Customers will be subjected to a flat rental payment for the first five years, and they will also be able to purchase the property at a locked-in rate, continue rental tenure with 2% annual rental step-up or terminate the agreement with no further obligations.
To encourage more financial institutions to offer rent-to-own as an alternative home financing solution, Johari said the government will grant a 100% stamp duty exemption on the sale and purchase agreement to homebuyers who attain home ownership under these schemes.
Commenting on Malaysia's rental market, Johari said there is always a value proposition to explore ways to develop a robust rental market.
"In Malaysia, only 24% of households rent. The society has to correct this social stigma that renting is not the last resort, it is simply a choice," the minister said.
Johari added, "Such a choice is also particularly relevant in the current economic landscape considering the oversupply of residential properties that fall outside the affordability range."