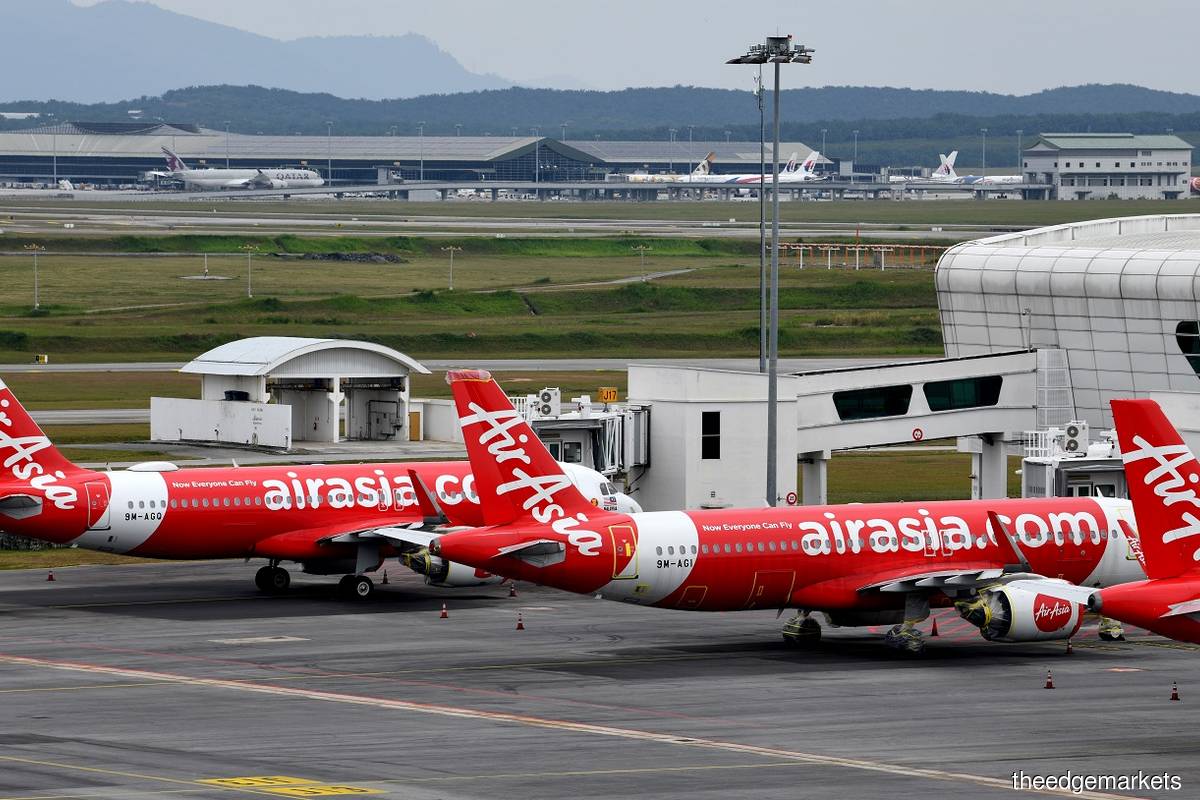 KUALA LUMPUR (Jan 17):  Maybank Investment Bank Bhd (Maybank IB) said on Monday (Jan 17) that AirAsia Group Bhd's fundamentals have improved despite the budget airline's Practice Note 17 (PN17) status under Bursa Malaysia listing rules.
Maybank IB said it took into account the fact that AirAsia Group's Malaysia, Thailand, Indonesia, and Philippines operating units have been flying between 25% and 50% of their respective operating units' aircraft at a time when the global aviation sector continues grapple with the impact of Covid-19-pandemic-driven movement restrictions.
In a note, analyst Yin Shao Yang wrote that Maybank IB believes AirAsia Group's aircraft usage update is respectable.
"More importantly, fundamentals have improved. All of our aforementioned analyses would be for nought if AirAsia Group's outlook does not improve.
"Yet, we believe that it has," Yin said.
According to AirAsia Group's website, the airline's Malaysia and Thailand operations are undertaken via AirAsia Bhd and Thai AirAsia Co Ltd while AirAsia Group's Indonesia and Philippines operations are managed under PT Indonesia AirAsia and Philippines AirAsia Inc.
Yin said that currently, Maybank IB understands that AirAsia Group's Malaysia operating unit is flying about 33% of its aircraft, the Indonesia and Philippines entities are flying around 25% to 33% of their aircraft while Thai AirAsia is flying about 50% of its aircraft.
Examining AirAsia Group's Malaysian operations, which historically contributed about 80% of its earnings, he said Maybank is encouraged by statistics reported by Malaysia Airports Holdings Bhd (MAHB).
"Although it seems that total passenger traffic in Malaysia has not improved very much since travel restrictions were eased on Oct 11, 2021 due to still low international traffic, domestic passenger traffic has.
"In fact, November 2021 domestic passenger traffic in Malaysia recovered to 50% of pre-Covid-19 levels. Pre-Covid-19, AirAsia Group commanded 2/3 of domestic passenger traffic in Malaysia and a lower 1/3 of international passenger traffic in Malaysia.
"Although MAHB's December 2021 statistics have yet to be published, initial indications are that domestic passenger traffic may have eased month-on-month a tad, not so much due to the Omicron variant of Covid-19 as the recently-passed floods.
"Thus, we maintain our view that AirAsia Group's fundamentals have improved," he said.
Yin said Maybank maintained its buy call for AirAsia Group shares with an unchanged target price at RM1.31.
On Friday (Jan 14), AirAsia Group said in statements on Bursa's website that the company had become a PN17 entity since Jan 7, 2022 under listing rules after the bourse operator and regulator dismissed on Thursday AirAsia Group's appeal for an extension of the PN17 relief period beyond Jan 7.
"The company (AirAsia Group) is in the midst of formulating a plan to regularise its financial condition and the relevant announcement(s) on the same will be made in due course in accordance with the requirements of the Main LR (Main Market listing requirements of Bursa)," AirAsia Group said.
The PN17 sentiment does not bode well for AirAsia Group's share price.
At Bursa's 12.30pm break on Monday, AirAsia Group's share prices settled down two sen or 3.23% at 60 sen for a market value of about RM2.49 billion based on the company's latest-reported number of issued shares at 4.15 billion.
AirAsia Group, the third most-actively traded stock, saw 51.13 million shares traded.
Read also:
AirAsia shares continue downward momentum
Fernandes: AirAsia aiming to become largest food delivery, ride hailing company in Asia