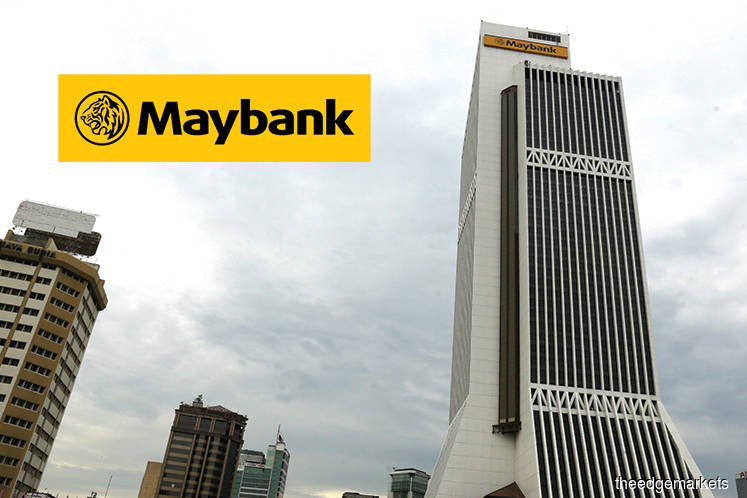 KUALA LUMPUR (Sept 3): Malayan Banking Bhd's (Maybank) second quarter financial results were within analysts' expectations, despite lower allowances for loan impairment losses.
On Thursday (Aug 30), Maybank said net profit increased 18% to RM1.96 billion in the second quarter ended June 30, 2018 (2QFY18), from RM1.66 billion a year ago, while revenue grew 5.4% to RM11.51 billion, against RM10.92 billion in 2QFY17.
The group's allowances for impairment losses on loans, advances, financing and other debts decreased by RM248.1 million to RM582.1 million for the quarter ended June 30, 2018, compared with the previous corresponding quarter ended June 30, 2017, according to Maybank's filing with Bursa Malaysia.
In separate research notes, CIMB Research and Hong Leong Investment Bank (HLIB) wrote that Maybank's 1HFY18 net profit and interim dividend per share (DPS) of 25 sen were in line with their expectation.
"We retain our FY18-20 forecast earnings per share and dividend discount model-based target price of RM10.00," said CIMB analyst Winson Ng.
During the conference call, Ng said Maybank unveiled that its exposure to Hyflux stands at S$658.6 million, equivalent to RM1.95 billion as at end-June 2018, which is classified as impaired.
"With this, it booked a loan loss provisioning of S$106.3 million (RM315.1 million) in 1QFY18 for this impaired loan. Despite this chunky provisioning, the bank is confident that it can still achieve its targeted credit charge-off rate of 40bp-45bp," Ng said.
Despite the provisioning for Hyflux exposures, Maybank's 2QFY18 loan loss provisioning (LLP) declined by 29.9% year-on-year (y-o-y), partly due to the higher base a year ago.
The LLP was also brought down by RM146.9 million write-back in the stage 1 loan, which we think was due to over-provisioning previously. The lower LLP in 2QFY18 helped the bank to record a strong net profit growth of 18.1% y-o-y in 2QFY18," he added.
Ng has downgraded his "Add" call to "Hold" on Maybank shares, due to its unattractive valuation, as its FY19 P/E of 12.9 times is more than 1 standard deviation above its 5-year average of 11.3 times.
"We had previously upgraded the stock to "Add" on June 27, when it was trading at RM8.68. We prefer RHB Bank Bhd for exposure to Malaysian banks," he said.
For 1HFY18, Maybank reported an increase in net profit at RM3.83 billion, from RM3.36 billion a year earlier. Revenue grew to RM23.02 billion, from RM22.2 billion a year ago, according to the group.
Meanwhile, HLIB analyst Khairul Azizi Kairudin maintained HLIB's "Hold" rating on Maybank's shares, with an unchanged target price of RM10.
"Despite 1HFY18 credit charge posted in line with management guidance, we believe that credit cost in the 2HFY18 will accelerate on the high side of management guidance, as we believe Maybank likely is to book lower recoveries amid weakness in ex-Malaysia asset quality," he said.
Although the impairment on Hyflux account (amounted to S$602.4 million) has resulted in gross impaired loans (GIL) in Singapore operations increasing to 3.6% (from 2.3% in 1HFY17), group GIL ratio declined to 2.53% (from 2.64% in 1HFY17), with net credit cost declining to 44bps (versus 57bps in 1HFY17), mainly on the back of higher recoveries, Khairul said.
"We leave our forecasts unchanged," he added.
At 11am, Maybank rose 6 sen to RM10.02, with 2.16 million shares done.