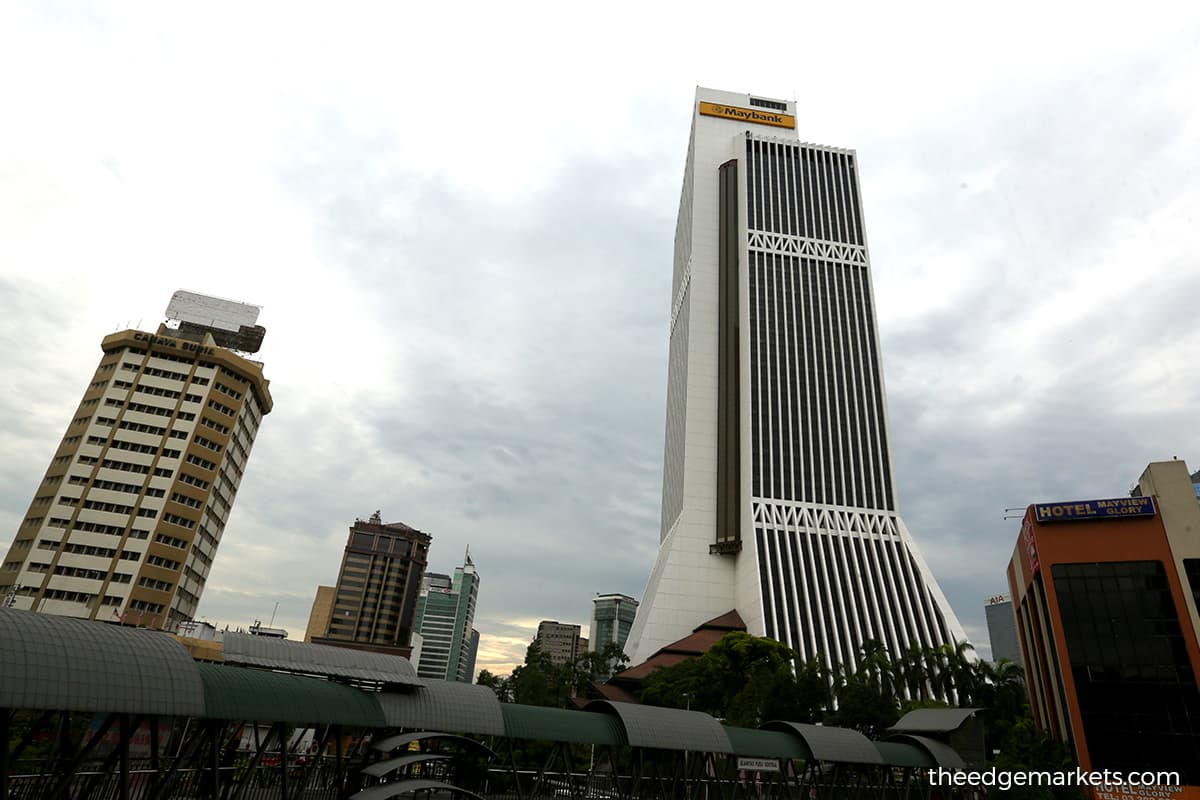 KUALA LUMPUR (Aug 28): "Surprised" and "disappointed". Both terms sum up analysts' sentiment when Malayan Banking Bhd (Maybank) did not declare dividends for the second quarter ended June 30, 2020 (2QFY20) as per the norm in previous years.
Hong Leong Investment Bank Bhd and MIDF Amanah Investment Bank Bhd analysts wrote in their notes today that both research firms were surprised by Maybank's decision to not declare dividends for 2QFY20.
HLIB analyst Chan Jit Hoong said: "Surprisingly, none declared (vs 2QFY19: 25 sen) as management takes a wait and see approach, before divvying in 4Q"
MIDF analyst Imran Yassin Yusof said MIDF was surprised that Maybank did not announce any dividends for 2QFY20, as had been its norm for the past few years.
"Most of all, we are disappointed that there were no dividends in the quarter as per norm in previous years. In our opinion, this could be due to the uncertain conditions and possibly the management's intention to preserve capital in light of this.
"Hence, we are slashing our dividend expectations to a payout ratio of 40%, which is the lower bound of its dividend policy," Imran said.
HLIB and MIDF had issued their notes earlier today, in response to Maybank's 2QFY20 financial announcement yesterday.
Yesterday, Maybank reported net profit for 2QFY20 fell 51.55% to RM941.73 million from RM1.94 billion a year earlier, as net interest income and Islamic banking income dropped, as well as due to significantly higher allowance for impaired loans amid a Covid-19 pandemic-driven weaker economic outlook.
Maybank said group revenue declined to RM11.79 billion in 2QFY20 from RM13.05 billion.
For the first half of FY20, Maybank said cumulative net profit fell to RM2.99 billion from RM3.75 billion a year earlier, while revenue was lower at RM25.01 billion versus RM26.03 billion.
News reports, quoting Maybank president and chief executive officer Datuk Abdul Farid Alias, reported yesterday that despite the harsh economic climate, Maybank is committed to keeping its dividend policy, with a payout ratio between 40% and 60% of its net profit.
It was reported that there was no interim dividend proposed 1HFY20 as Maybank, according to Abdul Farid, is "just beginning to emerge from the pandemic".
"We have a dividend policy that we try to meet every year which is 40% to 60% of our profit every year. It's something that we have consistently delivered at least until this year and we have consistently delivered beyond the promise," Farid was quoted as saying at a press conference here yesterday in conjunction with Maybank's 2QFY20 financial announcement.
At Bursa Malaysia today, Maybank's share price closed down 13 sen or 1.74% at RM7.33 at 5pm.
At this price, the bank is valued at RM82.4 billion.
Edited by Chong Jin Hun