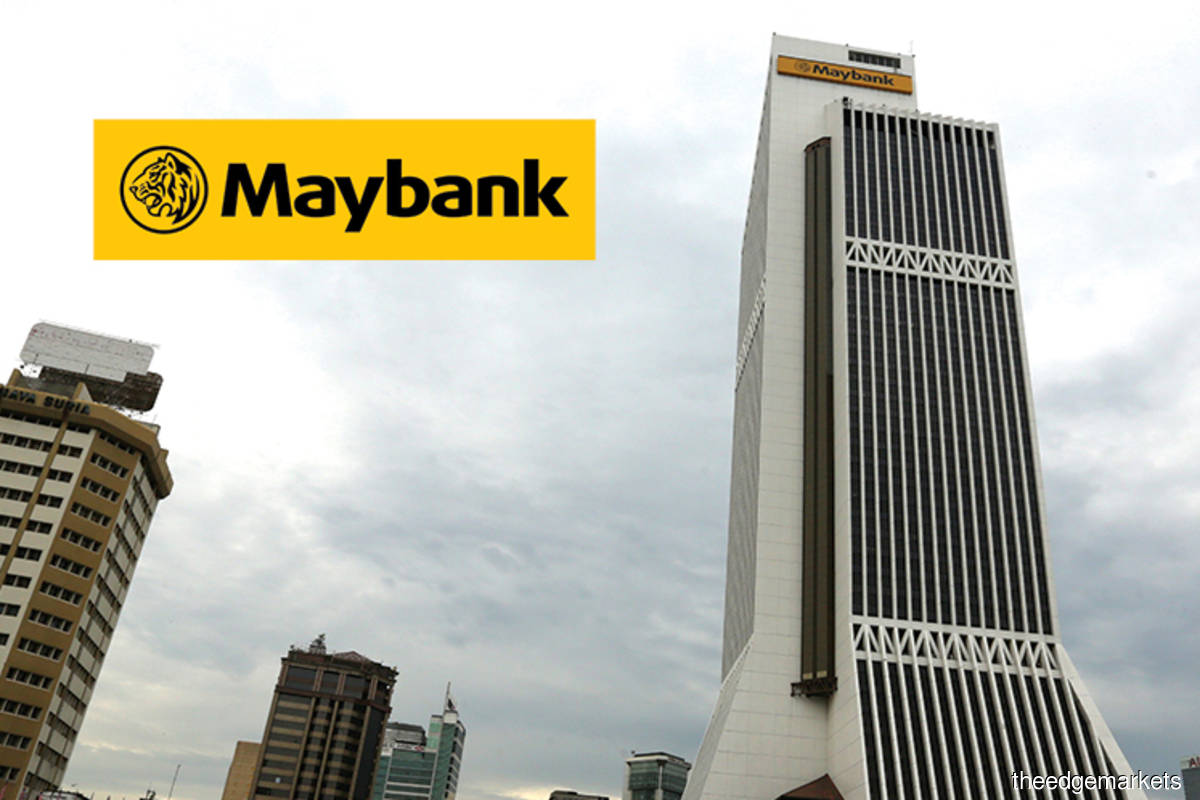 KUALA LUMPUR (Aug 26): Malayan Banking Bhd's (Maybank) net profit for the second quarter ended June 30, 2021 (2QFY21) more than doubled to RM1.96 billion from RM941.73 million reported previously, as loans continued to grow, net interest margin (NIM) expanded from a more cost-effective funding mix and impairments came in lower than a year ago (2QFY20).
As a result, earnings per share rose to 17.05 sen from 8.38 sen.
In a filing with Bursa Malaysia today, the banking group noted that its quarterly revenue, however, declined marginally by 3.87% to RM11.34 billion against RM11.79 billion previously.
Maybank also declared a first interim dividend of 28 sen per share to its shareholders, to be paid no later than three months from the date of declaration.
"The group recorded a steady growth in net operating income for the quarter which came in 9.3% higher at RM6.17 billion from a year earlier.
"This was on the back of a 26.4% improvement in net fund based income as a result of loans' expansion and strong growth in low-cost current and savings accounts (CASA) deposits, which more than offset the 27% decline in net fee based income which was mainly attributable to the impact from the movement restrictions in the region. Additionally, net fund based income last year was lower as there was a significant Day-1 modification loss owing to the six-month blanket moratorium effective April 1, 2020," it said in a statement today.
In the filing, Maybank said its allowances for impairment losses on loans, advances, financing and other debts decreased by RM1.21 billion or 69.8% to RM524.8 million previously in 2QFY20.
Meanwhile, the group's overhead expenses increased by 7.9% to RM2.92 billion, mainly due to higher administration and general expenses, higher establishment costs and higher marketing expenses.
Meanwhile, for the first half ended June 30, 2021 (1HFY21), Maybank's cumulative net profit grew by 45.57% to RM4.35 billion from RM2.99 billion, despite revenue falling by 5.89% to RM23.55 billion from RM25.03 billion.
"For the 1HFY21, the group saw net fee based income ease by 16.5% to RM3.5 billion from RM4.19 billion in 1HFY20 owing primarily to lower investment disposal gains and marked-to-market losses.
"This was, however, offset by the increase in net fund based income which came in 16.1% higher at RM9.5 billion as loans grew and NIMs expanded as a result of strong CASA growth," it said.
Consequently, net operating income for 1HFY21 came in at RM13 billion, rising 5.1% from RM12.37 billion previously while pre-provisioning operating profit rose 7.9% to RM7.26 billion, the banking group added.
However, in terms of quarter-on-quarter performance, Maybank said its net profit fell 17.96% from RM2.39 billion reported in the preceding quarter (1QFY21), largely due to a decline in net fee based income arising from the impact of the sudden resurgence of the Covid-19 pandemic as well as higher marked-to-market losses and overhead expenses.
The banking group also saw its revenue slightly dip by 7.2% from RM12.22 billion in 1QFY21.
In a separate statement, Maybank chairman Tan Sri Zamzamzairani Mohd Isa said the group remains cautious about the overall regional growth momentum given the sudden resurgence in Covid-19 cases in the last few months.
"The emergence of new virus variants has been a cause for concern, causing protracted lockdowns in many regional markets which will have some impact on our growth prospects in the coming quarters.
"Nonetheless, Maybank remains committed to assisting those affected through our financial solutions as well as community support so that we can all navigate safely through this pandemic," he said.
Meanwhile, Maybank group president and chief executive officer Datuk Abdul Farid Alias shared that the group will continue its strategy of focusing on robust risk management, strengthening its capital and growing its CASA deposit base to provide sufficient buffers for unexpected events.
Read also:
Maybank has no plan to sell its non-performing loans, says acting GCFO