This article first appeared in The Edge Financial Daily, on July 13, 2018.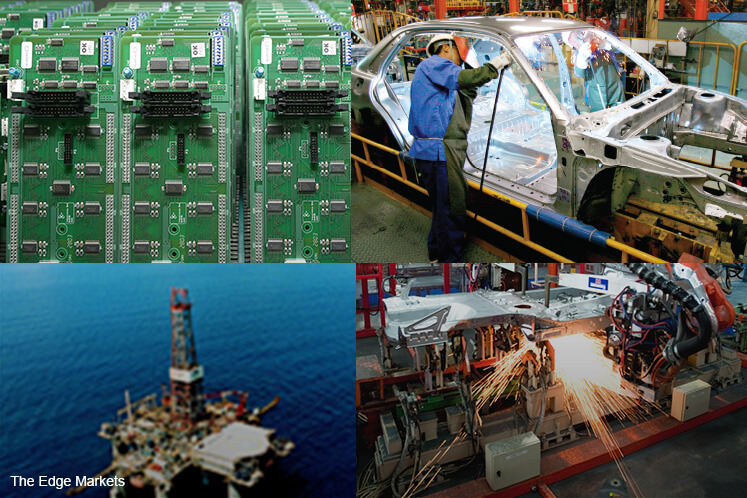 KUALA LUMPUR: Malaysia's Industrial Production Index (IPI) grew at a slower pace of 3% in May compared to 4.6% in the previous month as economic activities tapered off during the 14th general election (GE14) and exports growth decelerated noticeably, pointing to a more pedestrian second-quarter gross domestic growth (GDP) growth, economists say.
The May output was in line with RHB and Nomura Malaysia projections, but slightly above MIDF's forecast of 2.7%.
"This slowdown was likely due to fewer working days during the month as a result of the GE14 and the two-day post-election holidays," RHB economist Vincent Loo Yeong Hong wrote in a client note yesterday, but observed May's ebbing IPI number mainly reflected the deceleration in export growth to 3.4% year-on-year (y-o-y) during the month.
"It was also an indication that trade volumes have started to lose steam amid a slowdown in global economic activity and growing concerns over the US-China trade war," Loo said.
Given slowing industrial activities, he projected second-quarter GDP growth would dip to 5.3% from 5.4% in 1Q 2018.
"We maintain Malaysia's 2018 GDP growth forecast at 5.2%, easing from 5.9% in 2017, on a slowdown in external trade but cushioned by resilient domestic demand," he said.
Nomura also noted that taking into account the IPI and other data, GDP growth looks to track at 5% y-o-y in 2Q.
"This represents a slowdown from 5.4% in 1Q and is well below our 5.8% forecast premised on boosts from election-related spending, the return of fuel subsidies and the zero-rating of the goods and services tax in June.
"These factors pose downside risks to our 2018 GDP forecast, which already anticipates growth slowing to a below-consensus 5.1% in 2018 from 5.9% in 2017," Nomura said in a note yesterday.
MIDF said it expects IPI output to expand at a steady pace in the second half of 2018 amid escalating trade tensions, but partially offset by moderating inflation and supportive policy changes for businesses such as tax-holidays and stable retail fuel prices.
According to the statistics department, growth in May's IPI was supported by manufacturing and electricity segments, their indicators growing by 4.1% and 2.6%, respectively.
The mining index declined 0.5% however, with the contraction led by a sharper fall in natural gas output but offset by a rebound in crude oil output.
The major subsectors which registered increases in May 2018 were electrical and electronic equipment products (4.8%), petroleum, chemical, rubber and plastic products (3.7%), and non-metallic mineral products, basic metals and fabricated metal products (5.0%).