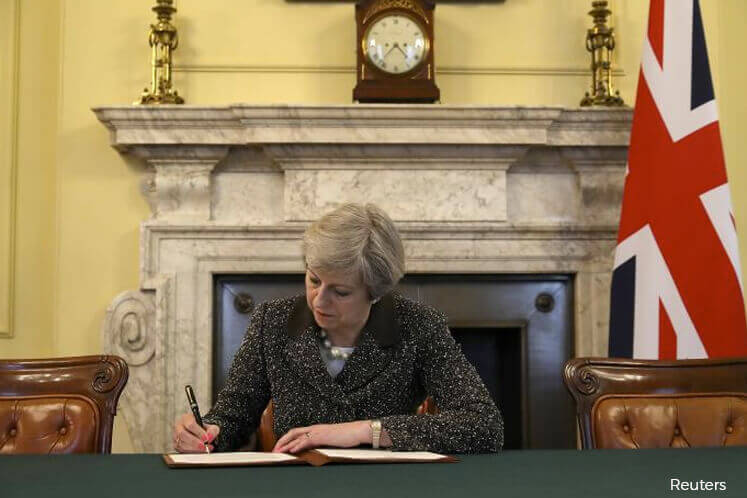 (March 29): UK Prime Minister Theresa May struck a conciliatory tone toward the European Union as she coupled her demand for divorce with a request for a sweeping free-trade deal encompassing financial services.
In a six-page letter submitted on Wednesday to EU President Donald Tusk, May formally triggered two years of talks that will end with Britain leaving its largest trading partner after four decades of membership.
May sought to smooth over tensions by calling on both sides to negotiate "constructively and respectfully," saying that she wants the bloc to "succeed and prosper." The charm offensive may be aimed at trying to win what she called a "bold and ambitious" free-trade deal to cover "crucial" industries like banking and technology.
But an immediate clash was evident over the sequence of the talks, as May called for their future partnership to be decided alongside the terms of exit, while Tusk insisted the first phase of negotiations must focus only on "key arrangements for an orderly withdrawal."
"Our first priority will be to minimize the uncertainty caused by the decision of the United Kingdom for our citizens, businesses and members states," Tusk said, speaking on behalf of the 27 other EU governments.
Battle lines
Battle lines are becoming evident nine months after Britons unexpectedly voted to quit the EU, setting the UK on a path of uncertainty. The immediate point of contention is just how to handle the talks: May wants to conduct parallel discussions to preserve bargaining power, while her counterparts prefer to settle the split first.
The die was cast at about 1.20 p.m. in Brussels, when Britain's EU envoy handed Tusk the letter invoking Article 50 of the Lisbon Treaty, the legal mechanism to exit the group. The pound was down 0.3 percent at US$1.2410, having earlier touched a one-week low of US$1.2377.
The remaining 27 EU countries are prepared, know what they want and have provided the commission with a strong mandate, German Foreign Minister Sigmar Gabriel said in Berlin. The EU and the UK need each other and should maintain friendly relations, though it's "hard to understand" why Britons should think they're better off alone, he said, "especially in these turbulent times."
Exit bill
Another early flashpoint will be money as the EU pushes for the UK to pay around £60 billion to settle its accounts. In her letter, May signalled she realised the UK would need to cover some past financial commitments, but hinted that Britain would make its own claims as it leaves the bloc.
"We will need to discuss how we determine a fair settlement of the UK's rights and obligations as a departing member state, in accordance with the law and in the spirit of the United Kingdom's continuing partnership with the EU," she said.
Another issue May wants to settle "early" is the rights of EU citizens and Britons to live in each others' countries. She is aiming by March 29, 2019, to have won back control of labour flows, which raises questions about the legal status of three million EU nationals living in the UK.
In a cooling of rhetoric, May's letter carried no repeat of her past warnings that she would be willing to walk away from the negotiations, that "no deal is better than a bad deal" or that she could always turn her economy into a low-tax haven.
The letter's tone suggested May "now recognizes the importance of European goodwill if the UK is to avoid a disorderly and hard Brexit," said Mujtaba Rahman, a managing director of the Eurasia Group, a consultancy.
Hint of menace
Her missive did contain a hint of menace. She said a collapse in talks and the imposition of tariffs on UK exports to Europe would carry security implications as the joint fight against crime and terrorism would be weakened.
May wants "to avoid any cliff edge" for business as Britain leaves, she told Tusk, asking him to work with her to minimize disruption and help provide certainty to companies and investors.
Carmaker Ford Motor Co. on Wednesday urged May to secure the continuation of tariff-free trade and warned failure to strike a deal would be the "worst case." Ryanair Holdings Plc said the UK risked losing air links to the continent.
The talks will test the negotiating mettle of a premier in power for just eight months and her ability to play to a domestic audience, especially the anti-EU wing of her Conservative Party that remembers she voted to stay in the bloc. Britain is divided over a "hard Brexit," where May could walk away with no deal, and "soft Brexit" with continued tariff-free trade.
For Europe, it's a question of cohesion. Any deal struck between the UK and the EU potentially could decide whether Britain proves to be a trailblazer for other countries to leave, or remain the skeptical outlier it has always been. To ward against encouraging others to eye the exit door, EU officials say Britain will not be allowed to enjoy better terms outside the bloc than inside it.
European officials will bide their time to make a considered response, knowing the British have ceded control of the clock to them. Tusk will publish draft guidelines for Barnier by the end of the week, but leaders won't sign off on them until an April 29 summit.
The EU's chief negotiator Michel Barnier tweeted that "this is Day 1 of a very long and difficult road."