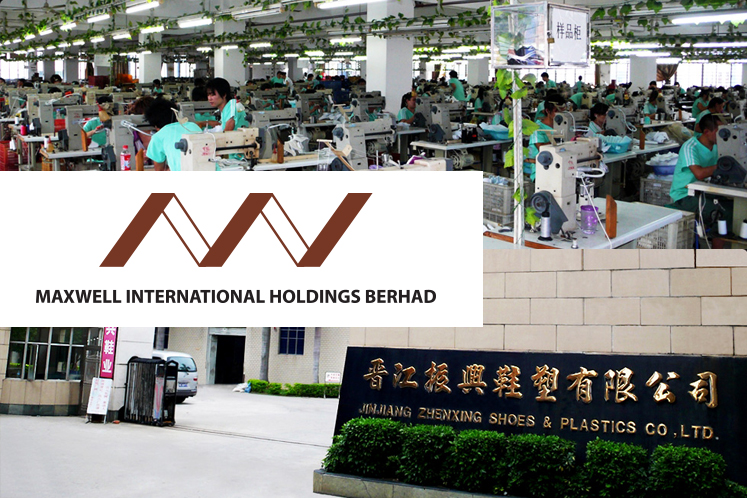 KUALA LUMPUR (Aug 16): Practice Note 17 (PN17) company Maxwell International Bhd is counting on a couple of shoemakers and a shoe shop chain to help with its regularisation plan.
In a filing with Bursa Malaysia, the China-based sports shoes maker said it has signed a Memorandum of Agreement (MoA) with Mohd Faizol Abdul Karim, NTH Global Sdn Bhd and Opera Marketing Sdn Bhd to venture into "a new sustainable and profitable business".
The business, it said, is expected to facilitate a comprehensive regularisation plant to uplift Maxwell from being an affected listed issuer under PN17.
Mohd Faizol, through his wholly-owned business Persada Enterprise is the owner of the EMMETT brand of custom and fashion shoes in Kuala Lumpur.
NTH, owned by Chiew Sai Yean, is involved in the manufacturing and trading of shoes.
Opera Marketing, meanwhile, is the operator of fashion shoes chain stores with 15 retail outlers in Malaysia.
A week ago, Maxwell International said it will be delisted on Aug 22 for failing to comply with its obligation to regularise its financial health within the stipulated time frame. This is unless the company files an appeal against the delisting by Aug 19, in which case the delisting will be deferred pending a decision on the appeal.
Maxwell International did not say in its filing today if an appeal has been filled  
The group said the MoA signed today will entail discussions over  the proposed investment and subscription of new shares worth RM40 million by Mohd Faizol, or a nominated fund by him, as well as a proposed rights issue of shares by Maxwell.
In addition, the parties involved will be looking at the  proposed execution of a business co-operation, development agreement or merger between Opera Marketing (and its group of companies) and Maxwell, and the disposal of Maxwell's non-productive and inactive businesses for creditor settlement of future business operation purposes.
"The MOA shall be valid for a period of six months from the date of the MOA, and may be further extended by mutual agreement of the parties. The MOA shall terminate upon the execution of the definitive agreement for the proposal," the group said.
Shares in Maxwell International closed were not traded today, with the group's shares last trading at a sen, valuing the company at RM4 million.