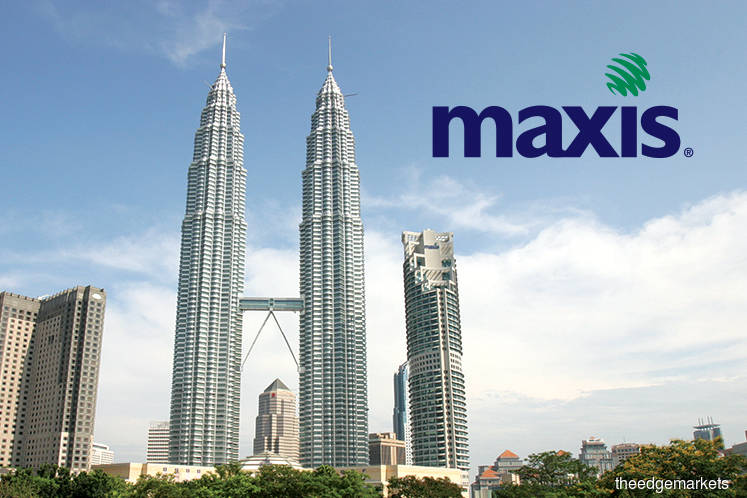 KUALA LUMPUR (Aug 2): Maxis Bhd's service revenue in the second quarter ended June 30, 2019 (2QFY19) ticked up 0.6% quarter-on-quarter to RM1.89 billion from RM1.88 billion, on strong momentum in mobile, fibre and enterprise solutions.
However, Maxis reported a drop in net profit for the fifth straight quarter, hurt by lower average revenue per user (ARPU) and termination of network sharing agreement, higher staff and resource costs, finance costs, depreciation and amortisation.
The telco operator saw its 2QFY19 net profit fall 17% to RM397 million from RM478 million in 2QFY18.
Earnings per share for the quarter fell to 5.1 sen from 6.1 sen previously.
It said quarterly revenue inched down 1.8% year-on-year (y-o-y) to RM2.21 billion for the quarter under review, from RM2.25 billion.
Nevertheless, Maxis declared a second interim dividend of five sen per share, to be paid on Sept 26. The group had declared a total dividend of 10 sen for the first half of this year (1HFY19).
In a bourse filling today, Maxis said its service revenue for 2QFY19 was 4.7% lower at RM1.92 billion compared to RM2.01 billion in the same quarter last year.
"This was largely contributed by the termination of a network sharing agreement, decline in prepaid revenue-generating subs (RGS), and an overall reduction in prepaid and postpaid ARPU, offset by the growth in postpaid and home fibre subscribers," it added.
The postpaid service revenue for 2QFY19 fell 3.7% to RM972 million from RM1.01 billion a year ago. The postpaid ARPU for 2QFY19 also decreased to RM91 from RM96 in 2QFY18, due to change in the mobile termination rates (MTR) and ARPU dilution from Hotlink postpaid flex offerings.
For its prepaid segment, prepaid service revenue declined y-o-y by 7.4% to RM791 million from RM854 million on the back of a lower subscription base — down by 330,000 to about 6.42 million from some 6.75 million — due to continued SIM consolidation, migration from prepaid to postpaid, and reduced MTR.
The weak quarterly performance dragged the group's net profit for the cumulative six-month period (1HFY19) down by 19.5% y-o-y to RM806 million from RM1 billion, while revenue was marginally down by 1% at RM4.44 billion from RM4.48 billion in 1HFY18.
On its prospects, Maxis noted three key factors that would impact its earnings before interest, tax, depreciation and amortisation (EBITDA) in 2019. They comprises the impact of changes to major wholesale network sharing agreement in the first quarter of 2019 and the second quarter of 2019, dilution in fibre ARPU from the new competitive priced plans and cost of customer migration initiative coupled with increase in cost to serve, and increase in cost of business from sales and service tax (SST) introduction.
Nonetheless, the group said the guidance remains unchanged for the full FY19.
In a separate statement, Maxis chief executive officer Gökhan Ogut said the quarter saw the firm making headway in its converged ambitions with the launch of new fibre speeds, delivering smart solutions for enterprises and championing Industry 4.0 initiatives in line with the government's digital economy agenda.
"The potential of 5G in a future of smart solutions is tremendous. To this end, our 5G live trials are progressing well.
"Overall, we will stay focused on our priorities — offering customised solutions and services for individuals, homes and businesses and achieving a differentiated and unmatched experience through our digital capabilities and technology innovation," he said.
At the noon break, Maxis shares were 17 sen or 3% lower at RM5.55, giving it a market capitalisation of RM43.48 billion.