This article first appeared in The Edge Financial Daily, on May 16, 2019.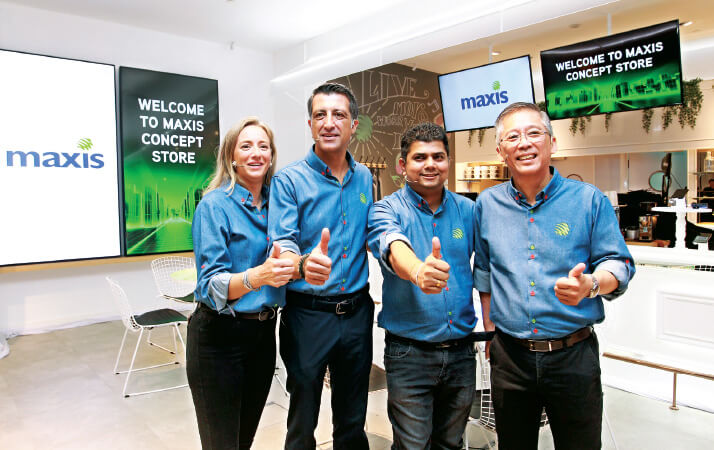 (From left) Maxis head of retail design and retail channel Claire Bolard, Ogut, Maxis head of branded channel operations Kelum Weliwatta and Tan at the group's new concept store at The Gardens Mall, Kuala Lumpur yesterday. Photo by Shahrin Yahya
KUALA LUMPUR: Maxis Bhd expects the conclusion of its 3G radio access network (RAN) agreement with U Mobile Sdn Bhd next month to marginally affect its bottom line as the negative impact will be slightly offset by growth of its post-paid, prepaid and fibre technology segments.
Maxis chief executive officer Gokhan Ogut said that the agreement, set to expire in June, would result in a single-digit drop in its earnings before interest, taxes, depreciation and amortisation for the financial year ending Dec 31, 2019 (FY19).
"It (the conclusion of the RAN agreement) will have a negative impact but growth of our core segment (post-paid and prepaid) and convergent segment (fibre technology) will partially mitigate that [for FY19]," said Ogut.
To recap, Maxis and U Mobile entered into the network sharing and alliance agreement on Oct 21, 2011.
The agreement enables U Mobile to offer voice and data services to its subscribers via Maxis' network.
The deal was supposed to last for 10 years, but in June 2017, U Mobile announced that it would end the agreement in December 2018.
However, on Dec 12, 2018, U Mobile said it had extended the agreement with Maxis for limited areas until June 2019.
On how the telecommunications company views the potential merger between Axiata Group Bhd (which owns Celcom Axiata Bhd) and Telenor Group (which maintains a 49% stake in DiGi.Com Bhd) over the latter's Asian operations in terms of subscriber numbers and market share, Ogut said it is too early to tell.
"It is too early to comment on the announcement's (the potential Telenor and Axiata Group merger) impact on the industry and on Maxis," he responded.
Ogut added that Maxis is planning ahead by moving beyond being a mobile provider and has a five-year plan in place, including developing its other capabilities as a solution provider.
CGSCIMB Research said in a note on May 7 that DiGi-Celcom would be the largest mobile operator in Malaysia, with an estimated pro forma revenue market share of 54% in 2018, overtaking Maxis (which saw a 34% market share).
Ogut was speaking to reporters at Maxis' new concept store at The Gardens Mall here.
The store is the first of its kind for the group, and features personal demos, robots and app-enabled self-services, as well as a cafe. Some of the store's features include the Maxis Interactive Retail Assistant app, a discovery app for all demo devices, and fully immersive digital screens that allow Maxis staff to share comparisons of different devices in the store.
It has plans to introduce more concept stores nationwide within the next two years.
On how much the group had invested in the new store, Maxis chief sales and service officer Tan Lay Han said that the group was not at liberty to disclose the figure, but added that the group is looking at bringing elements from its concept store to its other retail elements.
Questioned about the specific number of concept stores Maxis is looking at opening, Ogut said it is too early to say specifically.