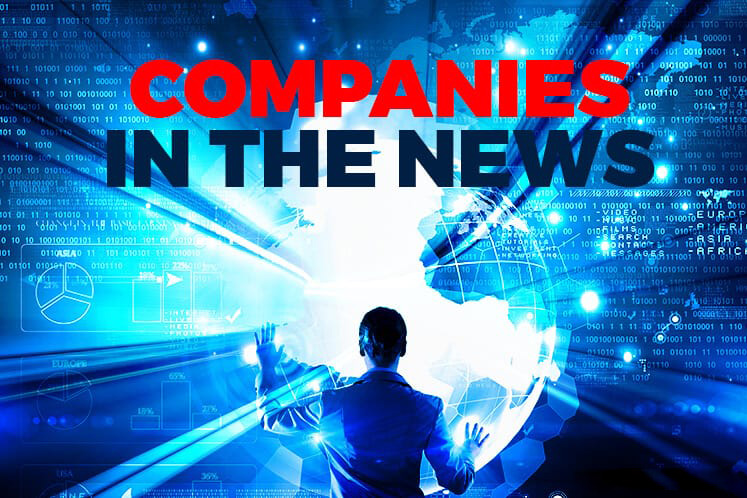 KUALA LUMPUR (July 18): Based on corporate announcements and news flow today, companies that may be in focus on Thursday (July 19) may include the following: Maxis Bhd, Seacera Group Bhd, Sapura Energy Bhd, MNRB Holdings Bhd, TMC Life Sciences Bhd, Ranhill Holdings Bhd, Hua Yang Bhd, Ikhmas Jaya Group Bhd, Menang Corp (M) Bhd and Tek Seng Holdings Bhd.
Maxis Bhd's net profit fell 16.4% to RM478 million in the second financial quarter ended June 30, 2018 (2QFY18) from RM572 million a year ago, on lower revenue. This resulted in lower earnings per share of 6.1 sen for 2QFY18 compared with 7.6 sen for 2QFY17.
Quarterly revenue declined 3.8% to RM2.25 billion from RM2.34 billion in 2QFY17. Service revenue (excluding device, hubbing revenues and network income) also fell 2.7% to RM2.01 billion from RM2.07 billion — Maxis attributed this to a decline in prepaid, offsetting the growth in post-paid and home fibre business.
Nevertheless, the group declared a second interim dividend of five sen per share for the financial year ending Dec 31, 2018 (FY18), payable on Sept 27.
For the cumulative six months (1HFY18), Maxis' net profit remained flat at RM1 billion from RM1.07 billion a year ago. Revenue dropped 4.8% to RM4.48 billion from RM4.71 billion in 1HFY17.
Seacera Group Bhd has proposed to place out new shares to yet-to-be-identified investors, to raise up to RM25.43 million to fund its working capital in order to finance the group's tile operations as well as property development/construction divisions.
The current placement will involve up to 10% of the total number of the company's issued shares — or up to 54.11 million shares — at an issue price to be determined later, which the placement will, then, enlarge Seacera's issued share capital to as much as 595.23 million shares.
Institutional investors such as the Employees Provident Fund (EPF) have voiced their unhappiness with the remuneration received by loss-making Sapura Energy Bhd's president and group chief executive officer Tan Sri Shahril Shamsuddin, which totalled RM71.92 million for the financial year ended Jan 31, 2018 (FY18), according to the Minority Shareholder Watchdog Group (MSWG).
The amount is equivalent to 1.22% of the group's FY18 revenue of RM5.89 billion.
According to data from Annual Report 2018, Shahril, who owns a 17.44% stake in Sapura Energy, was paid a salary and related emoluments of RM7.24 million and he was also awarded with a RM55 million bonus, which was based on prior year's group performance and achievements, along with RM9.34 million in defined contribution plan and RM348,000 in various benefits-in-kind.
Reinsurer MNRB Holdings Bhd has proposed to undertake a rights issue to raise gross proceeds of about RM400 million, which the issue price and entitlement basis would be finalised later.
For illustration purpose, the group assumed the issue price at RM1.57 per rights share, and an entitlement basis of four rights shares for every five shares held.
The proceeds of the rights issue will be injected into its takaful subsidiaries — Takaful Ikhlas Bhd and Malaysian Reinsurance Bhd, at RM300 million and RM100 million respectively — to enhance the capital position for both companies and grow its takaful and reinsurance business.
MNRB intends to procure an irrevocable written undertaking from Permodalan Nasional Bhd to subscribe in full for its entitlement.
TMC Life Sciences Bhd, which is controlled by Singaporean billionaire Peter Lim Eng Hock, is looking to double its revenue by 2020, driven by expansion of its rebranded Thomson Hospital Kota Damansara (THKD), which was formerly known as the Tropicana Medical Centre.
With the current THKD building built on one third of a six-acre land, the new expansion will occupy another one-third of the land, then, leaving another two acres for future development.
The expansion project is expected to be completed by 2020, having a full capacity of 600 beds, 10 state-of-the-art operating theatres, 10 centres of excellence and an advanced imaging centre, as well as more than 100 specialist clinics.
Perunding Ranhill Worley Sdn Bhd (PRW), an associate of Ranhill Holdings Bhd and WorleyParsons Ltd of Australia, has won a contract from Kebabangan Petroleum Operating Co Sdn Bhd (KPOC) to provide engineering support and design services to the KPOC-Kebabangan northern hub platform in Sabah. The value of the contract, however, was not disclosed.
KPOC is a joint operating company which is 40% owned by Petronas Carigali Sdn Bhd, 30% by Conoco Philips Sabah Gas Ltd and 30% by Shell Energy Asia Ltd.
PRW said the contract spans three years, with an option to extend by one year, and encompasses the provision of engineering and design services. These include special engineering studies, conceptual engineering, basic engineering and detailed engineering support.
Property developer Hua Yang Bhd's net profit declined 45.5% to RM1.01 million or 0.29 sen per share in its first quarter ended June 30, 2018, from RM1.86 million or 0.53 sen per share a year ago, owing to higher finance costs.
Hua Yang recorded higher income tax expense of RM2.42 million for the quarter compared with RM1.14 million last year.
Quarterly revenue, however, rose 41.4% to RM66.54 million in the quarter, from RM47.05 million before.
Ikhmas Jaya Group Bhd, via its wholly-owned subsidiary Ikhmas Jaya Sdn Bhd, has bagged a subcontract worth RM78 million for the construction of a marine bridge under the Seri Tanjung Pinang development in Penang, from Kerjaya Prospek (M) Sdn Bhd.
The project, which is expected to be completed on April 10, 2020, is expected to contribute positively to Ikhmas Jaya's earnings and net assets for the financial year ending Dec 31, 2018.
Menang Corp (M) Bhd has proposed to dispose of its 51% stakes in two units — Rumpun Positif Sdn Bhd and Protokol Elegan Sdn Bhd - for a total of RM43.5 million.
Of the RM43.5 million proceeds, RM20 million will be for repayment of bank borrowings, RM17.8 million for working capital requirements, RM5 million set aside for future development, and the balance to pay off expenses of the proposals.
The proposals will enhance the group's earnings with a net gain on disposal of RM7.67 million, translating into a consolidated earnings per share of 1.6 sen for FY17, which will then reduce its gearing ratio to 0.9 times, from 2.21 times as at end-June, 2017.
Tek Seng Holdings Bhd said today its 50.69%-owned subsidiary TS Solartech Sdn Bhd has decided to temporarily stop its photovoltaic (PV) production activities in Penang in the third quarter of this year.
The temporary halt of TS Solartech's operations will affect 118 workers, who will be made redundant.
Tek Seng said the continuing intense competition in the solar industry coupled by the eroded prices of the solar cells due to excess inventory in the supply chain had posted a very tough and challenging operating environment for TS Solartech.
"Further, the export sales of TS Solartech have been significantly affected due to the US safeguard tariffs over a period of four years and India safeguard tariffs over a period of two years, on importation of solar cells and modules from Malaysia," Tek Seng said in a filing with Bursa Malaysia today.
Tek Seng said the move will have a financial effect on the group for the financial year ending Dec 31, 2018 as a result of the one-off redundancy cost and impairment loss on assets to be incurred.