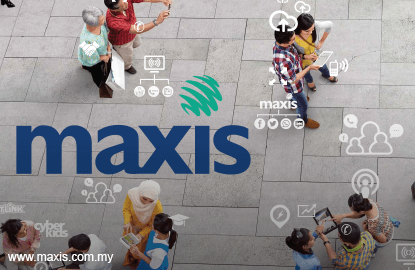 KUALA LUMPUR (July 28): Maxis Bhd is teaming up with global telecommunications firm Vodafone to provide customised Internet of Things (IoT) solutions to Malaysian businesses, especially small and medium enterprises.
"Through our agreement with Vodafone, which brings with it a global standard of service, unrivalled IoT experience and highly ranked by analysts, we are equipping businesses in Malaysia with more than just connectivity through our advanced data network, but a suite of IoT solutions to digitalise and transform their operations," said Maxis head of enterprise marketing and products Shanti Jusnita Johari.
Shanti said Maxis will talk to different customers to understand their needs and tailor a customised "fit-for-purpose" service that can easily integrate into their existing system.
Maxis also has a team to provide support to its clients, she said at a press conference today.
The IoT is about connecting devices over the internet, allowing them to talk to us and each other by sending and receiving data. This is drastically changing the way people live and work.
The technology is currently used in many sectors including automotive, security, manufacturing and logistics to improve efficiency and reduce cost.
"With 25 billion connected devices predicted by 2020, the powerful combination of sensors and connectivity is propelling IoT from a mere 'trend' into the next industrial revolution," said Maxis head of new business enterprise Claire Featherstone.
According to Machina Report, Malaysia has an estimated 2.5 million wireless connected devices in 2016.
In Asia Pacific, the adoption of the IoT stands at 35%, which is the highest globally, underpinned by huge investment from China, Japan and South Korea in this area.
Compared to the Asia Pacific adoption rate, Featherstone said: "Malaysia is behind the curve."
Featherstone said financial services such as point of sales terminal and commercial fleet tracking are the key areas that generated the biggest revenue to Maxis' IoT segment.
Bank Negara Malaysia's implementation of the chip-and-PIN credit and debit cards will be positive to its financial services vertical, she said.
Maxis is also talking to a utility company about opportunities in IoT.
"We are going to grow the utilities vertical, such as energy management, smart building and smart homes. We are talking with the utility company about opportunity," said Featherstone.
Vodafone IoT regional sales head Justin Nelson said, "The IoT is changing businesses around the world. Maxis is the latest operator to combine its capabilities with our IoT expertise forming a compelling combination for Malaysia companies."
At 4.23pm today, Maxis fell 1 sen or 0.17% to RM6.04, for a market capitalisation of RM45.4 billion.