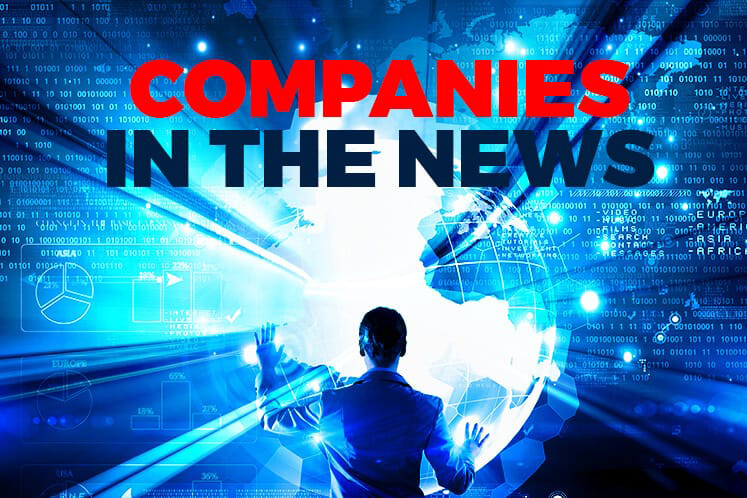 KUALA LUMPUR (Oct 25): Based on corporate announcements and news flow today, stocks in focus on Thursday (Oct 26) may include: Maxis, MRCB, CMMT, Bursa, Marine & General, Gadang Holdings, Hua Yang, Priceworth International, Pantech and Willowglen
Maxis Bhd's net profit jumped 10.14% to RM554 million in the third quarter ended Sept 30, 2017, from RM503 million in the same period a year ago, thanks to stronger growth in postpaid segment.
Quarterly revenue rose 2.83% to RM2.22 billion, from RM2.16 billion, on better revenue from its postpaid segment.
For the cumulative results, Maxis reported a net profit of RM1.63 billion in the period between January and September, up 8.22% to RM1.51 billion in the same period a year ago, supported by revenue that grew 2.31% to RM6.55 billion from RM6.4 billion.
Maxis declared an interim dividend of five sen per share, to be paid to on Dec 28.
Malaysian Resource Corp Bhd's (MRCB) rights issue has been oversubscribed by 7.37%.
MRCB said it received total valid acceptances and excess applications for 2.35 billion rights shares with 470.83 million rights warrants.
In May, MRCB announced a renounceable rights issue exercise of up to 2.85 billion new shares of MRCB, together with up to 570.76 million free detachable warrants, on a one-for-five basis.
The cash call would raise up to RM2.86 billion, which would be used to pare down its borrowings and to finance the refurbishment of the national sports complex in Bukit Jalil.
Capitaland Malaysia Mall Trust's (CMMT) distribution per unit (DPU) fell 2.3% to 2.08 sen for the third quarter ended Sept 30, 2017, from 2.13 sen a year ago.
CMMT said the lower distribution was due to lower net property income (NPI), which declined 2.2% to RM60.1 million, from RM61.43 million, due to higher operating expenses.
For the cumulative first nine months of the year, CMMT said DPU declined 1.7% to 6.22 sen, from 6.33 a year ago, on declining NPI, which fell 1.4% to RM179.57 million, from RM182.07 million previously.
Bursa Malaysia Bhd reported a 17% rise in third quarter net profit at RM51.6 million from a year earlier as share trade besides listing and issuer services income increased.
The bourse operator and regulator said net profit rose to RM51.6 million in the third quarter ended Sept 30, 2017 from RM44.04 million. Group revenue was higher at RM130.27 million versus RM119.4 million.
It said cumulative nine months net profit rose to RM167.77 million from RM143.45 million a year earlier. Revenue was higher at RM415.63 million compared with RM383.05 million.
Petronas Carigali Sdn Bhd (PCSB) has extended by another year a contract awarded to Marine & General Bhd for the provision of two anchor handling tug supply vessels.
Marine & General — previously known as SILK Holdings Bhd — said the contract that was first awarded in January 2013, will now be extended from January to December 2018. The contract extension is estimated to be valued at RM33 million.
Gadang Holdings Bhd's net profit rose 9.8% to RM18.3 million in the first financial quarter ended Aug 31, 2017, from RM16.7 million a year ago, driven mainly by its construction division. Earnings per share rose to 2.79 sen from 2.58 sen.
Quarterly revenue  grew 12.4% to RM116.7 million from RM103.9 million.
The construction division's quarterly revenue increased to RM76.8 million from RM42.1 million previously.
Affordable housing developer Hua Yang Bhd has launched its latest development in Johor Bahru.
Comprising 64 units of cluster homes and two units of link bungalows, the development has an estimated gross development value of RM41.72 million and sits on 3.99 acres of freehold land.
Hua Yang said the project is part of Oval, which makes up Phase One of Elemence, the group's new eight-phase mixed development in Taman Denai Alam, Johor Bahru.
Priceworth International Bhd said the third forest management plan for a forest management unit in Trus Madi, Sabah it is seeking to acquire has been approved.
Priceworth said the approval by the Sabah Forest Department was accepted by Anika Desiran Sdn Bhd (ADSB), which owns the rights to manage, replant and harvest the Forest Management Unit No 5 (FMU5).
Through its Singapore subsidiary GSR Pte Ltd, Priceworth is seeking to acquire ADSB and FMU5 from Transkripsi Pintar Sdn Bhd for RM260 million.
Pantech Group Holdings Bhd is buying out the 43.46% stake held by its partner Euromech Machinery Sdn Bhd in Pantech Galvanising Sdn Bhd (PGSB) for RM7.02 million cash as part of its expansion initiative in the galvanising industry.
Pantech said the acquisition will enable it to have full control of the affairs and business direction of PGSB.
Willowglen MSC Bhd's wholly-owned subsidiary Willowglen Services Pte Ltd has bagged a RM5.16 million contract from Samsung C&T Corp for the lump sum subcontract for BIMS & Marshalling panel design.
It said the contract will be completed by March 31 next year.