This article first appeared in The Edge Financial Daily, on March 4, 2019.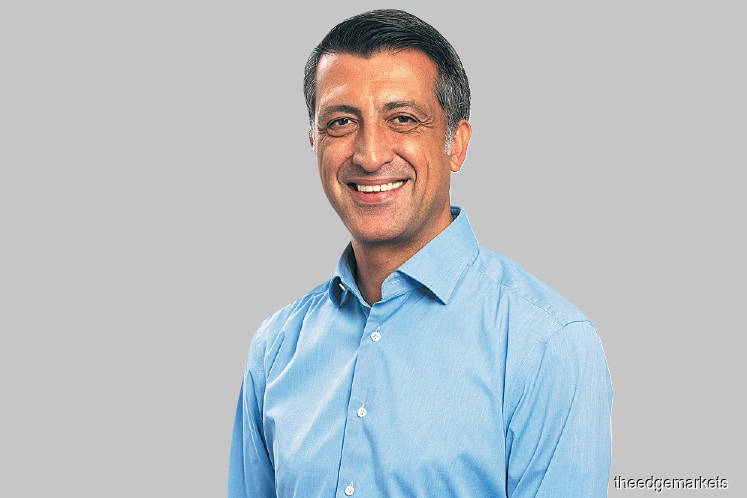 Ogut: 5G is the future and we want to bring it to Malaysia as soon as possible.
BARCELONA: Maxis Bhd is looking forward to having greater policy clarity, especially on spectrum, as it works on partnering customers, enterprises and institutes of higher learning to deliver viable use cases and smart solutions for 5G that will make daily life better and doing business easier.
"We really like the NFCP (National Fiberisation and Connectivity Plan) and look forward to working with the government and the MCMC (Malaysian Communications and Multimedia Commission) on the fiberisation of Malaysia," said Maxis chief executive officer (CEO)-designate Gökhan Ogut.
"In order to do [further investment], there are a few areas that need further clarification [for example] spectrum hasn't been decided globally, Malaysia needs to decide which band we want to use for 5G.
"That needs to be decided early because usage is increasing so much that even 4G can be jeopardised," Ogut told The Edge Financial Daily on the sidelines of the 2019 Mobile World Congress (MWC2019) here, where Maxis signed a memorandum of understanding (MoU) with Huawei to collaborate on use cases and end-to-end solutions to accelerate 5G adoption in Malaysia.
"5G is the future and we want to bring it to Malaysia as soon as possible and not have Malaysia left behind... but what is more important is what people and companies will be doing with 5G because [technology] is just a means to an end.
"A lot of the things you see here [at MWC2019] are about use cases. In order to develop these use cases… part of it is how we work with the ecosystem, the universities, game developers… those are the people in Malaysia we want to start working with to put the 5G network live and develop applications," he added.
Ogut said the engagement with the ecosystem is aimed at helping Maxis deliver best 5G experience for customers' digital lifestyles as well as tailored solutions best suited for its enterprise business customers.
To support its transformation from a consumer and mobile-centric telecommunication player into Malaysia's leading converged communications and digital services company, Maxis will invest an additional RM1 billion in capital expenditure (capex) over the next three years, on top of its usual RM1 billion capex it spends every year.
Maxis' capex was RM1.038 billion in financial year 2018 (FY18) and RM1.029 billion in FY17. This will provide a platform for it to launch expanded services for consumers and enterprise, to improve customer stickiness and future profits, Maxis said when announcing its full FY18 earnings recently.
Ogut, who has been Maxis chief operating officer since Sept 1, 2018, will officially take over as CEO from interim CEO Robert Nason on May 1.
According to Ogut, Maxis has been conducting 5G live trials "for some time" and has always invested and will continue to invest to make sure its network infrastructure is future-proof and ready to deliver what customers and businesses want.
"We talked about faster and better 8K or 16K video, enhanced gaming experience for consumers but 5G will grow with enterprises.
"Companies would benefit the most from 5G because of [reduced] latency… many manufacturing applications that we are working on, robotics, connecting more devices, Internet of things and how that would improve fish farming, agriculture, I'm not joking about connecting shoes… we can practically connect everything if we can imagine an application," Ogut said, noting how 5G will bring 10 times more speed and connect a vast number of devices in real time.
Noting that Maxis and Huawei celebrated the 10th year anniversary of their partnership in 2018, Ogut said Maxis is pleased to continue working with a "world-class technology leader" to pioneer 5G technology in Malaysia as it strives to maintain its network leadership in terms of speed, quality and performance.
"We have the best 4G network in Malaysia, as attested by the MCMC's 2018 Network Performance Report. Huawei has been a really good partner to make that happen… because we are the network leader, there comes an obligation to continue to excel and be best in class… We are the leader, we have to continue being the leader in our core mobile business, more so as we expand in converged offerings and the enterprise segment," said Ogut.
On news of security allegations against Huawei, Ogut said Maxis has had "no issues" with Huawei over the past decade and will continue business as usual in compliance with regulation.
"Whatever the minister decides, we will comply. No issue with that… This MoU is also an opportunity to try 5G on a live network and if anybody wants to check security compliance, it will give the people, the government the opportunity to check," he said.
At MWC2019, Huawei rotating chairman Guo Ping also addressed speculation on Huawei's security credentials by noting that the US has not presented any evidence of Huawei enabling China's government access to online communication, unlike how Edward Snowden blew the whistle on a US National Security Agency programme which collected data from Internet providers and how the US Cloud Act allows access to data stored outside the US.
On the Maxis partnership, Huawei Malaysia CEO Michael Yuan said: "We would like to thank Maxis for years of trust and support. The development of 5G needs the cooperation of all different partners, working together to innovate together. We are very happy to sign this MoU with Maxis, which shows the commitment of both companies to the future of 5G in Malaysia."
"As a leading global provider of ICT infrastructure, Huawei is committed to helping Maxis to expand the boundaries of their business and find paths to new growth with our full-series, all-scenario simplified 5G products. We have signed over 30 commercial contracts as of now and shipped more than 40,000 5G base stations across Europe, Asia and the Middle East," he added.