This article first appeared in The Edge Financial Daily, on August 6, 2019.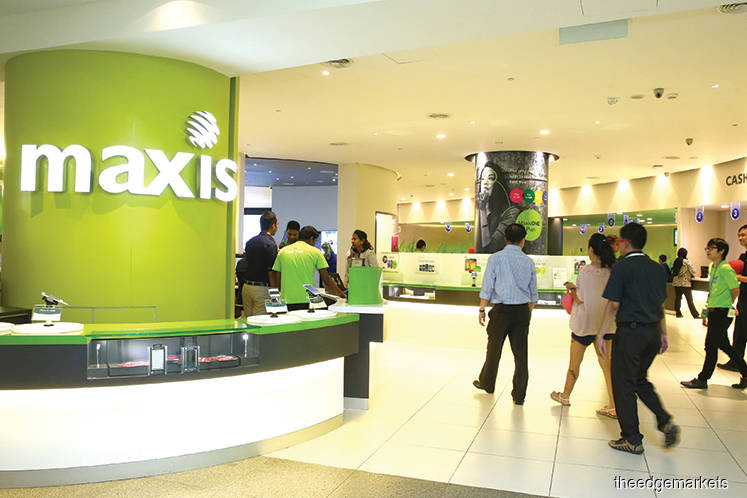 Maxis Bhd
(Aug 5, RM5.42)
Maintain reduce with an unchanged target price (TP) of RM5.40: Maxis Bhd's second quarter of financial year 2019 (2QFY19) earnings before interest, taxes, depreciation and amortisation (Ebitda) inched down 0.6% quarter-on-quarter (q-o-q) (-6% year-on-year [y-o-y]) due to lower revenue, partially offset by higher margins as a result of some one-off cost savings. A higher effective tax rate dragged core earnings per share (EPS) further, down 3.3% q-o-q (-18.6% y-o-y). Its first half (1H) of FY19 core EPS was in line with expectations, forming 50% and 49% of our and Bloomberg consensus FY19 forecasts. Its 2QFY19 dividend per share was retained at five sen (2QFY18: five sen) as expected.
Its 2QFY19 mobile service revenue eased 1.9% q-o-q (-5.4% y-o-y). For ex-wholesale revenue, it would have been up 0.3% q-o-q (-1.1% y-o-y), roughly in line with DiGi.Com Bhd's +0.5% q-o-q. Post-paid revenue declined 2.8% q-o-q (-3.7% y-o-y), mainly due to lower wholesale revenue. Subscribers grew a healthy 3.4% q-o-q, still boosted by resilient Hotlink Flex take-up. Prepaid revenue fell by 0.8% q-o-q (-7.4% y-o-y) owing to continued SIM consolidation and prepaid-to-post-paid migration. For 2QFY19, wholesale revenue was RM31 million and it should taper off from 3QFY19 as the U Mobile third-generation radio access network sharing contract was fully terminated at end-June.
Its Ebitda margin (for service revenue) widened 0.4 percentage point (ppt) q-o-q (-0.7ppt y-o-y) to 49.4% for 2QFY19, largely due to one-off savings which led to a 48.2% (RM53 million) q-o-q drop in operations and maintenance cost. During its 2QFY19 conference call, Maxis said it is on track to achieve its RM1 billion cumulative gross cost savings target from FY19 to FY21 as a result of productivity gains (first announced in February 2019), with a RM200 million cost savings programme underway this year.
During its call, Maxis highlighted key initiatives for its fixed enterprise business, for example, strategic partnerships with universities, corporate and public-sector organisations, as well as Internet of things solution pilot programmes. It indicated that the enterprise business may have an Ebitda margin of about 25% to 35%, based on global trends, as it is relatively less capital expenditure-intensive and incurs more variable costs versus the consumer mobile business.
We maintain our "reduce" call with a discounted cash flow-based TP of RM5.40 (weighted average cost of capital: 7.3%). A key de-rating catalyst is declining FY19 forecast (F) earnings. Maxis' FY20F enterprise value/operating free cash flow of 20.4 times is at a 32% premium over the Asean telco average, with an inferior three-year Ebitda compound annual growth rate of 0.6% (Asean average: 5.7%) and FY19F to FY20F yields of 3.7% per annum (Asean: 3.8% to 4%). Upside risks include greater-than-expected revenue growth and cost cuts. — CGSCIMB Research, Aug 2