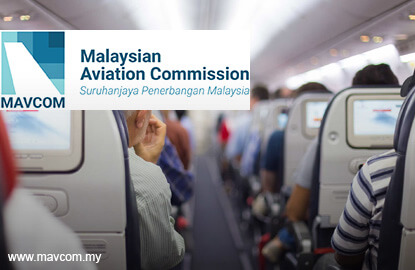 KUALA LUMPUR (Dec 20): The Malaysian Aviation Commission (MAVCOM) today revoked Eaglexpress Air Charter Sdn Bhd's air service permit (ASP).
Eaglexpress' ASP shall have no effect from Dec 21, 2016, MAVCOM said in a statement today.
MAVCOM deemed Eaglexpress's written representations on Dec 14 in response to its show cause letter as "not satisfactory".
"The airline has failed to provide sufficient evidence for the Commission to believe that it will be able to resolve all concerns raised and to comply with the conditions imposed," MAVCOM said.
The company had failed to comply with the conditions and stipulated deadlines of its ASP, which was effective for 12 months from Sept 1, 2016 to Aug 31, 2017, the regulator said.
According to MAVCOM, Eaglexpress is now prohibited under the Malaysian Aviation Commission Act 2015 to use any of its aircraft for the carriage of passengers, mail or cargo for hire or reward on a non-scheduled journey over domestic or international routes.
"This latest episode with Eaglexpress, as well as the earlier case with Rayani Air should be a clear indication to potential and current industry players that operating an airline requires a high degree of planning, financial depth, operational know-how and execution competency," said General Tan Sri Abdullah Ahmad RMAF (Rtd), chairman of MAVCOM.
"(MAVCOM) will strive to ensure only enterprises that are equipped and ready will be allowed to participate," he said.
On Dec 12, Eaglexpress had cancelled a flight to Jeddah as it failed to receive permission to land at the King Abdulaziz International Airport, leaving 250 pilgrims stranded.
Employees of the airline had also failed to receive their salary arrears as at Oct 25 for the months of January to June this year, according to news reports.