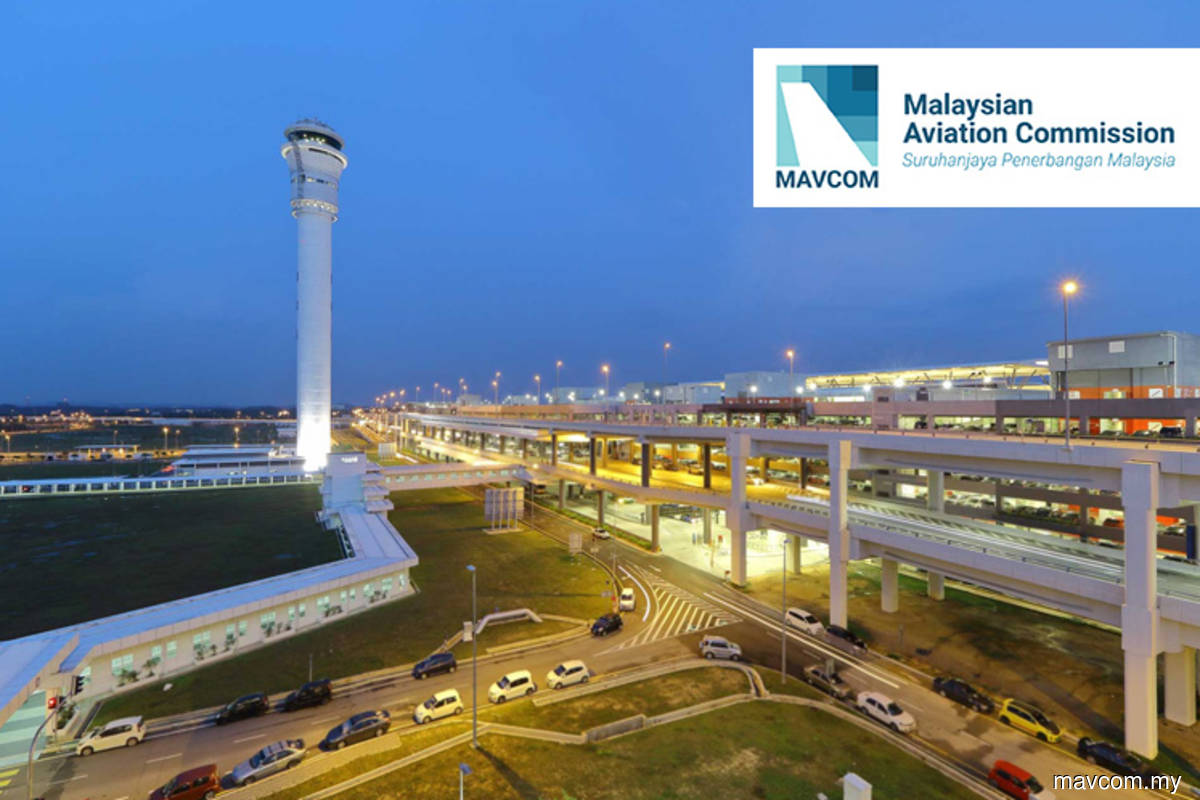 KUALA LUMPUR (Dec 8): The Malaysian Aviation Commission (MAVCOM) estimates passenger traffic will rebound in 2021, by between 94.2% and 100.3% year-on-year (y-o-y), which translates into 51.7 to 53.3 million passengers next year.
In a statement today, MAVCOM said airlines are expected to gradually expand seat capacity as international travel restrictions are presumably lifted in 2021.
This forecast, however, relies chiefly on the performance of the industry which is dependent on a range of external factors including the pathway of the Covid-19 pandemic, public health measures as well as consumer behaviour, said MAVCOM in its eighth edition of its Industry Report, Waypoint.
For this year, MAVCOM has further revised its passenger traffic forecast and is expecting a contraction in passenger traffic of between 72.8% and 75.7% y-o-y, which translates into between 26.6 million and 29.7 million passengers this year.
This is a noticeable larger contraction compared to an earlier Waypoint edition in June 2020 when MAVCOM forecast passenger traffic this year to contract by between 48.7% and 50.3% y-o-y due to muted demand during the first five months of 2020 of 54.3 million to 56 million passengers.
The larger contraction estimates now for this year are due to the anticipated lower load factor and longer period of seat capacity recovery by airlines compared to the previous forecasts, said the commission.
"Malaysia's passenger traffic dropped to its lowest in Malaysian aviation history, recording only 802,525 passengers in second quarter of 2020 (2Q20), 97% y-o-y lower, from 26.7 million passengers recorded in 2Q19," said MAVCOM today, attributing the decline to the lower load factor and a longer period of seat capacity recovery by airlines as they continued to cut seat capacity.
Passenger traffic, however, recovered slightly in 3Q20, with a smaller decline of 83.3% y-o-y thanks to the easing of domestic travel restrictions.
In relation to average fares by Malaysian carriers, average fares decreased to RM275 in 3Q20, compared to RM369 in 2Q20 as airlines were allowed to operate at full capacity without implementing the in-flight social distancing regulations.
The decrease was also due to the airfare promotions offered by Malaysian carriers to attract passengers to fly domestically after the domestic travel restrictions were lifted, said MAVCOM.
Revenue at risk for Malaysian and foreign carriers is expected to increase and hover between RM14.3 billion and RM6.7 billion, versus the previous estimates of between RM11.3 billion and RM4.6 billion.
As for Malaysian aerodrome operators, revenue at risk derived from passenger service charge too is estimated to be higher at RM717.7 million, compared with the previous estimate of RM500 million.
Together, revenue at risk for both carriers and operators is estimated at RM15 billion, an increase from the previous projection of RM11.8 billion, said MAVCOM.
Kuala Lumpur airports' (KLIA and klia2) air connectivity fell from third place to sixth in ASEAN, due to a 95.8% y-o-y reduction in the number of international seats from Kuala Lumpur, as a result of border restrictions imposed by the government to contain the spread of Covid-19.
"Aviation has been one of the most heavily impacted sectors due to the Covid-19 pandemic not only here in Malaysia but also globally," said MAVCOM's executive chairman Datuk Seri Saripuddin Kasim.
"As a result, we see airlines adopting various measures for business sustainability, including retrenchment and debt restructuring. Given the ongoing uncertainties, a few potential events involving the five local airlines that may transpire in the future have been identified while the potential effect to air connectivity has been analysed and is detailed in the latest Waypoint report," he added.
Although the sector's outlook is largely dependent on the pace of recovery from Covid-19 locally, regionally and globally, Saripuddin said the commission is of the view that the aviation industry will be on a long road to recovery.