This article first appeared in The Edge Financial Daily, on February 12, 2020.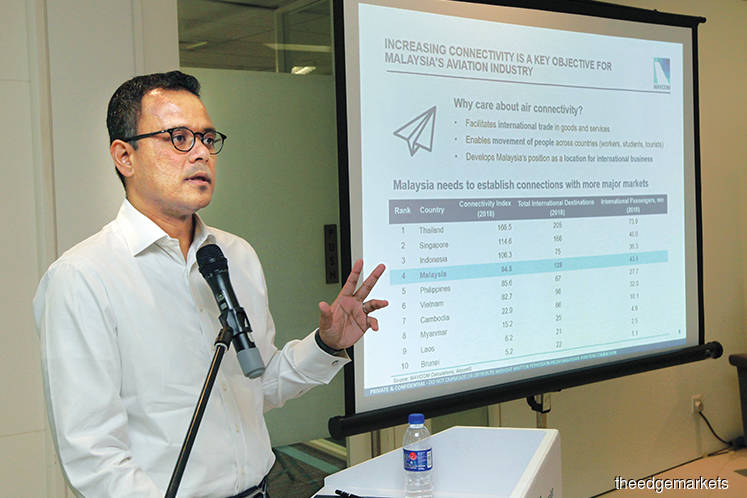 KUALA LUMPUR: The Malaysian Aviation Commission (Mavcom) has cut its passenger traffic growth forecast for 2020 to 4.6-5.7% from 5-6% previously, made last December, due to the Wuhan virus outbreak.
Earlier, the forecast growth in 2020 was to be driven by Visit Malaysia 2020 and a 3.2% year-on-year increase in domestic seat capacity.
Speaking at a press conference yesterday, the commission's chief operating officer Azmir Zain said the revised forecast for 2020 takes into account the Wuhan virus outbreak.
"We expect it would give rise to loss of revenue for carriers and airports. But we expect airlines and airports to take certain steps to ease the decreased revenue," said Azmir.
Nevertheless, the downgrade of the Civil Aviation Authority of Malaysia (CAAM) by the US Federal Aviation Administration (FAA) to Category 2 from Category 1 last year would have a minimal direct impact on passenger growth and Malaysian carriers' profitability in the foreseeable future, he said, due to low volume of passengers between the US and Malaysia.
Risk of RM4b revenue loss in 2020
However, Azmir noted that Malaysian carriers are at risk of losing RM4 billion in revenue, or 24% of total revenue, in 2020 if aviation authorities in China, Japan and South Korea were to ban Malaysia Airlines, AirAsia, AirAsia X and Malindo Air from flying to the three countries.
According to Azmir, passengers travelled on the carriers between Malaysia and the three countries amount to approximately 8.6% of total passenger traffic, which he said is "a significant number".
The potential loss, Azmir said, is based on the fate that was experienced by Thailand after it was downgraded by the FAA in 2015. Following the downgrade, China, South Korea and Japan all stopped Thailand-based airlines from flying charters and new routes because of safety concerns raised by the International Civil Aviation Organization.
Nonetheless, Azmir assured that it is still just a potential risk, seeing that it has been done in other jurisdictions. "So far, there is no indication that it is happening," he said.
But Azmir doubted the claim by the government that it would be able to regain the top FAA category in 24 months, noting that Thailand had yet to restore its rating since its downgrade in 2015 and the Philippines took six years to return to Category 1 following its own downgrade.
Malaysia was downgraded from Category 1 to Category 2 status by the FAA last November after the CAAM failed the US regulator's aviation safety oversight audit in April. In announcing the downgrade at the time, the CAAM admitted that the downgrade was due to its shortcomings as an aviation regulator.
Category 2 indicates that the CAAM is deficient in one or more areas encompassing technical expertise, trained personnel, record-keeping and/or inspection procedures.
"It is estimated that the revenue at risk for the Malaysian aviation sector is RM371.6 million, of which RM360.8 million is at risk for Malaysian carriers and RM10.8 million for aerodrome operators," Mavcom said.