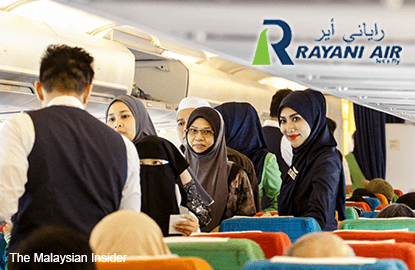 KUALA LUMPUR (Aug 26): The Malaysian Aviation Commission (Mavcom) has advised Rayani Air Sdn Bhd's customers who are seeking refunds to initiate a chargeback request with their respective credit or debit card issuing banks.
In a statement today, Mavcom said those who have purchased tickets using credit or debit cards, but were not able to fly after the syariah-compliant carrier ceased operation, should initiate the chargeback request.  
Mavcom said the chargeback enquiries are to be made directly to their credit or debit card issuing banks, under the category of "services not received" or a similar category.
"As credit or debit card providers may have different terms and conditions on chargeback services, we urge Rayani Air's customers to engage with their respective credit or debit card issuing banks as soon as possible," the commission said, adding that consumers may be required to submit the necessary documents to their card issuing banks to facilitate the chargeback process.
Rayani Air's Air Service Licence (ASL) was revoked on June 13, after Mavcom found the airline had breached conditions of its licence, and lacks the financial and management capacity to continue operating as a commercial airline.
Earlier on May 25, Mavcom had issued a show-cause letter to Rayani Air and the airline was required to submit its representation in writing within 14 days.
Rayani Air submitted its representation to Mavcom on the last day of the stipulated time, before the commission decided to revoke its ASL, saying the representation was not satisfactory to the show cause letter.
Rayani Air has come out to say that it could not afford to pay refunds to customers, after investors pulled out when its ASL got revoked.
On Tuesday, Rayani Air owner and chief executive officer Ravi Alegandrran reportedly said he is optimistic that the airline will resume flights soon, claiming he has secured a new investor to help resolve its financial woes.