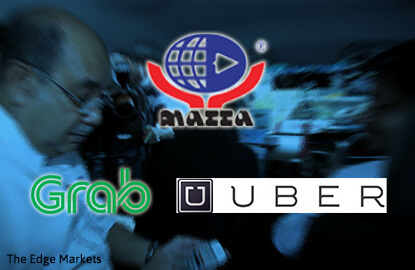 KUALA LUMPUR (June 20): The Malaysian Association of Tour and Travel Agents (MATTA) has called on the country's authorities to regulate ride-hailing apps which are operating outside the ambit of licensing rules and regulations.
MATTA inbound vice president Datuk Tan Kok Liang said today that continuing to allow Uber and GrabCar drivers to be unregulated is no longer tenable, as legitimate operators incur additional costs by complying with licensing requirements.
"To add insult to injury, licensed operators are more often than not targeted by enforcement agencies such as the Police, Road Transport Department, Commercial Vehicle Licensing Board, Land Public Transport Commission (SPAD) and the Ministry of Tourism and Culture," he said in a statement.
"It is a slap in the face when these ride-hailing apps thumb their nose at government agencies by operating private vehicles for chauffeur-driven services, without seeking prior approval," he added.
He also questioned if drivers of the mobile hailing apps are required to obtain a public service vehicle (PSV) license and subject to annual medical examination, and if their cars undergo inspections every 6 months at Puspakom for road worthiness.
"Will the cars be marked for easy identification and passengers be insured? Uber cars should be stamped or patterned with their company logos to eliminate "part-timers" and opportunist," he added.
"If the contention is [that] those who choose to use pirate taxis without insurance, do so at their own risk, then those who do not fasten safety belts should not be summoned by the police, as this too is at their own risk," he argued.
He also pointed out drawbacks such as passenger safety in the use of the ride-hailing apps. "The system does not track the driver but the phone, which is transferable. A criminal can steal the phone and masquerade as an Uber driver to rob or harm passengers.
Although the ride-hailing apps can swiftly eject any bad driver, he said there is no way to know until a passenger complains, which would be too late for the victim.
He said government agencies need to make a concerted effort to regulate online businesses, particularly ride-hailing apps, to protect consumers and licensed operators.
"We are ready for fair competition, but what irritates the industry is the unfair advantage gained by doing business the illegal way," he added.
The legal status of ride-hailing apps has been a matter of contention, not only in Malaysia, but abroad.
SPAD had previously said Uber and GrabCar were legal, as "service matching" businesses. But it also noted the manner in which they operate was not.
On June 9, a French court fined California-based Uber and two of its executives for operating an illegal transport service with non-professional drivers in the first of such a case in Europe.
The Paris criminal court ordered Uber to pay €800,000 (RM3.7 million), though half of the fine was suspended.
The court also found Uber Europe, Middle East and Africa director Pierre-Dimitri Gore-Coty and Uber France manager Thibaud Simphal, guilty of deceptive commercial practices and being accomplices in operating an illegal transport service.
Uber has been banned in Spain for a year, while UberPop has also been outlawed in Germany, Italy and parts of Sweden. Uber also pulled out of three German cities last year, saying regulations had made its business untenable.