This article first appeared in The Edge Financial Daily, on December 10, 2019.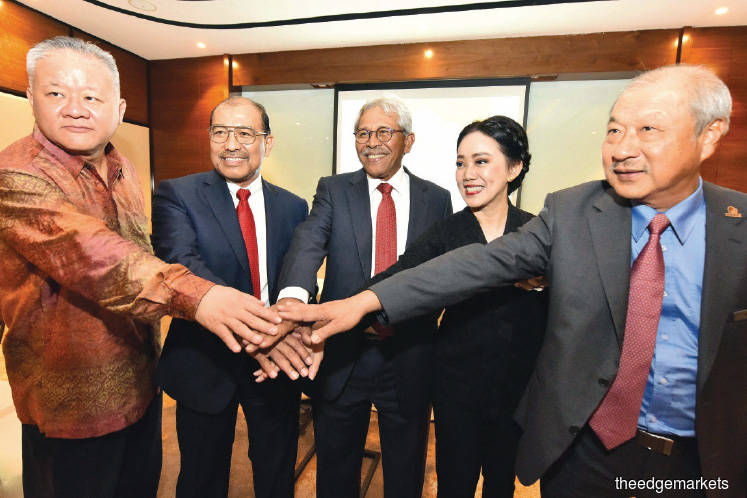 (From left) NSI president director Harianto Solichin, Agung Sedayu Group president director Nono Sampono, Mohamad Haslah, Agung Sedayu Group corporate marketing director Evelina Setiawan and Lee after the launch of Menara Syariah Twin Towers in Jakarta.
JAKARTA: Property developer Matrix Concepts Holdings Bhd has expanded its overseas venture to Indonesia, following the launch of its mixed-use development, Menara Syariah Twin Towers, in Pantai Indah Kapuk 2 (PIK 2) here, on Sunday.
Menara Syariah Twin Towers will be developed by PT Fin Centerindo Satu, a joint-venture company (JVco) between Matrix Concepts and three other Indonesian companies — Agung Sedayu Group, Salim Group and PT Fin Centerindo Dua.
The JVco is 30% held by Matrix Concept's PT Matrix Perkasa Indonesia, while Agung Sedayu Group and Salim Group's PT Bangun Kosambi Sukses (BKS) have 40%, with the remainder 30% owned by PT Fin Centerindo Dua.
The joint venture follows Matrix Concepts' announcement last year that it had signed a memorandum of understanding with BKS and PT Nikko Sekuritas Indonesia (NSI) for the joint development dubbed PIK 2 Sedayu Indo City. NSI is the project's financial adviser.
Matrix Concepts chairman Datuk Mohamad Haslah Mohamad Amin said the project marks the group's venture into PIK 2, which is set to be Jakarta's next financial centre.
"The launch of Menara Syariah Twin Towers represents the first phase of our participation in developing the Islamic financial district in PIK 2, which aims to attract leading international and domestic corporations to create a vibrant international commercial hub," he said.
The JVco owns a 3.6 hectares in the Islamic financial district (12ha), which is within the bigger international financial district (23.5ha) in PIK 2.
The international financial district, which will require US$5 billion (RM20.8 billion) in investments and be developed over 10 years, is slated to become a project that actualises President Joko Widodo's mission of making Indonesia a global syariah financial market.
Of the 3.6ha the JVco owns, Menara Syariah Twin Towers will take up 1.4ha. With a gross development value of US$250 million, Menara Syariah Twin Towers will have two 29-storey office towers.
On its scheduled completion by end-2021, the project will have over one million sq ft of gross floor area, a landscaped observation deck, an infinity pool, prayer halls, 23 floors of office space, and some retail units. The project is currently at piling stage.
The retail space will occupy less than 3% of the project's total gross floor area, Matrix Concepts founder and deputy chairman Datuk Lee Tian Hock said, adding that the office space is selling for 44 million rupiah (RM13,063) per sq m, with the first targets being local banks.
"We will sell one tower first, then we will decide whether we want to sell the second tower or keep it for recurring income. After that, we will continue to develop the remaining 2.2ha, where we plan to have offices related to Islamic finance," he added.
Spanning 2,650ha, PIK 2 is a mixed-use waterfront city that is being jointly developed by Agung Sedayu Group and Salim Group, starting from 2016.
Agung Sedayu Group and Salim Group have launched two apartment projects in PIK 2 — the Tokyo Riverside and Osaka Riverview.