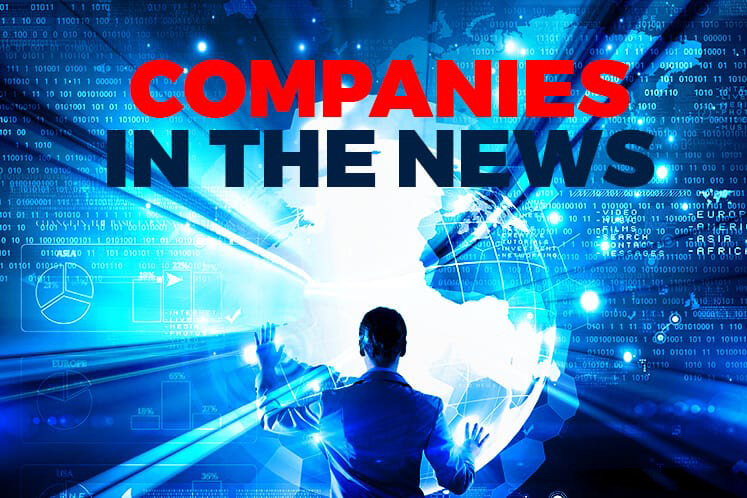 KUALA LUMPUR (Feb 20): Based on corporate announcements and news flow today, stocks in focus for Thursday (Feb 21) may include: Matrix Concepts Holdings Bhd, Ahmad Zaki Resources Bhd, Ranhill Holdings Bhd, Public Bank Bhd, Heineken Malaysia Bhd, MSM Malaysia Holdings Bhd, IOI Corp Bhd, D&O Green Technologies Bhd, and Favelle Favco Bhd.
Matrix Concepts Holdings Bhd posted a 31% fall in net profit in its third quarter ended Dec 31, 2018 (3QFY19), as its product mix during the quarter comprised more affordably-priced residential units compared to that which had a significant contribution from industrial properties that fetched better margins last year.
Its 3QFY19 net profit fell to RM48.61 million from RM70.56 million a year ago, despite revenue rising 7% to RM285.65 million from RM266.17 million on the back of higher revenue recognition from the sales of residential and commercial properties.
It declared a single-tier interim dividend of three sen a share in respect of FY19, payable on April 10.
Ahmad Zaki Resources Bhd's (AZRB) wholly-owned subsidiary Ahmad Zaki Sdn Bhd has secured RM150.5 million worth of projects, which include the proposed refurbishment and upgrading of Petronas office and operation complexes in Kertih, Terengganu.
AZRB said Ahmad Zaki Sdn Bhd will also construct a new annex building and undertake infrastructure and landscaping works.
Ranhill Holdings Bhd, whose share price climbed to a record high of RM1.45 today, announced that it intends to partner with Thai-based Treasure Specialty Co Ltd (TS Co) to export electricity from Kedah to Thailand. The duo are working out a proposal for a 1,150 megaWatt (MW) combined cycle gas turbine (CCGT) power plant in Kedah.
TS Co is currently the advisor to Ranhill's water businesses in Thailand and will be its joint developer and co-investor in Ranhill's new water concessions in Thailand.
Public Bank Bhd's net profit fell 5.4% in the fourth quarter ended Dec 31, 2018 (4QFY18), despite stronger revenue, as the group incurred higher other operating expenses and higher non-operational foreign exchange loss during the period.
The previous corresponding quarter had also recognised certain non-recurring income, the bank said, though higher net interest income and higher income from Islamic banking business in the current quarter helped to partially offset the effects of the above-mentioned dampeners on earnings.
Its 4QFY18 net profit retreated to RM1.41 billion compared with RM1.49 billion in the corresponding quarter last year, and earnings per share slipped to 36.2 sen from 38.47 sen. Revenue came in at RM5.63 billion versus RM5.35 billion previously.
For the cumulative FY18 period, net profit was up 2.2% to RM5.59 billion compared with RM5.47 billion in the previous year, as revenue climbed 6% to RM22.04 billion from RM20.86 billion.
Heineken Malaysia Bhd's net profit for the fourth quarter ended Dec 31, 2018 (4QFY18) hit RM100 million again — a level not seen since 4QFY16 — and grew 6.79% year-on-year (y-o-y) from RM93.64 million due to higher revenue, and efficient and effective management of commercial spend and overheads.
Quarterly revenue, meanwhile, grew 12.26% to RM662.28 million from RM589.96 million mainly due to increase in sales volume driven by the flagship Tiger brand.
For FY18, Heineken Malaysia's net profit went up 4.62% to RM282.52 million from RM270.06 million in FY17. Annual revenue increased by 8.29% to RM2.03 billion from RM1.87 billion a year earlier, mainly attributed to increase in sales volume, price adjustment on April 15, 2018 and the implementation of Sales and Services Tax (SST) on Sept 1, 2018.
MSM Malaysia Holdings Bhd, the country's leading refined sugar producer and a subsidiary of FGV Holdings Bhd, ended 2018 with a net profit of RM35.62 million compared to a net loss of RM36.34 million in the previous year.
This was despite slipping into the red in its fourth quarter ended Dec 31, 2018 (4QFY18) with a net loss of RM10.39 million, versus a net profit of RM9.32 million a year ago, on lower average selling price and higher finance cost.
Quarterly revenue contracted by 16.4% to RM531.13 million, from RM635.56 million a year ago, due to a 3% fall in overall volume sold, as well as lower average selling price.
MSM attributed the profitable FY18 to a stronger ringgit against the US dollar and lower raw sugar cost despite lower average selling price.
Revenue for the year, however, came in 16.1% lower at RM2.22 billion, versus RM2.64 billion in FY17, due to aggressive competition in the domestic sugar market resulting in lower average selling price.
Lower contribution from the plantation segment, coupled with net foreign currency translation loss on its foreign-currency denominated borrowings and deposits, dragged IOI Corp Bhd's net profit down 67% in its second quarter ended Dec 31, 2018 (2QFY19).
Consequently, its 2QFY19 net profit fell to RM195.5 million from RM595.9 million in the previous year. Revenue slipped 6.4% to RM1.88 billion from RM2.01 billion.
The group declared a first interim dividend of 3.5 sen which will be paid on March 22. In comparison, the group posted a 4.5 sen payout in the same quarter last year.
For the cumulative six months ended Dec 31, 2018, IOI Corp's cumulative net profit for first half of FY19 fell 65% to RM339.3 million from RM955.9 million previously, while revenue slipped 3% to RM3.76 billion from RM3.88 billion.
D&O Green Technologies Bhd almost doubled its net profit for the fourth quarter ended Dec 31, 2018 to RM12.33 million against RM6.94 million in the previous corresponding quarter, on the back of higher revenue and better gross profit margins.
Revenue rose 6.08% to RM140.58 million from RM132.53 million in 4QFY17.
For the full financial year, net profit spiked 60.8% to RM35.96 million against RM22.37 million in FY17, while revenue increased 5.92% to RM490.78 million from RM463.34 million.
Favelle Favco Bhd's units have secured six contracts to supply tower cranes and offshore cranes to various clients for a cumulative sum of RM61.1 million.
Its units Favelle Favco Cranes Pty Ltd, Favelle Favco Cranes (USA), Inc and Favelle Favco Cranes (M) Sdn Bhd received the purchase orders or letter of intent for the contracts between November 2018 and today.