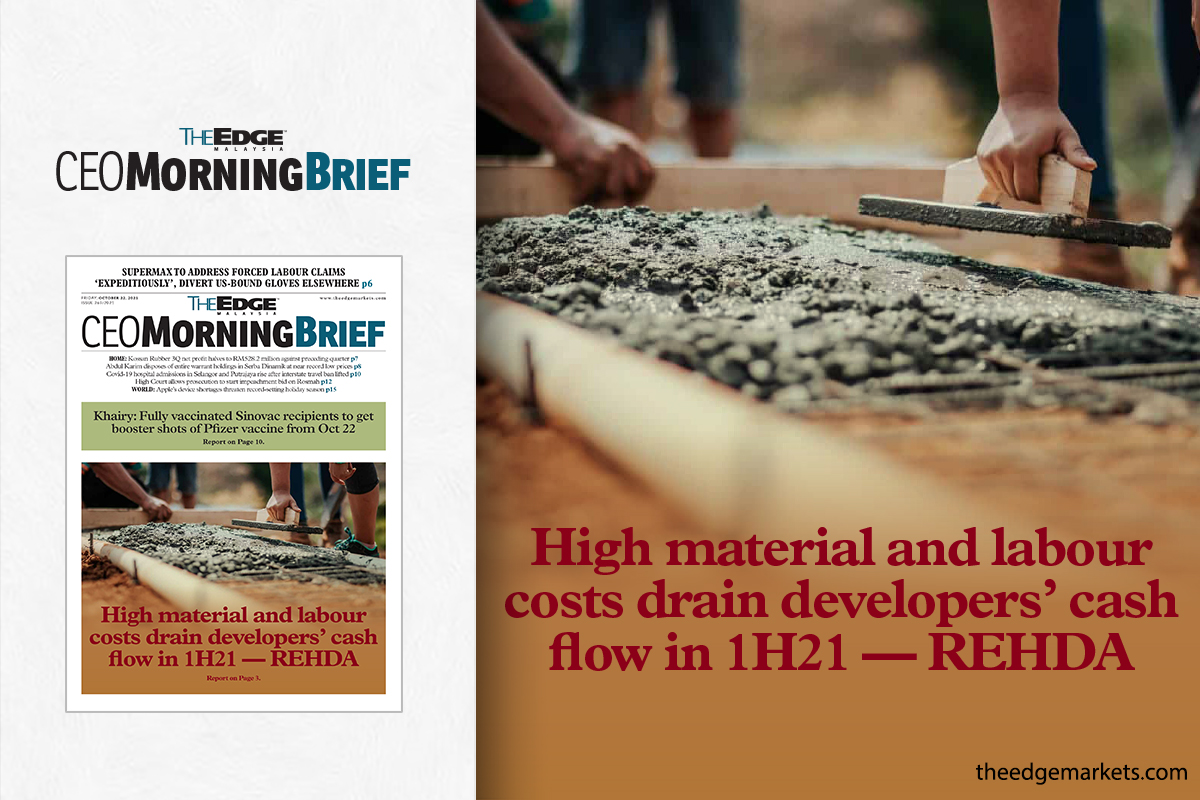 KUALA LUMPUR (Oct 21): Developers have cited material and labour as the top cost component that affected their cash flow in the first half of 2021 (1H21), according to the Real Estate & Housing Developers' Association (REHDA).
It is against the norm, since developers usually put compliance cost as the top factor affecting cash flow.
Results from the 1H21 REHDA Property Industry Survey showed that the top three cost components for developers were material and labour, compliance cost and financing cost.
REDHA's president Datuk Soam Heng Choon shared during a press briefing on Thursday that developers have been affected by two main causes of the increase in material cost.
The first is the global phenomenon of soaring commodity prices, which has seen materials such as iron ore, aluminium and copper surge to high levels.
"There has been a lot of fluctuation in prices because of the uncertainty in these commodity prices in the last 12 months. In this week alone, there has been a serious increase in copper and aluminium prices and also a resurgence of steel prices.
"1.5 months to two months ago, steel prices came off from RM3,400 to RM3,100 per tonne. But as of yesterday, it had risen to about RM3,300 to RM3,400 per tonne. The prices of raw materials, especially those linked to commodities, are still very unstable and on the high side," he said.
While the global commodity price hike is one thing, developers have also been affected by the increase in material prices during the lockdown, added Soam.
This relates to locally produced materials like bricks, with supply being constrained due to the shutdown in operations during the lockdown period.
"Some major infrastructure projects were still ongoing and they have been drawing from the stockpile. This stockpile has been completely taken up over the last three to four months.
"These factories need some time to run and build up their stockpile. In terms of supply and demand, when there is demand and no supply of materials, prices will go up," he explained.
However, he added that developers are not too concerned with these supply constraints as they expect them to normalise in the next few months with factories up and running again.
What could potentially be a concern is the surge in global commodity prices which could result in substantial increases in costs for developers.
"There have been various parties that have been engaging with the government, especially through the Ministry of Works, to see how the government can come in to assist the industry.
"There is also a need for more robust engagement between the industry and manufacturers to see how we can help stabilise the current situation," he said.
He added that while they advocate for a free market, if the high prices prolong and become too severe for developers, some form of government intervention is necessary.
"For now, most of the developers are absorbing the costs. As observed from the Housing Price Index, prices of house growth have moderated or are even in a negative, which means that there has been no increase in prices.
"But going forward, if the phenomenon continues, developers have no other choice but to pass on the costs. First they will reduce their margins and it will become compressed. Once they can't take in the additional costs, they will have no other choice but to increase it," he said.
Nevertheless, Soam said that for now, they will continue to monitor the situation.
Read also:
REHDA: Developers more optimistic about outlook for property industry in 1H22
REHDA: Only 39% of 11,601 total units launched in 1H21 sold
88% of developers continued to face end-financing issues in 1H21 — REHDA