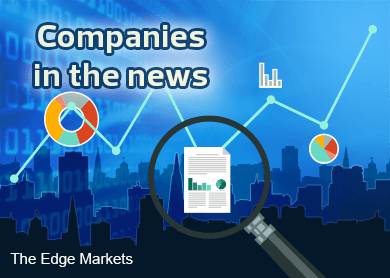 KUALA LUMPUR (July 9): Based on corporate announcements and news flow today, the companies that may be in focus tomorrow (Friday, July 10) could be the following: Masteel, TNB, Spring Gallery, Toyo Ink, AirAsia, Censof and Scanwolf.
Malaysia Steel Works (KL) Bhd (Masteel) announced it had submitted its outstanding annual audited accounts and will resume trading tomorrow.
In a filing to Bursa Malaysia today, the steel maker said it has submitted annual audited accounts for financial year ended Dec 31, 2014 (FY14), quarterly report for 1QFY15, and annual report for FY14 on June 19, July 2, and July 9 respectively.
To recap, Masteel (fundamental: 0.15; valuation: 0.9) had in April announced that its external auditor Messrs Nexia SSY was not able to express an opinion on its FY14 financial statements.
The group said this was due to various issues, including the classification, description and recoverability of various transactions that it had carried out in FY2014.
Subsequently, Masteel appointed special auditor UHY Advisory (KL) Sdn Bhd to conduct a special audit on the issues raised by Nexia SSY. The special audit was completed on June 15. The announcement to Bursa said that UHY was satisfied with the advance payments received from the commodity trader that had been correctly accounted for by Masteel as trade deposits and that the transactions with trade debtors under review are properly supported evidentially.
Trading of Masteel shares was suspended on May 12, after the company failed to submit audited accounts for FY14 by April 30. Its counter was last traded at 62 sen.
Tenaga Nasional Bhd (TNB) has completed its RM46.98 million acquisition of a 70% stake in Jimah East Power Sdn Bhd (JEP) from state-owned strategic investment fund1Malaysia Development Bhd (1MDB).
In a filing with Bursa Malaysia today, TNB said all the conditions precedent in the share sale and purchase agreement (SSPA) with 1MDB for the stake acquisition have been "fully satisfied and complied with". As such, the acquisition has been completed.
JEP is the special purpose vehicle company set up to develop the 2,000MW coal-fired power plant in Jimah, Negeri Sembilan, known as Project 3B. Japan's Mitsui Corp Ltd owns the remaining 30% equity interest in JEP.
Spring Gallery Bhd, via its wholly-owned subsidiary Profit Sunland Sdn Bhd, has secured a managing contractor agreement estimated to be worth RM75 million from JV Muhibbah Sdn Bhd for the development of Southern City Phase 1B, an 18-storey apartment located at Kemaman, Terengganu.
Under the agreement, Profit Sunland will be the project's managing contractor for 24 months, with another 18 months of defect liability period, Spring Gallery's filing to Bursa Malaysia today showed.
Spring Gallery (fundamental: 2.4; valuation: 0.3) said the contract is estimated to be valued at RM75 million, after considering the scope of work and the company intends to finance the development project via internally generated funds and/or bank borrowings.
The project is expected to be completed within 24 months from the date of commencement, which has yet to be fixed.
Printing ink maker Toyo Ink Group Bhd is seeking shareholder approval to enter into a consultancy services agreement (CSA) with Phu My Vinh Consulting Investment and Trading Service Co Ltd (PMV) pertaining to two 1,000MW coal-fired thermal power plants costing RM13.2 billion in the Song Hau Power Complex, Vietnam.
In a filing with Bursa Malaysia, Toyo Ink (valuation: 1.4; fundamental: 0.4) stated shareholders' approval would be sought before the formalisation of the arrangement with Vietnam-based PMV that would cost US$35 million (RM132.76 million).
The consultancy service cost is more than Toyo Ink's market capitalisation of RM79.7 million based on today's closing of 74.5 sen.
The fee is proposed to be funded through a combination of equity and debt financing instruments to be arranged for the project as well as internally generated funds.
PMV is tasked to advise the group on research and support the negotiation on the build, operate and transfer contract, power purchase agreement and land lease agreement of the power plant with the relevant authorities in Vietnam.
Indonesia's transport ministry said it would help airlines struggling to meet the deadline to improve their finances, softening its stance after concerns about the measures that sent AirAsia Bhd's shares plunging to five-year lows.
Ministry officials had told reporters less than a week ago that 13 airlines, including the Indonesian affiliate of troubled Malaysian budget carrier AirAsia, had to repair their stretched balance sheets by the end of July or risk being shut down.
On Thursday, the ministry issued a statement saying it would "help and support" these airlines to improve their finances, but did not mention anything about shutting them down.
A spokesman told Reuters the ministry would "decide in the future" on that matter.
Censof Holdings Bhd will spend S$10 million (RM28.06 million) to acquire a 51% stake in Asian Business Software Solutions Pte Ltd (ABSS), which develops, sells and markets the MYOB brand software products.
The proposed acquisition will allow the group to hold on to its exclusive distribution rights to distribute and market MYOB software products in Malaysia, and at the same time maximise its earnings and expand its business presence.
Censof (fundamental: 2.1; valuation: 0.5) today signed a SSPA with ABSS to acquire 306,000 shares in the latter.
Censof is expected to fund the proposed acquisition through a private placement exercise, as well as bank borrowings.
Two largest shareholders of Scanwolf Corp Bhd, Datuk Ch'ng Kong San and David Chang, have ceased to be substantial shareholders in the company.
In a filing with Bursa Malaysia today, Scanwolf (fundamental: 0.55; valuation: 0.9) said Ch'ng, who was the second largest shareholder with an 8.68% equity stake, has disposed of all his shares on July 2.
Ch'ng disposed of a total of 7.534 million shares and subsequently ceased to be a substantial shareholder in the company.
Ch'ng emerged as substantial shareholder in Scanwolf in November last year, after acquiring some 7.534 million shares or a 10% stake in the company through a private placement.
In a separate filing, the plastic extrusions manufacturer announced that Better Project Management Sdn Bhd, which is controlled by Scanwolf's single largest shareholder David Chang, has also ceased to be a substantial shareholder, after selling 17.204 million shares or a 19.83% stake on July 2 this year. The transaction price was not disclosed.
Chang was the single-largest shareholder with a 19.83% stake prior to the cessation.
Ch'ng was ousted as the company's managing director in the extraordinary general meeting last month. In addition, another six directors, who are said to be linked to him, were also removed from the board.
(Note: The Edge Research's fundamental score reflects a company's profitability and balance sheet strength, calculated based on historical numbers. The valuation score determines if a stock is attractively valued or not, also based on historical numbers. A score of 3 suggests strong fundamentals and attractive valuations.)