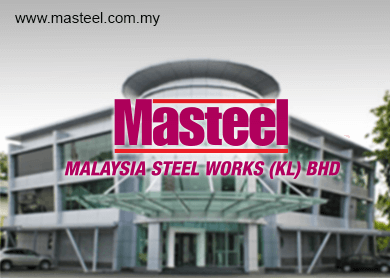 KUALA LUMPUR: Malaysia Steel Works (KL) Bhd's (Masteel) failure to submit its audited accounts for financial year 2014 ended December (FY14) on time was due to the disputing view between the steelmaker and its auditors Messrs Nexia SSY over the accounting treatment of the company's massive receivables, according to sources.
It is learnt that Nexia SSY had raised the question on the recoverability of Masteel's receivables of RM331.9 million considering the amount had been growing over the past years. The auditors had proposed to Masteel to make a provision for the amount owed to it.
However, the provision would drag the steel manufacturer into the red. Masteel resisted the proposal as it claimed that it had collected most of the outstanding amount, said sources.
Nexia SSY has voiced doubt on the likelihood of Masteel fully recovering the outstanding amount owed by its customers.
Besides, Masteel also disagreed with its auditors' proposal to categorise some RM100 million, which were advances from customers, as interest-bearing deposits, according to sources. "Masteel disagreed with it because the company isn't paying any interest," the sources said.
Nexia SSY have been the external auditors for Masteel more than a decade.
Bursa Malaysia yesterday announced that it has rejected Masteel's application to extend the deadline to submit its audited financial statements and annual report for FY14.
Shares of Masteel were suspended yesterday, following its failure to submit the FY14 audited accounts within the stipulated timeframe.
Masteel shares were last traded on Monday at 62 sen.
Masteel had sought to extend deadlines for submission of its audited financial statements and annual report for FY14 until June 30, 2015 and July 31, 2015 respectively.
Its unaudited accounts show that Masteel's net profit shrank substantially to RM15.79 million, or 6.98 sen per share, for FY14 from RM27 million, 12.38 sen per share. Revenue, however, increased to RM1.45 billion from RM1.37 billion.
Masteel attributed the increase in revenue to higher sales volume recorded. However, it did not reveal the reason for the decline in annual net profit.
The deadline for Masteel's FY14 annual audited accounts was April 30, 2015.
This article first appeared in The Edge Financial Daily, on May 13, 2015