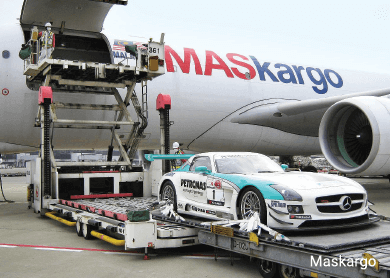 KUALA LUMPUR (May 22): In a surprise move, loss-making MASkargo Sdn Bhd (MASkargo) which decided to axe its thrice-weekly cargo flight to Frankfurt in Germany, has instead launched a new weekly freighter trip to Bangalore, India.
Its acting chief executive officer Ahmad Luqman Mohd Azmi said there was huge potential for it to grow in India, where it would meet the market demand for the export of electronic spare parts, and import of pharmaceuticals and garment.
MASkargo's Airbus 330-200 freighter that would fly from here into Bengaluru International Airport every Friday, would carry a total capacity of 60 tonnes, he said in a statement.
"MH6242 is scheduled to fly into Bengaluru International Airport, with a carrying capacity of 60 tonnes. There is a huge potential for MASkargo to grow in India.
"We are meeting the market demand to connect Kuala Lumpur and Bangalore for the export of electronic spare parts, and the import of pharmaceutical products and garment to Malaysia, and beyond," he said.
Ahmad said MASkargo was committed to play its part as the preferred air cargo carrier to meet the requirement of a rapidly growing market, such as Bangalore.
"The presence of international manufacturing companies and the country's potential in air transportation, has stimulated demand for fast and reliable air cargo movement, which is precisely what MASkargo offers to its customers.
"Additionally, MASkargo operates twice weekly freighter services into Chennai International Airport, with a generous payload," he said.
MASkargo's Bangalore trip announcement comes on the heel of speculations that its parent company, Malaysia Airlines System Bhd (MAS), is in consideration of wanting to put up its entire fleet of six freighters for sale, as part of its restructuring plans which would leave the airline with no freight operations.
MAS commented that the speculation was premature.
The launch of new weekly freighter trip to Bangalore is perceived as the national carrier's move to also rationalize its routes for its cargo operation.
MAS announced it would stop its passenger flights to Frankfurt, beginning May 29.
Its outgoing chief executive officer Datuk Ahmad Jauhari Yahya said last month, that it was a challenge for MAS to ensure the airlines operated and utilised its fleet at an optimum level, and maximise revenue on every route it flies.
Following that, MASkargo decided to end flights into the German city, but would instead increase two more trips into Amsterdam, its regional manager Keesjan de Vries told Bernama recently.
According to the filings with the Companies Commission of Malaysia (CCM), MASkargo has been in the red since the financial year ended December 2011 (FY11). But its net loss narrowed from RM23.67 million in FY11 to RM17.92 million in FY13, despite revenue falling from RM2.05 billion to RM1.9 billion during the same period.
MASkargo has a fleet of two Boeing 747-400Fs and four A330-200Fs. In FY12, it contributed about 14% to MAS' total revenue.