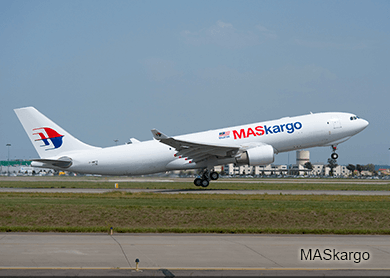 KUALA LUMPUR (June 9): MASkargo Sdn Bhd, the air cargo division of Malaysian Airline System Bhd (MAS), has commenced a twice weekly service to Dhaka, Bangladesh, using an Airbus A330-200 freighter.
This is MASkargo's third expansion in the South Asian region this year after Hanoi, Vietnam in April and Bangalore, India in May.
"In addition to the current belly hold capacity available on MAS passenger aircraft, the new freighter route will provide 120 tonnes capacity to Bangladesh's thriving agricultural and manufacturing exporting industry," said MASkargo in a statement today.
"The first freighter flight to Dhaka has achieved considerable success with both inbound and outbound flight recording full capacity utilisation.
"Dhaka is a significant exporter of perishable products, garments and seafood and MASkargo prides itself in its capability to link Bangladesh with its global trading partners," it added.
MASkargo operates two Boeing 747-400 freighters and four A330-200 freighters.
 
MASkargo's freighter services expansion comes amid the winding down of its parent company MAS which will cease trading on Sept 1.