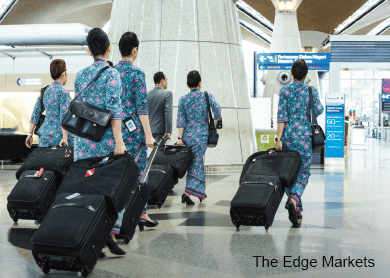 KUALA LUMPUR: Union officials are jittery over the non-disclosure of the terms and conditions of the re-employment and severance package for the 20,000 employees of troubled national airline, Malaysian Airline System Bhd (MAS).
It is understood that the airline's largest shareholder Khazanah Nasional Bhd, has yet to make known to the unions if the Collective Agreement (CA) signed between the union and employees will be honoured.
"I was told that Khazanah does not have to follow the CA. If they plan to honour the CA they would have made known to the unions at least three to four months ago," a union official who declined to the named told The Edge Financial Daily.
The CA had expired after it lapsed in August last year. The CA is renewable every three years.
This despite some union officials having met MAS' new chief executive officer Christoph Mueller and Khazanah officials in meetings on the restructuring, added the union official. There are at least nine worker unions and associations in MAS.
According to the CA, employees are to be paid 1.5 months salary in lieu for every year of service. But there is talk suggesting that the amount could drop to the range of 0.3 to 0.8 instead, the official added.
The Edge Financial Daily yesterday reported that the 6,000 who are to be let go will be offered a package of 0.8 months salary for every year of service. However, those who will be absorbed into the new company, Malaysia Airlines Bhd — which will operate the airline from Sept 1, 2015 — will be given a severance package of 0.3 months.
MAS has an existing workforce of 20,000, of which some 6,000 will be laid off by Khazanah as part of its RM6 billion restructuring plan for the airline.
When contacted, Malaysia Airlines System Employees Union (Maseu) secretary-general Abdul Malek Ariff told The Edge Financial Daily that although the union supports the restructuring exercise for the airline, its members are worried over whether they still have a job or can pay their bills.
"I do not blame MAS but Khazanah, because they do not know what employee relations are all about.
"Most of these employees are in their prime years and would have wanted to work until the age of 60," he said. Maseu, which is the biggest union in MAS, has about 13,500 members.
Abdul Malek also pointed out that as long as MAS employees are still drawing their salaries, there should not be any concern even if the CA is still valid.
A National Union of Flight Attendants (Nufam) official when contacted over the matter said MAS and Khazanah should respect the CA as it is a mutual and valid agreement between employees and the company.
"The CA is still valid till the last day of MAS, it is a violation when the CA is breached by the company," he said, stating that if Khazanah offers less, then employees can file their case at the Industrial Court.
On May 15, 2015, Nufam had criticised MAS for sending out an insensitive email bearing the title "Countdown to June 1 2015" as a reminder to workers on their employment termination.
"MAS employees are disappointed and angry with the management's manner in issuing their latest email sent to all its employees. The union members view it as bad taste and insensitive.
"What do they think — a New Year celebration is coming to MAS?" Nufam had said in a statement. Nufam represents nearly 65% of the 3,500 cabin crew of MAS.
Nufam said the email reflected how insensitive MAS management was on the employment termination of its loyal staff.
Nufam is also urging the MAS management to stop issuing such letters or emails to employees reminding them of the "D-Day". This is because it will affect their morale and work performance while flying.
"The employees do not need such insensitive reminders. Who would like to be reminded and told that they will be fired by the company on that date? Until today, none of the staff knows their fate. They will only know on June 1 when they receive the letters," Nufam said.
Khazanah had privatised MAS last year as part of its restructuring plan for MAS. The corporate revamp follows financial losses after the airline was involved in two aviation tragedies last year.
On May 12, MAS  announced the resignation of its director of commercial Dr Hugh Dunleavy effective Aug 31, 2015. Dunleavy, who served the airline since 2012, was brought in to lead its new network, alliance, strategy and planning division at the time. He was to help leverage strategic partnerships with other airlines.
This article first appeared in The Edge Financial Daily, on May 26, 2015.