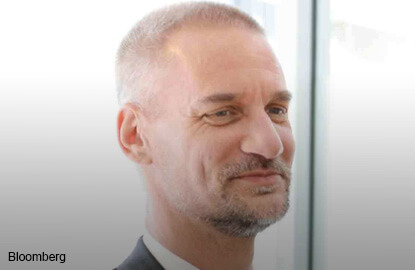 SINGAPORE (March 13): The Monetary Authority of Singapore plans to slap lifetime ban on two former private bankers for their roles in helping money transfers linked to scandal-hit 1Malaysia Development Bhd.
They are Jens Fred Sturzenegger, former branch manager of Falcon Private Bank Singapore branch (Falcon Bank) and Yak Yew Chee, Jho Low's relationship manager.
"As Branch Manager, Mr Sturzenegger was responsible for ensuring the sound management of Falcon Bank and its compliance with regulations, notices and directives issued by MAS, as well as any other relevant laws and regulations," states MAS.
(See also: Former Falcon Bank branch manager Jens Sturzenegger jailed, fined for 1MDB-linked offences)
Yak, on the other hand, was the key contact to both Low and Low's father, Larry Low Hock Peng at BSI.
As the biggest revenue generator then at BSI, Yak made full use of his clout to push through Low's instructions for suspicious money transfers involving various entities, over and against opposition from BSI's compliance department.
(See also: Jho Low's former private banker Yak Yew Chee jailed, fined)
Yvonne Seah, Yak's long-time colleague and subordinate, faces a 15 year ban for her part in helping Yak.
(See also: Ex-BSI banker Yvonne Seah jailed, fined after pleading guilty to three charges)
Yak, Seah, and Sturzenegger were all already convicted and sentenced for their roles.
In addition, former Goldman Sachs executive Tim Leissner has been slapped with a 10-year ban with effect from today.
(See also: The rise and fall of Tim Leissner, Goldman's big man in Malaysia)
Leissner is said to have helped 1MDB arrange issuance of billions in bonds, earning the American investment bank hefty fees.
He was found to have issued in June 2015 an unauthorised letter to a financial institution based in Luxembourg, and to have made false statements on behalf of Goldman Sachs (Asia) L.L.C., without the firm's knowledge.
Back in December, MAS has already notified Leissner about the intention to ban him from operating in the financial industry here. He was allowed a explain himself, and he did.
"MAS will not tolerate conduct by any finance professional that threatens to undermine trust and confidence in Singapore's financial system," says Ong Chong Tee, Deputy Managing Director (Financial Supervision), in a statement earlier today.
"MAS will not hesitate to bar such individuals from carrying out regulated activities in the financial industry. It is imperative that industry professionals and representatives of financial institutions are fit and proper persons. They must be worthy of the trust that people place in them and their institutions," he adds.
Another individual, Yeo Jiawei, also from BSI, has already been found guilty of witness tampering and is now serving this 30-month jail term. When the trial of Yeo was going on last year, prosecutors had then said that an additional seven charges of money laundering will be heard in April.
(See also: Ex-BSI banker Yeo Jiawei sentenced to 30 months' jail; mulls appeal)