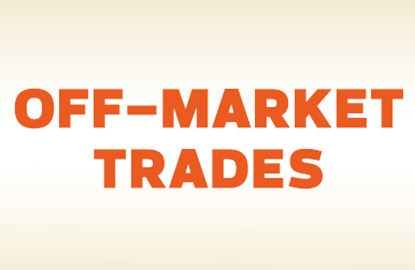 This article first appeared in Capital, The Edge Malaysia Weekly, on February 29 - March 6, 2016.
BETWEEN Feb 17 and 23, 586.67 million shares worth RM790.76 million changed hands off market in blocks of at least 400,000.
At RCE Capital , 48.24 million shares or a 3.7% stake changed hands in two direct trades on Feb 19 at 27 sen apiece, a 1.9% premium to the 26.5 sen apiece they fetched on the open market.
A Feb 22 filing shows that Tan Sri Azman Hashim, non-independent, non-executive chairman of AmBank, raised his stake in RCE Capital by 48.24 million shares on Feb 19 through AmCorp Group . That raised his indirect stake to 63.75% while his direct stake remains at 0.23%.
The personal financing company's net profit for the third quarter ended Dec 31, 2015, more than quadrupled to RM13 million from a year ago. Revenue grew 24% to RM41.55 million with higher interest income from a larger loan base as well as the introduction of products with better margins.
Some 32.82 million Multi Sports Holdings Ltd shares, or 5.5% equity interest, changed hands in a mix of block and direct trades during the week. Of these, filings show 20 million shares or a 3.36% stake was sold via a married deal on Feb 19 by one Lin HuoZhi through Power Wide Holdings Ltd. His stake was reduced to 11.45%. The five sen per share the shares were sold at was a 9.1% discount to the 5.5 sen apiece they fetched on the open market.
The buyer of the shares was unknown at the time of writing. It is worth noting that filings show Paramjit Singh Gill, who emerged as a substantial shareholder with 5.11% equity interest or 30.42 million shares on Feb 10, has been raising his stake via open market purchases. As at Feb 23, he had doubled his stake to 10.56% or 62.84 million shares.
Multi Sports shares, which have skidded since its initial public offering in August 2009, fell to an all-time low of 4.5 sen on Feb 2. Over the past one year alone, its share price has fallen about 59% to 5.5 sen last Wednesday. The China-based sports shoe maker fell into a net loss position of RM9.79 million from net profit of RM7.75 million a year ago, despite revenue rising 23.5% year on year to RM123.24 million.
Dutaland  saw 16.7 million shares or a 1.97% stake change hands in a direct trade on Feb 22 at 47 sen apiece, just below the 47.5 sen per share they fetched on the open market.
Filings show Datuk Seri Yap Wee Keat acquired 16.7 million shares through Duta Equities Sdn  on Feb 22. He acquired another 100,000 shares on Feb 23, raising his deemed interest to 46.45% or 393.02 million shares.
The company's net loss for the second quarter ended Dec 31, 2015, shrank to RM2.35 million from RM4.1 million previously. This came in spite of the lower revenue of RM10.59 million the company chalked up for the quarter, compared with RM11.69 million a year ago.
Some 12.43 million shares in ACE Market-listed MMAG Holdings , or about 1.3% equity interest, changed hands in block trades during the week, with shares changing hands within a tight six sen to seven sen range. The parties involved in the transactions were unknown at press time.
Filings show that managing director Wong Eng Su bought 22 million shares or a 2.31% stake on Feb 19 at 6.5 sen apiece on the open market, raising his holding to 16.39%.
MMAG Holdings, formerly known as Ingenuity Consolidated , saw its net loss shrink in the second quarter ended Sept 30, 2015, to RM4.25 million from RM11.19 million a year ago. The company aborted plans last year to place out 119.95 million new shares, or 10% of its issued capital, to raise between RM7.54 million and RM12 million for working capital and expansion, as it could not complete the exercise within the stipulated time.