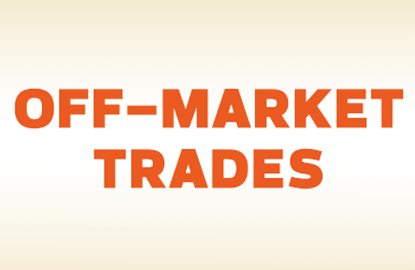 This article first appeared in
Capital, The Edge Malaysia Weekly
, on January 2 - 8, 2017.
DURING the Christmas holiday-shortened week of Dec 21 to 27, some 597.71 million shares worth RM1.55 billion changed hands off market in blocks of at least 400,000 shares.
Among the notable transactions were those at MQ Technology Bhd. The company saw 4.84% of its share capital, or 20.06 million shares, change hands off market in more than 45 trades averaging 446,000 shares each.
On the open market, the company saw high trading volumes in December, going as high as 50 million shares traded in a single day.
However, the values of the trades were relatively small; for the off-market transactions, the total was only RM1.02 million.
MQ Tech's share price rose to a high of 12.5 sen after it signed a memorandum of agreement with Cambodian Resort and Entertainment Co Ltd on Dec 12 to develop and manage a theme park in Cambodia.
The share price was also lifted by a Dec 14 report in a local news daily that MQ Tech was in discussions with NagaCorp Ltd to build a casino in the latter's new integrated resort. But once MQ Tech denied the news report, the share price collapsed to a low of 4.5 sen.
Note that its largest shareholders, Goh Boon Soo and Teh Eng Huat, have been selling out of the company. Goh first emerged as one of the largest shareholders on Nov 28 after subscribing to 87.25 million rights shares with free warrants that gave him 103 million shares or a 24.83% stake.
On Dec 14, Goh disposed of 58.17 million warrants on the open market. Subsequently, he sold 19.48 million shares.
Teh acquired 93.22 million shares in the company as part of the rights issue, giving him a 24.34% stake or 100.96 million shares. At the time, he was an executive director in the company. He resigned on Dec 14.
Teh disposed of 55.17 million warrants on Dec 14, followed by a sale of 22.35 million shares in the following days.
Note that Robbie Hari Krishnan Tatparanandam was made an executive director in MQ Tech on Dec 8.
On the same day, Iris Corp Bhd saw 89.808 million shares or a 3.99% stake worth RM8.968 million change hands off market. Most of the trades were in several large blocks — three of 15 million shares each at eight sen apiece and one of 41.6 million shares at 12 sen apiece. The shares were sold by Datuk Tan Say Jim, who ceased to be a substantial shareholder in the company.
Meanwhile, Anzo Holdings Bhd saw 10.7 million shares or a 33.57% stake worth RM2.46 million change hands in a single direct trade at 23 sen apiece.
BIMB Holdings Bhd continued to see active off-market trading activity with 57.58 million shares changing hands. That worked out to 3.62% of the company's share capital. BIMB has been seeing active off-market activity since mid-November, largely driven by its largest shareholder, Lembaga Tabung Haji.
The shares crossed between RM4.25 and RM4.26 apiece in only six blocks. The blocks transacted were valued at RM245 million in total.
At Taliworks Corp Bhd, 28.55 million shares or a 2.36% stake changed hands in a single direct transaction on Dec 27. At RM1.50 apiece, the block traded at RM42.83 million.
Taliwork's share price has since fallen to RM1.46 as at last Wednesday.