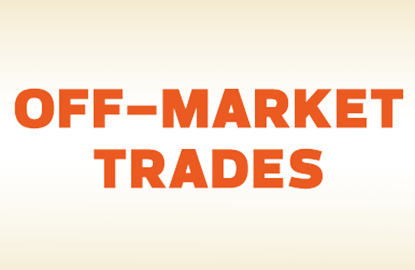 This article first appeared in The Edge Malaysia Weekly, on June 13 - 19, 2016.
BETWEEN June 1 and 7, a total of 781.54 million shares worth RM2.14 billion changed hands off market in blocks of at least 400,000 shares. Among the notable transactions was the disposal of a 1.58% stake in Asia's largest hospital operator IHH Healthcare Bhd by Khazanah Nasional Bhd for RM828.7 million on June 1, accounting for almost 40% of the total value transacted in the five trading days.
The shares were sold in numerous transactions at the market price of RM6.36 — just a shade lower than its all-time high of RM6.75 in March — giving Khazanah a hefty 127.1% gain. (The initial public offering price was RM2.80 in 2012.) Post-transaction, the state-owned fund remains the biggest shareholder of the fourth largest listed company on the local bourse with a 41.2% stake.
Over at loss-making travel and tour company Reliance Pacific Bhd, 79.98 million shares or a 9.3% stake crossed at 22.5 sen apiece — a 40% discount to the prices the stock fetched on the open market — in several direct deals on June 2 and 6.
According to filings with Bursa Malaysia, substantial shareholders Datin Irene Tan and her husband Datuk Gan Eng Kwong, via their investment vehicle Reliance Holdings Sdn Bhd, continued to pare down their stake to 21.3% from 45.1% in August last year. After the transactions, buyer Mazmur Capital Sdn Bhd, the private vehicle of executive director See Ah Sing, emerged as a substantial shareholder with a 9.3% stake.
Recall that Ibu Kota Developments Sdn Bhd, a family vehicle of former finance minister Tun Daim Zainuddin's wife and son, last month acquired an additional 160.3 million shares or an 18.7% stake in Reliance Pacific from CEO Irene Tan at 22.5 sen apiece, also at a 40% discount to the open market price. This raised Ibu Kota Developments' stake to 30.96%, just 2% shy of triggering a mandatory general offer.
IT-related product and service provider Accsoft Technology Bhd (formerly known as Oriented Media Group Bhd) saw 50 million shares or a 7.8% stake change hands in two direct deals on June 3 and 6 at 10 sen apiece, about 60% lower than the prices the stock fetched on the open market. The identities of the buyers and sellers were not known at the time of writing.
In May 2014, Hong Kong-based Pacific Harbor Global Growth Fund emerged as the largest shareholder in Accsoft Technology after it acquired 50 million shares off market.
The ACE Market-listed company, which has been making losses in the past five years, raised RM42.7 million in January via a rights issue and subsequently, changed its name to the present one in April to better reflect its venture into China's e-commerce market. For the third quarter ended March 31, 2016, the company returned to the black, posting a net profit of RM2.8 million on the back of a 35-fold jump in revenue to RM4.1 million from a year ago, thanks to e-commerce-related contributions from China.
On June 3, Versatile Creative Bhd saw eight million shares or a 6.8% stake traded off market at 54 sen apiece, a hefty 65.6% discount to its closing price of RM1.57 on that day. While the identity of the buyer has yet to be known, filings show that major shareholder Iris Healthcare Sdn Bhd, which is 22.9%-owned by Federal Land Development Authority, disposed of the block of shares, reducing its equity interest further to 30.1%.
The shares of the loss-making paper and packaging material firm have been actively traded since early last month, resulting in two unusual market activity queries from Bursa in just a month. In its reply, it said it has received a letter of offer to undertake the construction of a halal vaccine plant in Negeri Sembilan with a contract sum of US$69.3 million (RM283.1 million).
While evaluating the feasibility of the project, the company said it would seek shareholder approval to diversify into property development, construction, project management and property investment.