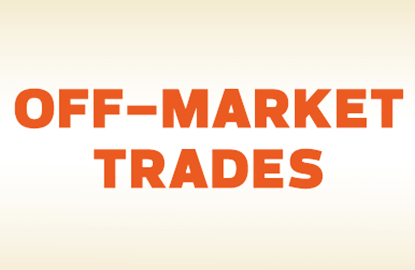 This article first appeared in Capital, The Edge Malaysia Weekly, on April 4 - 10, 2016.
SOME 263.7 million shares valued at RM349.3 million were traded off market in the week of March 23 to 29 in blocks of at least 10,000.
Among the more notable transactions include that at Kanger International Bhd, which saw 28.2 million or 4.6% of its shares traded off market during the week. On March 25, two blocks of Kanger shares — 6.4 million and 5.7 million respectively — crossed in direct deals at 13 sen apiece, 7.1% and 10.3% discounts to the 14 sen and 14.5 sen they fetched on the open market at the time. On March 29, another 16 million shares changed hands in two direct deals at 13 sen apiece, at 10.3% and 13.3% discounts to the 14.5 sen and 15 sen they fetched on the open market.
Parties to these deals had not been revealed at the time of writing but the trades came after Kanger, which sells bamboo flooring and related products, announced an impressive financial performance for the fourth quarter ended Dec 31, 2015. Its net profit jumped more than fourfold to RM8.6 million year on year from RM1.9 million due to more robust export sales. Net profit rose 39% year on year to RM9.7 million for the whole year.
At Destini Bhd, BPH Capital Sdn Bhd disposed of 18 million shares or a 1.9% stake through a direct deal at 55 sen apiece on March 24, just below the 55.5 sen apiece they fetched on the open market. Filings with Bursa Malaysia show that Destini's group managing director Datuk Rozabil @ Rozamujib Abdul Rahman was the buyer while the seller, BPH Capital, is Rozabil's private vehicle. Rozabil's direct stake in Destini has thus increased to 2% while he still has a 24.2% indirect interest.
The transfer of shares happened just before Destini announced that its Singapore-based subsidiary Vanguard Composite Engineering Pte Ltd had won a RM16 million contract to supply eight of its newly developed self-propelled hyperbaric lifeboat. Under the contract, Vanguard will supply the vessels to Singapore-based Ultra Deep Solutions Pte Ltd and Flash Tekk Engineering Pte Ltd, builders and operators of ultra-deep heavy construction vessels and diving systems for the offshore industry.
Meanwhile, Pesona Metro Holdings Bhd's second largest shareholder, Sincere Goldyear Sdn Bhd, acquired 14.8 million shares in a single off-market direct deal on March 23. The seller was unknown at the time of writing. At 44 sen apiece, the buyer paid a 11.4% premium to the 39.5 sen apiece the shares fetched on the open market.
Sincere Goldyear is a family-owned vehicle linked to Pesona Metro's managing director Wie Hock Beng and his brother Wie Hock Kiong, who is a non-independent, non-executive director. The purchase increases Sincere Goldyear's shareholding in Pesona Metro by 2.2% to 17.03%. Correspondingly, the Wies, who also have shareholdings in Pesona Metro by virtue of their interest in Kombinasi Emas Sdn Bhd, now have a total equity interest of 57.63%.
The shareholding changes came just two days after Pesona Metro announced that its joint-venture firm had secured a contract to construct a teaching hospital for Universiti Sultan Zainal Abidin in Terengganu. The contract is worth RM313.85 million. This is the third construction deal that Pesona Metro has secured since the start of the year. It won a RM26.7 million deal to construct a five-storey carpark for Pantai Hospital Ayer Keroh in Melaka and a RM181.3 million contract to construct a seven-storey carpark podium in Kuala Lumpur.
Printed circuit manufacturer and waste water treatment services provider AE Multi Holdings Bhd saw 10 million shares or a 4.2% stake change hands in three direct deals on March 28 at 12 sen apiece, at 9.1% to 14.3% premiums to the 10.5 sen and 11 sen apiece they fetched on the open market.
The seller is likely to be Tekun Asas Sdn Bhd, which filings show to have halved its equity interest and ceased to be the company's substantial shareholder after selling 10 million shares on the same day. The buyer of the stake has not been revealed.
It is interesting to note that Tekun Asas, a subsidiary of the precision sheet metal manufacturer manufacturing Ewein Bhd, emerged as a substantial shareholder of AE Holdings not too long ago. Tekun Asas had acquired 10 million AE holdings shares to raise its stake to 8.4% on March 14, also in off-market deals.
Over at Bioalpha Holdings Bhd, a total of 16.5 million shares, or 3.3%, crossed off market in several direct deals. Five million shares changed hands on March 25 and 28 at 40 sen apiece, at 1.3% and 4.8% discounts to the 40.5 sen and 42 sen they fetched on the open market. Filings show the company's managing director, Hon Tian Tok @ William, raised his stake to 18.16% after buying the shares from Perbadanan Nasional Bhd, which pared its holding to 14%.
On March 29, 11 million shares changed hands in four direct deals at 44 sen apiece, 1.1% above the 43.5 sen they fetched on the open market. The parties to these transactions were unknown.