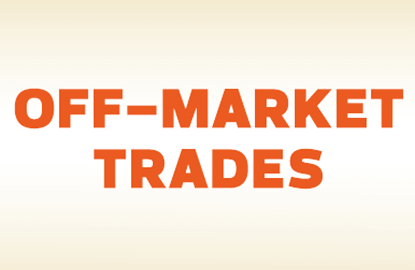 This article first appeared in
Capital, The Edge Malaysia Weekly
, on November 21 - 27, 2016.
BETWEEN Nov 9 and 15, some 371 million shares worth RM778 million changed hands off market in blocks of at least 400,000. During this period, the local bourse was reeling from the after-effects of the US presidential election and a weakening ringgit.
Notable transactions include one at engineering service firm Destini Bhd, which saw 10 million of its shares sold for RM8 million on Nov 9. This was the single largest transaction by volume and the second largest by value during the period. The 80 sen transaction price was at a 3.6% discount to Destini's closing price of 83 sen that day.
At press time, it was uncertain who had bought or sold the stake. However, earlier filings show that substantial shareholder Freddy Lim Nyuk Sang sold five million Destini shares on Oct 27, just three weeks after converting almost 1.84 million warrants to shares.
Another notable transaction was that at Malaysian Resources Corp Bhd, in which some 6.47 million shares were traded on Nov 9 at RM1.26 apiece or RM8.15 million in total. Filings show that the block was acquired by MRCB's largest shareholder, the Employees Provident Fund (EPF) board, which holds 34% of the property and construction company.
Meanwhile, four million Ekovest Bhd shares changed hands at RM2.52 on Nov 11, a day after rising to an all-time high of RM2.54 on Nov 10 and two days after the stock resumed trading on Nov 9. The company had requested a two-day suspension to announce that its wholly-owned subsidiary Nuzen Corp Sdn Bhd had inked a deal to sell 40% of Konsortium Lebuhraya Utara-Timur (KL) Sdn Bhd (KESTURI) to the EPF for RM1.13 billion cash. Nuzen Corp is the holding company of KESTURI, which holds the concession for the 34km Duta-Ulu Kelang Expressway.
There was a substantial amount of off-market trades in key banking and financial services stocks during the period under review, especially in the wake of a rally in banking stocks on Wall Street after US president-elect Donald Trump's victory.
On the local front, CIMB Group Holdings Bhd saw 6.97 million shares worth RM34.53 million traded in a slew of transactions on Nov 10 and 11 at RM4.84 to RM4.99 apiece — near the stock's one-month average price of RM4.91.
This came ahead of the group's results announcement on Nov 16. In its third quarter ended Sept 30, CIMB's net profit surged 27.27% to RM1.023 billion year on year on the back of a 7.37% rise in revenue to RM4.12 billion.
Malayan Banking Bhd, meanwhile, saw 5.92 million shares worth RM47.1 million traded on Nov 9 and 10. The trades were done at RM7.84 to RM7.99 each. Maybank closed at RM7.66 last Wednesday. Filings with Bursa Malaysia show that the EPF sold 515,200 Maybank shares on Nov 9 while Amanahraya Trustees Bhd sold five million on Nov 10.
Over at Public Bank Bhd, 945,100 shares worth RM18.6 million were traded at RM19.56 to RM19.80 on Nov 10 and 14. According to filings with Bursa, the EPF acquired 768,500 of the bank's shares on Nov 10 while its portfolio managers sold 1.42 million of them. The EPF has 12.9% equity interest in Public Bank.
BIMB Holdings Bhd, the parent of Bank Islam Malaysia Bhd, Syarikat Takaful Malaysia Bhd and BIMB Securities, saw a flurry of off-market trades. From Nov 10 to 14, some 71.74 million shares worth RM301.54 million changed hands at RM4.20 to RM4.28 apiece.
Earlier, there was a news report that Lembaga Tabung Haji may sell a 20% stake in BIMB but the company told the stock exchange that its board was not privy to the dealings of its shareholder.
The EPF sold 650,000 BIMB shares on Nov 10, filings with Bursa show.