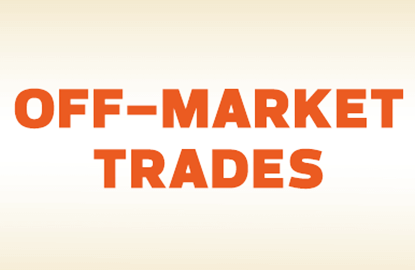 This article first appeared in
Capital, The Edge Malaysia Weekly
, on December 12 - 18, 2016.
BETWEEN Nov 30 and Dec 6, some 462.69 million shares worth RM1.06 billion changed hands off market in blocks of at least 450,000 shares.
APFT Bhd saw 19 million shares or a 3.98% stake traded off market in a series of block trades during the week. The trades took place just before the company announced on Dec 6 that its "major subsidiary", Asia Pacific Flight Training Sdn Bhd, had defaulted on RM1.3 million worth of loans from Public Bank Bhd on Oct 18 due to insufficient funds following "significant decline in business".
Subsequently, APFT saw Datuk Azmi Abdullah resign as chairman of the remuneration committee while Nik Din Nik Sulaiman resigned as a member of the committee. The company, which is in the business of training commercial pilots in Kota Bharu, Kelantan, said in the Dec 6 statement that the default "has no material impact on APFT" and that its directors opined that the company can provide the stock exchange with a solvency declaration.
Interestingly, the APFT shares were traded in over 40 transactions during the week at between 4.5 sen and 7 sen apiece. Also, the company was queried for unusual market activity on Nov 18 after a surge of trading activity on the open market saw its share price reach a high of 8 sen from 4.5 sen just a week earlier on Nov 11. In its reply, dated Nov 21, APFT said it was not aware of any factor that may have caused the unusual trading.
As at last Thursday, the counter had fallen to 3.5 sen on news of the default, giving the company a market capitalisation of only RM16.7 million.
Meanwhile, JcbNext Bhd saw 11.08 million shares change hands off market at an average price of RM1.20 apiece on Dec 2. In total, that works out to a 7.92% stake in the company formerly known as JobStreet Corp Bhd. This is a substantial discount to the stock's closing price of RM1.73 last Thursday.
The shares were acquired by founder and CEO Chang Mun Kee. According to filings with Bursa Malaysia, a block of at least 9.88 million shares was disposed of by JG Summit Philippines Ltd.
Recall that Chang had triggered a mandatory takeover offer for JcbNext on Nov 25 after acquiring a block of 28.21 million shares. He now controls 53.41% of the company but plans to maintain its listing status.
Over at TechnoDex Bhd, 24.78 million shares — or a 6% stake — were traded off market at an average price of 17.36 sen apiece. The trades took place in eight separate blocks between Nov 30 and Dec 5.
TechnoDex's share price has since fallen to 15 sen apiece, from a high of 18.5 sen in mid-September.
Elsewhere, BIMB Holdings Bhd saw 71.5 million shares or a 4.5% stake worth RM299.51 million change hands off market. The trades took place in seven separate blocks between Nov 30 and Dec 6, with an average price of RM4.19 apiece.
The bulk of the trading appears to have been done by Lembaga Tabung Haji, which has a 51.4% stake in BIMB. Filings show that Tabung Haji sold 14.25 million shares on Nov 29 and bought 14.35 million shares the following day. Then, on Dec 2, it acquired an additional 16.7 million shares.
Separately, Harbour-Link Group Bhd saw 12.2 million shares, or a 3.05% stake, worth RM9.26 million traded off market. The shares changed hands at 76 sen apiece in two blocks of direct trades on Dec 2.
According to Bursa filings, group managing director Yong Piaw Soon acquired the said shares, giving him a 62.38% stake in Harbour-Link. The counter has declined sharply over the past six months, but closed slightly higher at 79 sen apiece last Thursday.