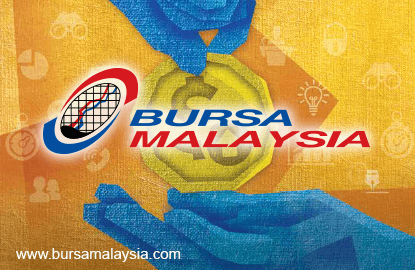 KUALA LUMPUR: The stock market took a breather yesterday with the benchmark FBM KLCI rising 7.06 points, retreating from record lows, as investors engaged in bargain hunting in banking, industrial, technology and consumer goods sector stocks.
The 30-share FBM KLCI had been falling for two consecutive days to settle at 1,572.54 points on Monday — its lowest since June 7, 2012. Since the beginning of the month, the benchmark index has lost 171.65 points or 9.8% of its value from its closing of 1,744.19 points on Aug 3.
Yesterday, the index staged a mild rebound of 7.06 points or 0.45% to close at 1,579.60 points, lifted by gains in selected blue chips such as Malayan Banking Bhd (Maybank) and DiGi.Com Bhd.
The KLCI bucked the regional downtrend, as most other Asian markets reported losses along with emerging market currencies and oil prices remaining low. The ringgit saw some improvement, as it strengthened to 4.0820 against the US dollar yesterday, after touching an intraday high of 4.1285, according to Bloomberg.
Areca Capital Sdn Bhd chief executive officer Danny Wong said yesterday's rebound on the index was small and does not think the stock market has hit bottom.
"The market was pushed up by selected blue chips today [yesterday], with Maybank contributing the most to the index. Overall, however, we are still not sure whether the index has found its bottom yet," he said.
Wong said at the current level, funds will be entering the market to accumulate stocks selectively, due to the attractive valuations of certain stocks following the market-wide selldown.
He is of the view that the recent decline in the KLCI has been mostly sentiment-driven, as Malaysia is still fundamentally intact.
"So far we have yet to see the low oil prices impact the government's revenue significantly. Gross domestic product (GDP) growth was not bad at 4.9% for second quarter of 2015 (2Q15), and our external reserves, although it has fallen, is still around the US$100 billion (RM411 billion) mark," Wong said.
UOB Kay Hian head of research Vincent Khoo said the recent fall-offs in the ringgit and Malaysian equities have created an interesting window of trading opportunity, particularly for companies which now trade at one standard deviation (SD) below their historical mean valuations.
"While we have lowered our interim KLCI target by 4% in anticipation of modest earnings cuts, we continue to expect a 4Q15 market uptrend. Stocks trading 1SD below their respective price-to-book ratio, including Bumi Armada Bhd, CIMB Group Holdings Bhd, Malaysian Resources Corp Bhd and WCT Bhd, look particularly appealing to value investors," he said in strategy report yesterday.
He noted that the sharp decline in the KLCI and the ringgit, despite the better-than-expected 2Q15 GDP growth and current account data, points to a country-specific confidence crisis as the drop was sharper compared with its regional peers.
"Our channel checks suggest that high risk aversion has infected local investors, in reaction to the ringgit's recent unchecked slump amid concerns of large fund outflows from the fixed-income market.
"The lack of local support against the moderate foreign net sells exaggerated the downside on the KLCI, although we acknowledge that net sells spiked to RM404 million last Friday versus the average of RM253 million in the four preceding trading days," said Khoo.
Despite the negative economic and political news flow, UOB Kay Hian does not see a systemic shock for now, noting that Bank Negara Malaysia's total official reserve assets and other foreign-currency assets are still above the levels seen during the Asian and global financial crises.
Although the research house has lowered its KLCI year-end target to 1,730, from its previous target of 1,810, UOB Kay Hian said it is still expecting a market uptrend in 4Q15.
"We tentatively lower our end-2015 target to 1,730, pegging the index at around 15 times prospective earnings, notwithstanding potential earnings downgrade after the ongoing 2Q15 results season.
"Nevertheless, we continue to impute a slightly higher-than-long-term mean price-earnings of 14.7 times to reflect expectations of a domestic liquidity-driven 4Q15 recovery," said Khoo.
On the ringgit, Maybank GM Research noted that the ringgit had touched a high of above 4.1200 in earlier trades amid oil price weakness and the strengthening US dollar.
The research house expects the next resistance at 4.1500 levels, and support at 4.0500 levels. It added that the focus will be on the foreign reserves announcement due on Friday.
AmBank FX Research said the currency, together with the Philippine peso and Taiwan dollar have a high correlation with China's yuan, suggesting that these currencies will  have a strong likelihood of depreciation or appreciation against the US dollar, in response to the movement of the yuan.
This article first appeared in digitaledge Daily, on August 19, 2015.