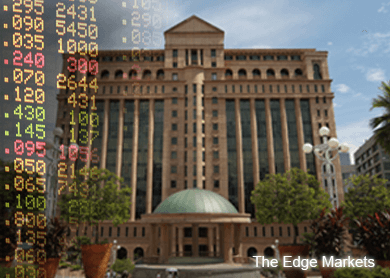 The market rebounded in the past week after declining for five weeks. The bearish momentum weakened two weeks ago and the benchmark FBM KLCI was technically oversold. I have mentioned that this may attract buying interest and it did happen and the market rebounded. However, is the rebound strong enough to change the trend direction? Let's take a look at what the chart indicates.
The KLCI increased 0.3% in a week to 1,726.86 points on higher trading volume. The average trading volume increased from 1.4 billion shares two weeks ago to 1.6 billion shares in the past week. The average trading value rose from RM1.5 billion to RM2 billion. This indicates that higher-priced stocks (which are normally traded by institutions) are traded the most. 
The buying comes mostly from local institutions while foreign institutions continued their selling spree. From Monday to Friday last week, net buying from local institutions was RM315.3 million and net selling by foreign institutions  was RM372.4 million. Some retail buying was also present as their net buy was RM57.1 million.
Decliners levelled with gainers in the KLCI. Top gainers were CIMB Group Holdings Bhd (+3.7% from last week), British American Tobacco (M) Bhd (+3.1%) and Telekom Malaysia Bhd (+2.8%). Top three decliners in the index were Astro Malaysia Holdings Bhd (-2.3%), RHB Capital Bhd (-2%) and AMMB Holdings Bhd (-1.8%).
Markets in the Asian region rebounded last week led by the Japanese market which rose sharply in the past two days while China remained bearish. China's Shanghai Stock Exchange Composite Index fell 6.4% in a week to 4,575.12 points. Japan's Nikkei 225 increased 2.7% in a week to its highest level in 15 years at 20,809.42 points. Hong Kong's Hang Seng Index increased 2.9% to 27,333.46 points in a week, and Singapore's Straits Times Index rose 1.2% to 3,339.78 points. 
Markets in the United States and Europe rebounded. Last Thursday, the US Dow Jones Industrial Average increased 1.8% to 18,119.78 points. Germany's DAX Index rose 4.3% in a week to 11,460.5 points, and London's FTSE 100 increased 1.6% 6,823.17 points. 
The US dollar rebounded this week and covered earlier losses. The US dollar index declined marginally from 95.1 points to 94.5 points. Commodity Exchange gold rose last week, but pulled back this week to close firm compared with last week at US$1,185.40 (RM4,446) an ounce. WTI crude oil closed marginally higher at US$60.26 per barrel. Crude palm oil in Bursa Malaysia declined 3.1% in a week to RM2,219 per tonne on weak demand.
The KLCI fell to yet another intra-week low, breaking below the low at 1,718 points two weeks ago. The index rebounded from another temporary support level at 1,714 points. Technically, the trend remained bearish below the short- and long-term 30-day and 200-day moving averages and the index is still under a thin Ichimoku Cloud. 
Momentum indicators like the RSI and Momentum Oscillator started to increase after laying flat for weeks, but still below their mid-levels. The MACD Indicator has crossed above its moving average, but still below the zero line. These indicators continue to suggest a weak bearish trend. Furthermore, the index is still below the middle band of the Bollinger Bands indicator and the bands continue to contract. 
From the technical indicators, the KLCI indicates that the market is still in a bearish trend correction. Like we mentioned last week, the bearish trend can only be reversed if the KLCI can break above the top band of the Bollinger Bands indicator at 1,760 points, which is also currently the short-term 30-day moving average. So, as long as the index stays below this level, the market trend is still technically bearish. Henceforth, we suggest staying out until the market breaks above this resistance level or one could fall into a dead-cat-bounce trap.
---
Benny Lee is chief market strategist for Jupiter Securities Sdn Bhd. Jupiter Securities is a participating broker in Bursa Malaysia. He can be contacted at [email protected]. The views expressed in the article are the opinions of the writer and should not be construed as investment advice. Please exercise your own judgement or seek professional advice for your investment decisions.
This article first appeared in The Edge Financial Daily, on June 24, 2015.