This article first appeared in The Edge Financial Daily, on March 23, 2020.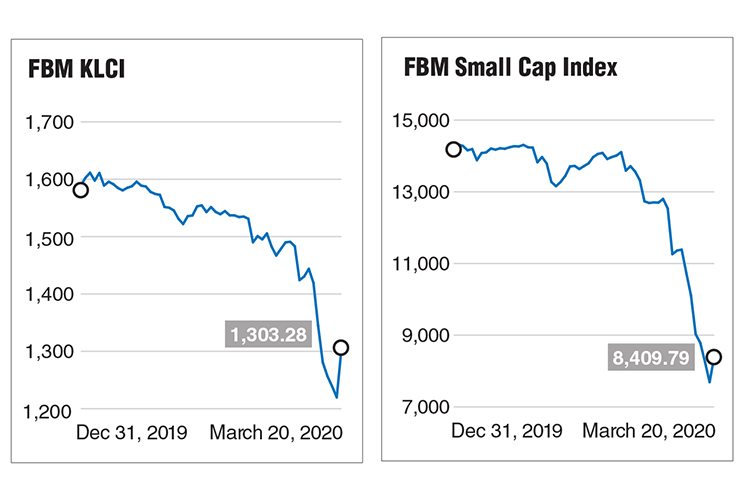 KUALA LUMPUR: With shares on Bursa Malaysia slumping further last week amid continued fears and uncertainty over the Covid-19 pandemic, analysts concurred that the market is grossly oversold.
"We are definitely oversold, judging from the rate of falling seen in the stock market last week," said EquitiesTracker Holdings Bhd head of research Lim Tze Cheng.
"According to our studies, 324 counters have fallen more than 70% in the last few weeks. They account for one-third of the total number of listed companies on Bursa Malaysia," he told The Edge Financial Daily.
Lim said the two-week movement control order announced last Wednesday, following a sharp spike in the number of Covid-19 cases in the country, has also brought fear into the market.
The FBM KLCI nosedived to an 11-year low of 1,219.72 last Thursday after falling for five straight trading days.
The market recovered last Friday, with the benchmark index rising 6.85% to 1,303.28. Still, it was down 3.08% for the week, giving a negative return of 17.97% on a year-to-date basis.
Going forward, most experts think that the rebound would not continue as long as the pandemic continues.
"There is a possibility that the rally we saw today (last Friday) can be sustained in the next couple of days. However, the situation is still uncertain with the Covid-19 pandemic still flaring up," said MIDF Amanah Investment Bank analyst Imran Yassin Md Yusof.
"Therefore, we foresee the market to be very volatile. And we could see selling pressure should the situation suddenly reverse. Based on these past two weeks, we believe that the good news and bad news could interchange between one day after the next," Imran Yassin said.
Likewise, Lim said the sustainability of the rebound will very much depend on the pandemic development.
"To get a more sustainable rebound, firstly, we need to see Covid-19 cases cease to increase around the world. Secondly, a cure for the virus must be found," he said.
While neither of these appears to be on the horizon, Lim is of the view that the virus is containable.
He said it is possible that the pandemic would be over in the next two or three months, given that China reported no new locally-transmitted Covid-19 cases from last Thursday to Saturday — the first time since the outbreak started in December last year — and only one domestic case yesterday.
Lim also said economic activities in the country will return to pre-outbreak levels once the pandemic is contained.
"Currently, businesses have halted [activities] in order to stop the virus from further spreading, while in a real crisis situation, businesses would be shutting down because they do not have demand to sustain them to continue operations.
"The economic condition is still healthy, as the banking system is fundamentally strong. Once the pandemic is over, businesses will go back to normal," he added.
From a technical viewpoint, Public Investment Bank Bhd technical analyst Lee Siao Ping said the KLCI formed a hammer candlestick in the weekly chart — a bottom reversal candlestick pattern which indicated that buying interest has appeared after the index hit an intra-week low of 1,219.72.
Hence, he expects the KLCI to move higher this week barring negative external factors.
The index's resistance level, he said, can be identified at 1,310; 1,360 and 1,400. Conversely, the support levels to look at are 1,250; 1,200 and 1,000.
Areca Capital Sdn Bhd chief executive officer Danny Wong Teck Meng advised investors to adopt a wait-and-see approach for the next two weeks to observe the development of Covid-19 in Malaysia.
"Now we are seeing over a hundred new cases reported on a daily basis. As the movement restriction order has just been implemented by the government, we do not know how effective the measure is in containing the pandemic.
"There will be more clarity in the market when the new cases of the virus infection decline," Wong said.
Having said that, he stressed that the benchmark index is undervalued as it is trading at negative two standard deviations below its 10-year mean in terms of price-earnings ratio (PER) and price-to-book ratio.
Meanwhile, Imran Yassin said MIDF has cut its 2020 year-end KLCI target to 1,480, from 1,600 previously, to reflect both earnings risk and depressed valuation of the index.
Affin Hwang Capital Research has also cut the KLCI's year-end target, to 1,200 from 1,540 earlier, after it revised down corporate earnings growth to 4.7% contraction from an earlier 1.3% growth projection.
Amid the lower projections due to the Covid-19 pandemic, there are still bright spots in the market.
Imran Yassin said utility companies such as Tenaga Nasional Bhd and telecommunication firms may see higher usage from homes. Other winners include food manufacturers and online shopping platforms.
He believes that there is some value going into the market now given the depressed valuations.
"However, investors will need to be cautious and pick on good quality stocks with solid fundamentals. Defensive stocks will be good candidates such as utilities and healthcare providers. Also, investors can look for stocks that have good dividend yields as [these] may cushion some of the downside risk," he added.
Meanwhile, Lim said long-term investors may look at semiconductors counters as valuations are "more reasonable" now after falling sharply.
"Most of them (semiconductor counters) are trading at below 15 times PER and some even at as low as single digits, compared with 30-40 times during their peak.
Last week, the Bursa Malaysia Technology Index plummeted to as low as 23.81 before closing at 26.33 on Friday, marking a three-year low.