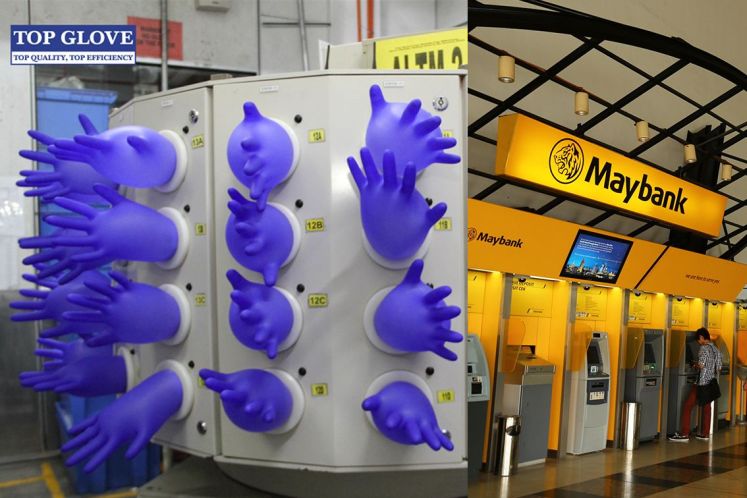 KUALA LUMPUR (Sept 25): Malayan Banking Bhd (Maybank)'s market capitalisation (market cap) has shrunk to below RM80 billion, as the selldown on banking stocks continued, which has further reduced the gap between Malaysia's most valuable company on the local stock exchange with the next in line, Top Glove Corp Bhd.
Maybank shares slipped 1.12% or eight sen to settle at RM7.09 per share yesterday, which gave it a market cap of RM79.7 billion, after 9.66 million shares were done. On a year to date (YTD) basis, the stock has declined by 13.7% (see table).
Top Glove, on the other hand, climbed 6.61% or 53 sen to close at RM8.55, which valued it at RM69.52 billion, after 98.43 million shares were traded. YTD, the stock is up over 440%.
This has reduced the gap between the two companies to RM10.18 billion, down from a difference of RM15.39 billion seen on Wednesday. Just at the start of this year, the gap between the two was RM57.22 billion, when Top Glove had a market cap of RM38.03 billion and Maybank had a market cap of RM95.25 billion.
Maybank is now down 5.34% from the 12-month consensus target price (TP) of RM7.49 it garnered on Bloomberg. The stock has four 'buy' calls, 12 'holds' and five 'sells'.
Besides Maybank, most other banks on the local stock exchange also declined yesterday, as overall weak sentiment dragged. Among them were AMMB Holdings Bhd (down 2.64% or eight sen to RM2.95), CIMB Group Holdings Bhd (down 1.61% or five sen to RM3.05), Public Bank Bhd (down 0.77% or 12 sen to RM15.52) and RHB Bank Bhd (down 1.08% or five sen to RM4.59).  
The financial services index closed 0.9% or 111.7 points lower at 12,335.44 points. In contrast, the FBM KLCI closed 4.32 points higher at 1,500.8, as renewed buying interest in glove counters helped lift the benchmark index.
Fortress Capital Asset Management (M) Sdn Bhd investment adviser and director Geoffrey Ng told The Edge that besides weak sentiment, there was no catalyst for investors to accumulate banking stocks. Recent political developments in the country also further weighed on the already weak sentiment, he said.
"The overall sentiment on banks is reflective of the expectation of lower corporate earnings. The current environment is marked by low interest rates, slower loan growth, and higher non-performing loans (NPLs). However this is not just restricted to Malaysia; listed banks in Singapore and Hong Kong are also facing similarly weak sentiment," he added.
TA Investment Management Chief Investment Officer Choo Swee Kee, likewise, attributed the fall in Maybank and other banking stocks to poor sentiment, as investors are worried about the total impact of the loan moratorium on banks earnings, and as regional markets declined.
Is now a good time to buy in?
While the share price of Maybank now appears to represent "good value", Choo doesn't think the stock has hit bottom yet.
As for dividend payout, while Maybank withheld its dividend payout for the second quarter ended June 30, 2020 (2QFY20), which surprised and disappointed many, its president and chief executive officer Datuk Abdul Farid Alias has said the banking group is committed to keeping its yearly dividend policy with a payout ratio of between 40% and 60% of its net profit.
A fund manager, who declined to be named, said he is still attracted by Maybank's dividend yield and the potential price recovery when the economy returns to normal once the pandemic is over.
"It suits a long-term dividend portfolio," he said. Based on Bloomberg data, Maybank has an indicative dividend yield of 5.5%.
Read also:
Market cap gap between Top Glove and Maybank narrows further to RM7b